Awesome German Guys- Der Panzerwagen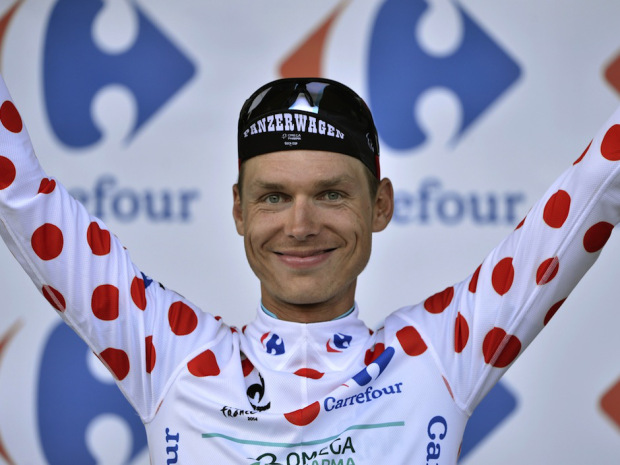 After Stage V there was Stage 9, where the World TT champion earned the dotty jumper. In case you missed it, Stage 9 was a trip into the Vosges mountains, 170km with six categorized climbs. This was a stage for a breakaway to stay away. A large group did escape and with 152km remaining to the finish Alessandro De Marchi of Cannondale bolted off the front…followed by Tony Martin. What happened over the next few climbs was awe-inspiring and awful. Awe-inspiring because this break of two kept gaining time over the large group of hard working escapers; awful because poor Alessandro was getting worked over like no cyclist should ever get worked over. He killed himself at the front, just trying to keep Martin behind him and he killed himself again when he deserved to be resting on Tony Martin's wheel. Alessandro was in the saddle, out of the saddle, fighting just to stay in contact. It was equally fun and painful to watch.
Tony Martin learned very early about making a successful escape. As a youth he escaped East Germany with his family. He does not fuck around when escaping. A bee stung the Cannondale rider on the hand; a welcome distraction from the beating he was taking trying to survive a ride with Martin. Besides putting De Marchi in a spot of bother on the climbs, Martin is a demon on descents and obviously horrendous on the flats. It was Mr Martin's wild ride.
With 59km to go, as they climbed the biggest mountain of the day, Martin decided it was time to take it up a notch. One could see De Marchi's thought bubble when it happened, "oh FFS, thank you, you broke me, are you happy now?" As they crested each climb Tony had let Alessandro collect the KOM points, yet guess who ended up in the Jersey? I've looked in vain for a post-race interview with De Marchi. At least he earned the the Most Combative jersey in Paris. One of Quick-Step's directors quipped De Marchi was going to need a therapist after that ride.
How awesome is Tony "Whale Shark" Martin? He leads out Cav like a good team player. He is the World Time Trial Champion. He is hot to attempt the Hour Record, whatever the rules are. He can crush a 58 tooth chainring. He can also win a climbing stage in the Tour and pull on the dotty jumper wearing his Panzerwagen old-school cap on the podium.