Motorcus and the Hour Record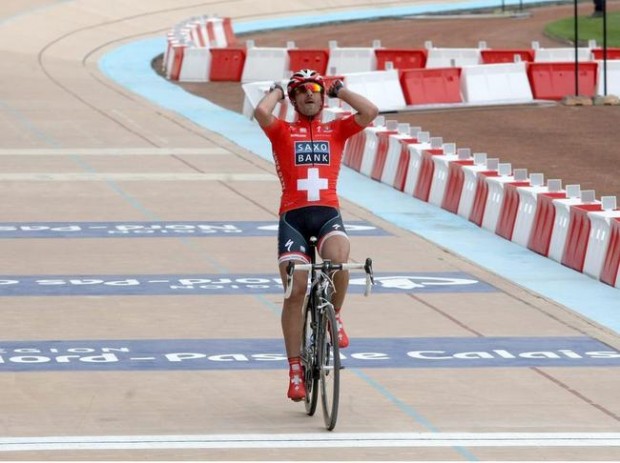 There is nothing going on right now, oh right, except the Tour of Poland. Can we talk?
I don't think it's just Frank and myself who are obsessed with the Hour Record. It is Hard Man cycling distilled into its purest form, the ultimate race of truth. During the first week of Tour de France madness Fabian Cancellara made it official he was going for the Hour Record. He has always had a fearsome check list: win all five monuments and reset the hour record. Regarding the five monuments, he has Liége and Lombardia left. Lombardia seems slightly better suited to him but both might require Cancellara to lose some mass and get his climb on or more likely he will win these on Spartacus power alone. Can he forgo kicking ass at Flanders and Roubaix for Liége? He really wants to do the Hour after his Spring 2014 campaign so maybe it's the Hour in 2014 and Liége in 2015. Did I mention he has a list and a Swiss schedule to keep?
It's tempting to say the Hour Record will be easier than winning either of those monuments but if setting a new Hour Record was anything but impossible, a few others would have attempted it in the last thirteen years. Fabian is the only rider of his generation who has the will and power to attempt it. People seriously believed he had a damn engine on his bike! He has a master plan for his career and the confidence to put the Hour Record on there. And forget Ondrej Sosenka's record, it's his record like those Tour de Frances are Lance's. Sosenka cleverly bracketed his hour record with doping violations so let's all agree he is a fraud. Chris Boardman's record in Manchester of 49.441 km/hr is the number to think about. Yet Chris Boardman and Cancellara could not be much more different as cyclists. Boardman the Olympic pursuit man, Cancellara the passista. Merckx was always at home on the track. Boardman's pedigree was already going fast on the track, his road palmarés were mostly prologues and time trials. Cancellara has no real professional experience on the track (except crushing opponents' dreams on the Roubaix track) and he will need to put some time in both the wind tunnel and on the track to get his power position squared away. 
Lance Armstrong had a chance to bolster his career had he attacked the Hour Record. That would have impressed me beyond winning Tours with a whole team at his disposal. Trek even built a bike for him, maybe it's still around. Fabian has extended his contract with Trek so we know he will be doing it on a Trek track bike. This is not some aero machine, this has to be close to a straight ahead Merckxian Mexico City bike: no aero frame, no deep-section wheels, just good old fashion track handlebars and spoked wheels.
Cancellara had an earlier schedule for the Hour but the IOC foiled it.
They took the individual pursuit out of the Olympic programme. A wrong decision. I would have tried to get on the podium in London in 2012, and then the Hour Record.

We'll see. I'll try, but not this year or the next. And not in Italy."
Yes, not in Italy (?), this will happen in his home country, planned out properly as only the Swiss can. This will be an exciting hour of middle-of-the-night video streaming for the Velominati. I'm already losing sleep over it. One can be sure the Velominati Super Prestige will be going to three decimal places to find a winner.
[dmalbum path="/velominati.com/content/Photo Galleries/[email protected]/hour bikes/"/]