Guest Article: Stephen Roche; A Study in The V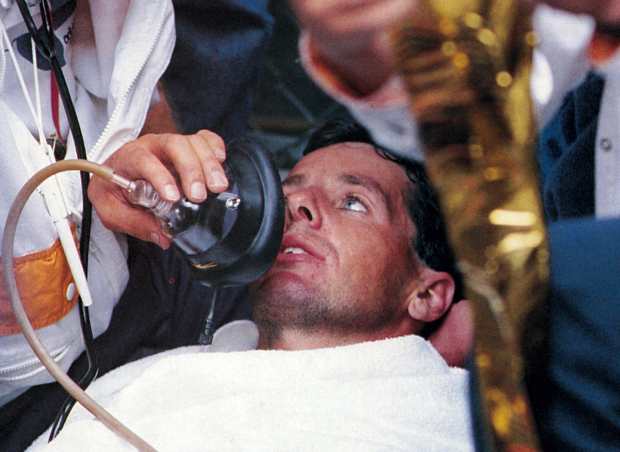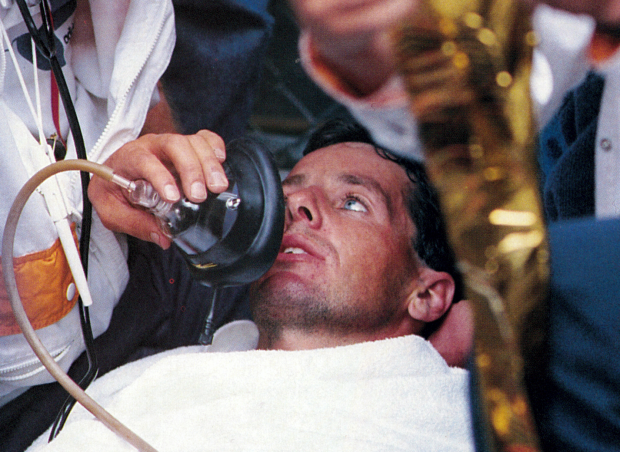 It is with an especially acute understanding of pushing oneself to ones limits, having just completed my second assault on Haleakala, with which I select this Guest Article, a first contribution from community member Scaler911. 
Especially acute in this case meaning that reading this account reminds me that I have no idea how to suffer on a climb. None at all. If I could ride like Roche, I would have done the climb an hour faster and the maximum elevation would have been crushed down by at least 300 feet from the Pedal Stomping Effect, which is commonly known to reduce a hill's elevation. Enjoy the read.
Yours in cycling,
Frank
—
I hold a special place in my heart for the Irish. Both sides of my family are from the Emerald Isle, and I've done some traveling there. Early in my racing career, I started following the Euro-pros and was drawn to the strong men of Belgium and Ireland. The list is of course topped by King Eddy. In close second, I give you Stephen Roche.
Early in his pre-contract days, Roche had to "…win, or go back to Ireland…" to work a machine shop at a dairy. That season he won the amateur version of Paris-Roubiax.
In his debut professional season, 1981, Roche threw down The V on none other than Le Blaireau himself at the Tour de Corse. And it's not like Hinault was at the end of his career; he had already had won three Tours, the Vuelta, the Giro, and was currently wearing 'The Hoops' around his torso. Less than a month later, Roche won Paris-Nice even though he was ill.
In the '87 Giro, Roche was to be riding in support of teammate Roberto Visentini, the defending champion and local guy. Roche attacked his teammate, drawing scorn from the tifosi, but ending up with the Maglia Rosa on his back in St. Vincent. Poor sportsmanship? Perhaps, but LeMan would have more yellow jerseys above his fireplace had he done the same. And, besides, Visentini's palmares pale in comparison (who's Visentini?) and Roche doubted his teammates promise to return the favor for the TdF. Sound familiar?
Later that same year at le Tour, Hinault had retired, and LeMan was recovering from his bird hunting escapades, Roche was the favorite. 1987 saw the most mountainous Tour since the war. On stage 20, crossing Galibier, Madeleine, and finishing on La Plagne, Roche attacked early. Delgado then attacked, and Roche found himself 1:30 down in the middle of the last climb. He then crushed the remainder, in his big ring, pulling back all but 4 seconds. After crossing the finish line, he collapsed and lost consciousness. He came to after receiving oxygen and was asked if he was OK. His reply was "yes, but I am not ready for a woman straight away" (and that, my friends, is how it's done).
At the end of a fantastic season thus far, Roche arrived in Austria for Worlds with little training under his belt. In the role of domestique to his countryman Sean Kelly, Roche was covering breaks all day. At the end, he was still covering Argentin, and being away, attacked at 500m. He got the cycling world's 'Triple Crown', a feat only achieved by one other hardman, Merckx. A few days later, Kelly and he went 1-2 at the Nissan Classic.
Had Roche not been plagued by recurring knee injuries, I think he would have given the King a run for his money as the toughest bastard to ever throw his leg over a top tube.
"I never want to abandon my bike. I see my grandfather, now in his seventies and riding around everywhere. To me that is beautiful. And the bike must always remain a part of my life." – Stephen Roche.