Balance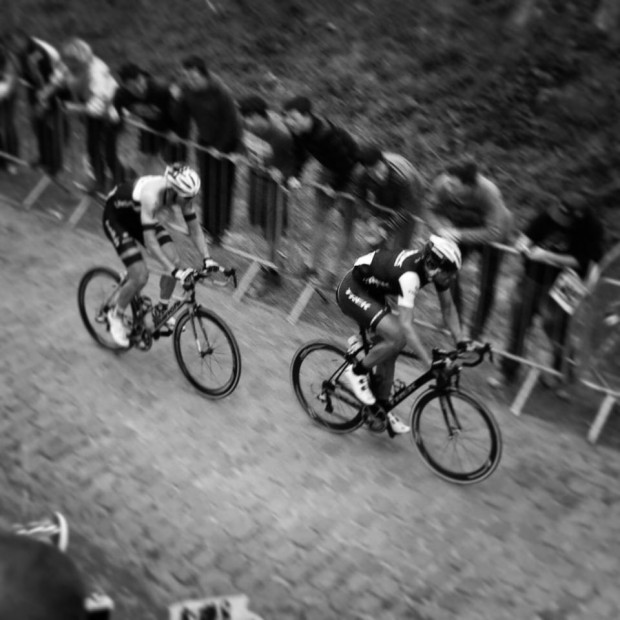 I had always imagined that de Ronde van Vlaanderen must be hardest race in the world. The way I worked it out – having never ridden the course of either event at the time – was that de Ronde had the same cobbles as Roubaix, but with 20% grades thrown in. It makes enough sense so long as you don't know what you're talking about, but what you quickly discover once you have ridden them both is just how bad the cobbles of Roubaix are: the worst kasseien in Belgium are about as rough as the best pavé in France.
Both routes are so hard you need to experience them in order to appreciate their difficulty; words are hopelessly inadequate in describing the separation the rider feels from their bicycle while simultaneously feeling more connected to it than at any other time. It is through breaking down the illusion of control that the Cyclist is finally allowed to truly bond with their machine.
The element that makes Vlaanderen a slightly easier race is the most counter-intuitive: the bergs. On most routes, the hills are what separate the wheat from the chafe. Yet because of the brutality of the cobbles, they allow a rider to hide. The secret to riding cobblestones is speed; the faster you go, the better the bike is able to skim over the top with the effect of smoothing them out. This requires big, big power to sustain over the distance of a secteur of cobbles, let alone over the whole of a race. But the bergs neutralize the speed somewhat; how fast can anyone go up a 20% grade – on cobbles, no less? The answer is none fast, so the gaps between the strong and the weak are reduced somewhat until the final decisive moments when the pressure is so great that every chink in the rider's armor is ruthlessly exposed.
To ride the cobbles is to dance with paradox: ride full gas while keeping something in reserve for the crucial moment  – not when the odds are stacked in your favor, but the you are at the smallest disadvantage. During Sunday's Ronde, we saw a Cancellara who was not at his best; he won both his previous two Ronde by being so superior that he could drop his adversaries on the last of the steep grades. This year, he made his move on the one section of the finale where his power was a definite advantage, despite his relative weakness on the day; he attacked not on one of the two steepest parts of the Kwaremont, but on the cobbled false flat between the two where speed could make a real difference. He then hung onto Vanmarke over the steep Paterberg before being dragged patiently to the sprint finish to take his third Ronde. 
Cancellara is learning tactics as his strength steadily wanes; before last few year, there was no need for such subtlety. Now he is patient; he is calm. He knows both his strength and weakness, and doesn't let the antics of the race affect his action. It reminds me of Neruda:
I like you calm, act as if you were absent, and you hear me far-off, and my voice does not touch you.

– Pablo Neruda