Guest Article: The Most Beautiful Race in the World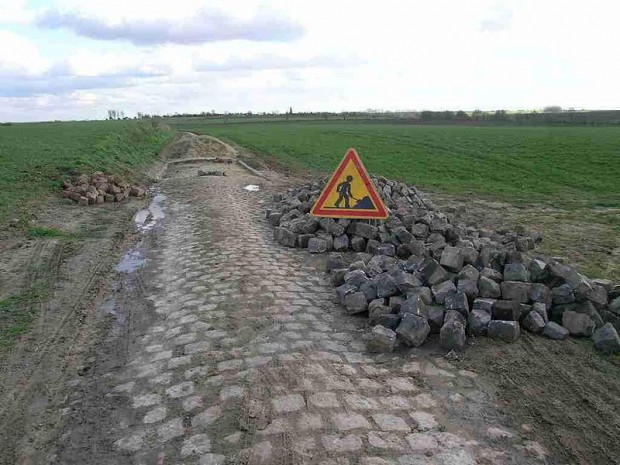 Finally we can speak to this Paris-Roubaix mythology. The Keepers Tour group rode twenty-one sectors at something much slower than race speed. After the first sector we regrouped and we were all stunned by how bad it was. Twenty more sectors of that? That was horrendously tough.
The first sectors are the easy ones. The hard ones start with the famous Trouée d'Arenberg, after which a combination of worse cobbles and more fatigue consistently ratchets up the severity of the stones.   In places it seems more like cobbles fell from a truck than that they were placed. A full report on our rides is forthcoming, but as we prepare for our ride over the Ronde van Vlaanderen route, we give you a Guest Article by @il cyclista medio on the famous Roubaix cobbles.
Yours in Cycling, Frank.
—
Theo De Rooij may be known to some more famously for his comments to John Tesh after withdrawing from the 1985 Paris – Roubaix than his palmares.  This was certainly how I became aware of him. He was also the team manager at Rabobank on the verge of a nervous breakdown, when he made the decision and withdrew Rassjuicin' from the TDF for having the ability to be in two places at the same time, in the mode of "I dream of Jeannie".
Watching a grainy VHS copy of the 1985 race, complete with Tesh's cheesy synth 80's soundtrack recently, I watched De Rooij (or De Rooy as CBS was want to spell his name) at the front of the race for close to 5 hours before withdrawing, shattered, from the race. It had been wet and muddy with a headwind for the most of the race. Crashes, falls and spills occurring constantly throughout the race and there was De Rooij alone at the front. He may not have been a picture of Sprezzaturra, but he was certainly leading an impressive bunch – Lemond, Kelly, Moser and Madiot to name a few.
He was caught by Madiot's bunch and Madiot went on to win, solo, with Kelly in third and Lemond a close fourth. It was the short interview that Tesh managed to grab as De Rooij was getting into his team car for the ride back to Roubaix that impressed me as much as leading P-R for part of the day. Perhaps this was his most memorable moment. Here was a Dutch bloke, covered in crap from head to toe, being asked a somewhat inane set of questions by an immaculately dressed American in an overcoat. He took it in his stride and gave an honest account of what he had just been through without batting a crud covered eyelid and finished off with a huge grin when asked if he would return "…sure, it's the most beautiful race in the world." His laugh once he had realized the irony of what he had just said, after complaining about the atrocious conditions he had experienced, wasn't lost on Teshy either. It was a fantastic piece of TV.
It was this that caught my attention as I keep hearing this phrase again and again – "The most beautiful race in the world". It looks like hell to me: pave, mud, rain, dust, snow, crowds, 7+hrs in the saddle, what's fricken beautiful about that? Boonen, Fabio, De Vlaeminck, all spring to mind as having uttered these immortal words at one time or another.
So, just what makes it beautiful? Not having done P-R I can only guess the logic behind these words, though I think I get it. While I would never compare myself to be at their level or really understand their why, it may be that the beauty of placing oneself at the mercy of and against the elements, the cobblestones and the environment, not only physically but mentally, to achieve something that truly strengthens and at the same time challenges the individual. To finish something like Paris Roubaix would satisfy an inner need, a feeling of being alive perhaps. As a cyclist I try to do this as much as I possibly can. Sure, I go out for the standard rides, with the usual routes. You know the ones, the Sunday morning group ride out to Waterfall (that's mine but insert your own here) where we know every little bump, pothole, climb and town line to race for. Great fun but are we really challenging ourselves? Nah, not really, just up the pace, that's about all if you want a bit of a challenge on these days.
It's those days where one decides to up the ante: find the mother of a hill to climb, decide to do the (imperial) ton or further than you have before, go out when it's ball freezingly cold or wet or something else that challenges us or pushes one to their limit as a cyclist. This to me is how one could call something like Paris Roubaix "the most beautiful race in the world" and I for one, agree.
de Rooij: "It's a bollocks this race! You're working like an animal, you don't have time to piss, you wet your pants. You're riding in mud like this, you're slipping, it's a piece of shit…"

Tesh: "Will you ever ride it again?"

de Rooij: "Sure, it's the most beautiful race in the world!"