Tino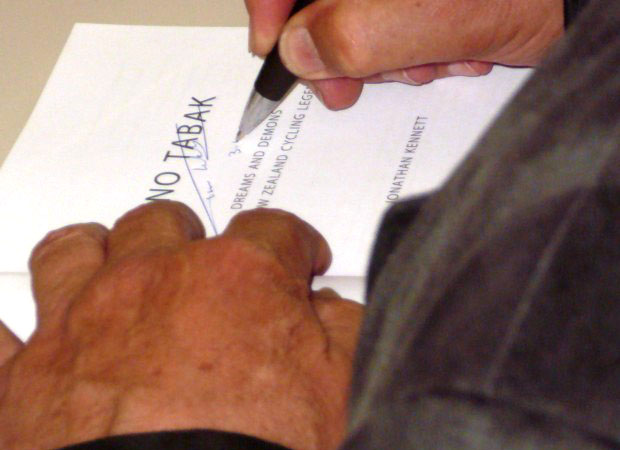 The Kennett brothers have produced a series of great books on some of New Zealand's most successful, least successful, hardest, most famous, infamous and iconic cycling heroes. Their latest offering, written by Jonathan, looks at arguably the most naturally talented of all the subjects, the often-times controversial Tino Tabak. This evening I was lucky enough to attend the launch of the book at Wellington's National Library.
Without going into too much detail (mainly because I know little of his story), Tino mixed it up with the likes of Merckx, De Vlaeminck, Maertens, Zoetemelk, Kuiper and Post on Europe's biggest stages in the 70s. He is the highest Kiwi finisher in Le Tour (18th in 1972). Almost won Gent-Wevelgem. He could've had it all, almost did, but saw it slip away.
He had a few wines, signed a few books, told a few stories, and engaged everyone in that room. Foyer. Church. Whatever. We were his disciples. He was a god.
As he was signing Rachel's book, he said to her "I hope you enjoy it, but please don't think I'm a bad person. If you do, read it again, and if you still do, well that's ok too." Keeping it real, all these years later. Can't wait to get my teeth into it.
*This post first appeared on More News From Nowhere November 3 2009.
[dmalbum path="/velominati.com/content/Photo Galleries/[email protected]/Tino/"/]