Velominati Super Prestige: 2011 Le Tour de France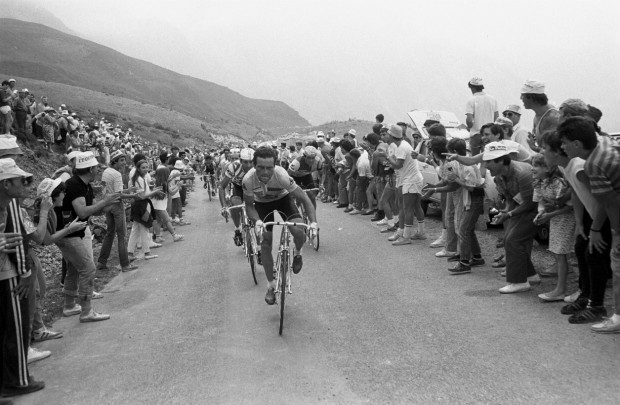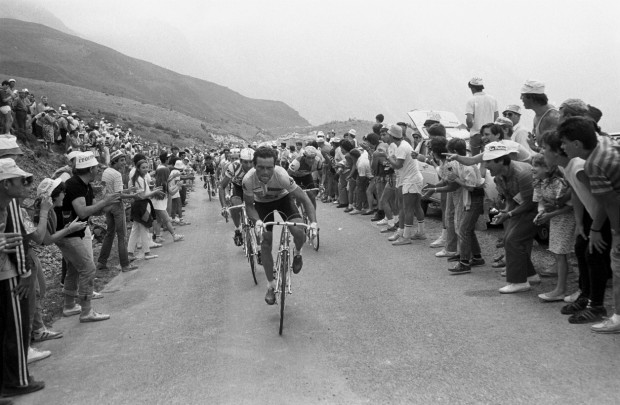 While a good number of Velominati get all uppity around May and make rash statements like their preferred Grand Tour is the Giro d'Italia, because it has more and bigger climbs, beautiful white roads and crazy tifosi, there's no denying that Le Tour de France is the real grandaddy of them all.
Admit it, July trumps May every time.
Maybe it's because of the greater media attention, or the fact that there's bound to be a controversy, but I for one look forward to this time of year with a fervour that has myself and others residing in the lower half of the world consuming inhuman amounts of caffeine and staving off sleep deprivation for 21 days on end, without question or cause for concern. It's all about the bike (race) and nothing else really gets a look in. Job? Ah, we can do that blurry-eyed and with concentration levels that are probably below safe standards if operating heavy machinery. Or even computers. In fact, operating a computer becomes the central task of the day, as we check results, reports, the topography and distance of the next stage, and of course our VSP standings.
Which brings us to the Blue Riband event on the 2011 Velominati Super Prestige; Le Tour de France. Who will be resplendent in the Maillot Jaune after three weeks of high-pressure tipping, rest-day swaps and bonus stage picks? Have we seen the last of Steampunk's yellow reign of terror? It's time to peak, to climb well for your weight, and move Sur La Plaque to the top of the VSP. Study the guidelines (with a grain of salt, as whatever we say here overrides the guide, so ask if you're not sure), respect the Piti Principle, and enjoy the next three weeks of the greatest show on earth. As usual, get your picks in by 5am Pacific time on Saturday morning. If you wait until the last moment and bugger it up, don't come crying, just wait until the first rest day with all the others who pulled a Delgado.
Brett's Take:
As a Keeper, my own tips don't count to any jerseys or prizes, so this Tour I think I'll tip with my heart rather than my head; it's let me down enough this season anyway, so any 'logic' or 'knowledge' is to be discarded and replaced with 'emotion' and 'taking a stab in the dark'. In fact, I might even target the KOM this time around, try and get in some long breakaways and pick up points over the smaller cols while none of the big contenders are paying any real attention. Yeah, channel the spirit of JaJa, Reeshard and the Chicken. Better get me some juice.
Taking the heart over head approach, I have to say that this is going to be the year of an upset. It's there for Cadelephant to take. The cards are all falling for him; Cont Of The Highest Odor will fade in the last week, spent from his Giro and without a reliable supply of prime beef to call upon; Grimplette, while he may have been foxing in Switzerland, just doesn't have the firepower to match it with Cuddles or COTHO against the clock, and hasn't got the mental capacity to attack in the mountains. Wiggins, Gesink, Grimpelder… they'll be fighting for scraps.
It's a three horse race, this one, but at last count there's only three steps on a podium.
Marko's Take:
Recently on these pages we've at once lamented the loss of the all-rounder GC contender and derided the formulaic predictability that "well-rounded" riders in the modern peloton employ to win races.  All the names at the top of the Giants of the Road list, however, excelled  at one thing, winning the biggest sporting event in the world.  But it isn't  climbing prowess, time trialling efficiency, tactical sense, and winning ability alone that endear riders to us.  If it was it would be way easier and really boring to be a cycling fan.  So what is the difference between a guy like say, LeMan and a guy like Armstrong?  Panache.  What we've lost isn't a type of rider but a style of rider.  Rather what we've lost is panache.  If, in the modern day, being a douchenozzle or belladonna means panache, so be it.  But if doping scandals and bro-mances make you yawn, keep in mind there is a lot of bike racing going on in le Grand Boucle.
So I ask, where's the panache as far as GC contenders go?  Cuddles (may have blown his panache wad last year), Le Petit Grimpeur (no panache), Sammy Sanchez (panacheicito), Basso (panached-out), Horner (Mcpanache), JVDB (panache-a-be), CVDV (pa-crash), Veino (panachenozzle), and Ryder (trying to get all the Canadian panache that Don Cherry has been hogging for the last 30 years). For me, other than Cuddles, Veino, and Ryder it's hard to get really excited about any of the GC contenders. But alas, I will not vote solely with my heart like my Aussie bro in New Zealand. I will do my best to garner points for no other reason than pride as I don't get shit for winning either.
So then, now that I've gotten all pessimistic about the GC, what am I looking forward to? Panache, fucktards. I wanna see Faboo tow Frandy through the TTT for Leotard Schleck (thanks Dr C) and then make some perfect amount of dumb remark afterward. I wanna see Cavenisgrowingonmedish win some sprints. I wanna see Farrar beat the Manx Mouth in some sprints or cry trying. I wanna believe in the Rainbow Jersey again. I wanna see if Tomeke still has what it takes. I wanna see Jens hurt EVERYBODY. I wanna see some Russian or Spanish dude I've never heard of have the ride of his life and shed some tears on the podium, and I wanna see Gilbert on a long solo break on his birthday get himself a stage win and maybe even the yellow jersey for a bit.
The reason this race is so cool is there are so many races within the race.  Sure, you betcha, get drawn into to GC drama but don't lose sight of the forest for the trees.  There's a shit-ton gonna happen in the next three weeks and it's gonna be good.
Gianni's Take:
Burned from the all too predicable days of Pharmy, I just don't care that much about the yellow jersey, Contador or a Schleck – ahhhh, who cares, skinny little bastards. I'm all in for the drama hidden within each day's race. A stage win in the Tour can make a rider's career and every stage has unscripted drama:  Stuey O'Grady finishing the stage within the time limit, riding in from 100km out with a broken collar bone. Or Magnus Backstead riding in by himself, dropped in the small mountains, finishing beyond the time limit, his number peeled off his jersey and he is ruined. These things happen every day in the Tour.
I like a good spoiler, like Eros Poli on Mount Ventoux, or the spoiler small break that stays away when the last 40km is a high speed tailwind run, ruining a day for the sprinters. I like Rik Verbruggen, flat back, so aero on his bike, hauling ass, a crazy solo bid for glory. I want to see more of that. I would be thrilled to see one of the Garmin roulers win a stage, and I'll be thrilled if HTC doesn't win the TTT.
I can schleckulate about a few things: unless Contador and Cavendish get their front wheels tangled up together resulting in a horrendous career threatening crash, both Andy Schleck and Tyler Farrar are doomed. I'm sorry, Andy can't go fast unless it's a steep hill (up) and no one is as good a sprinter as Cav, by a lot. Then again, if my schleckulations were worth anything, I wouldn't be down in the boggy hole that is the low end of the VSP results.
Frank's Take:
Every year, it happens. Every single year. It has a bitter taste, Disappointment. It sits on the front of your tongue like a small black weight that is surprisingly heavy for its size. Even though you're not swallowing it, the taste spreads throughout, slowly – into your jaws first, then the rest of your being.
With one exception, I have never had my chips down for a rider who ended up winning – not since 1990, when I was all-in for Greg LeMond. 1991-1995 was Indurain: I favored first Bugno, then Rominger. 1996: Virenque. 1997: Virenque. 1998: Pantani; it was a long shot, but the awesome little dude pulled it off for once in my life. 1999: Zulle. 2000-2004: Ullrich. 2005-2006: Basso. 2007: The Chicken. 2008: Frank Schleck. 2009-2010: The Grimplette. But I continue to favor the dark horse because I know that when I am redeemed, it will be glorious beyond articulation.
This will be that year. Not because I will change my tactic, but because this is the one for les Fréres Grimpeur. It's a hilly enough race with enough uphill finishes – we all know the skinny boys have a challenge when the road points down. (You'd really think that with all that practicing they do going uphill that they'd occasionally get a chance to practice going down one as well, but those boys descend like first-year amateurs.) Bertie blew the guns at a very difficult Giro and all the Spanish Beef in the world can't help you recoup from that kind of effort in time for a similarly difficult Tour. Cuddles is a pipe dream borne from the understandably optimistic thoughts from our antipodal brothers and sisters in Oz and Newz. Wiggo, Vande Velde, Gesink, and Van den Broek will all learn how hard it is to pull out a good Tour ride for a second (or first) time when the pressure is truly on.
I've also vowed not to get caught up in my propensity to dwell on the fact that Contador should not be in the race. The fact that a rider who failed a dope test in last year's Tour has been allowed to start is a reflection of the ineffectiveness of Cycling's governing bodies, not on Bertie. True, I hate him and would be happy to see him not start, but if I were in his shoes, I admit that would start if I was allowed to. And, lets face it: Andy's win will mean more when it comes with the defeat of Alberto than with a nonstart.