Velominati Super Prestige: Giro de Lombardia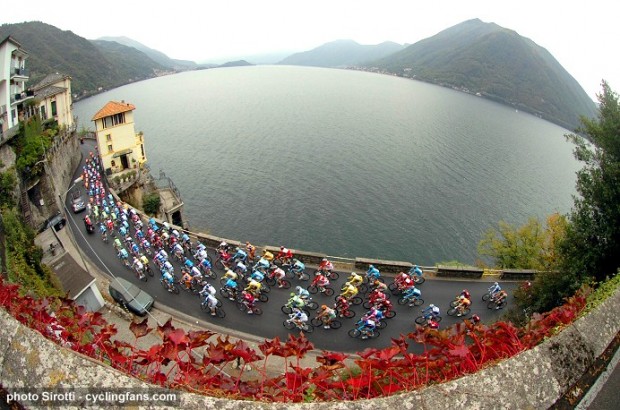 The race of the falling leaves; this Classic of cycling is a circuit course around Lake Como in the lakes district of northern Italy. It's the last chance to save a season for those whose season needs saving. For the riders who have been at it since the Tour Down Under this is one race too many, others will climb off at the first feed, muttering basta!  If you've had an injury or missed a chunk of the regular summer season, getting back into form for this race is your last gasp for greatness, as it is for the Velominati Super Prestige series, the coveted shop apron will be awarded at the conclusion of this race. The renting of lycra and cursing of the gods will be heard as the elusive apron slips out of all but one Velominatus' hands.
The unstoppable Cadel Evans will be relegated to his not-so-resplendent BMC kit, all powerful Thor has extended his season to honor the Arc en Ciel Jersey. Bettini won Lombardia in his Worlds jersey after a Rule #5 solo descent to the line. Can Thor do the same? Fellow Italian Cunego has also soloed away to victory here. Last year Gilbert won a two-up sprint from Sammy Sanchez ahead of a chasing group. For 2010 the course has been made longer and harder, as if it wasn't already.
Lombardia is rarely won in a field sprint, whoever goes on the last climbs and can descend without crashing (I'm looking at you Frank Schleck) has a chance. This is an Italian race, a home race for the Squadra and that has to be factored in. It's an all a-rounder's race, not for the pure climbers, pure sprinters, or big roulers. Fabian Cancellara has it on his punch list but I don't think it's going to happen this year. Look to the Worlds results, factor in who still is hungry and has form, who is a strong-man who can get his climb on after too many kilometers, add the Italian factor and you might have a handful of possible winners.
Check out the rules and scoring here, and good luck.
Paulo showing how it's done, techno-beat style.
[youtube]http://www.youtube.com/watch?v=ikbII6fsQSA[/youtube]