Look Pro: The Flemish Compact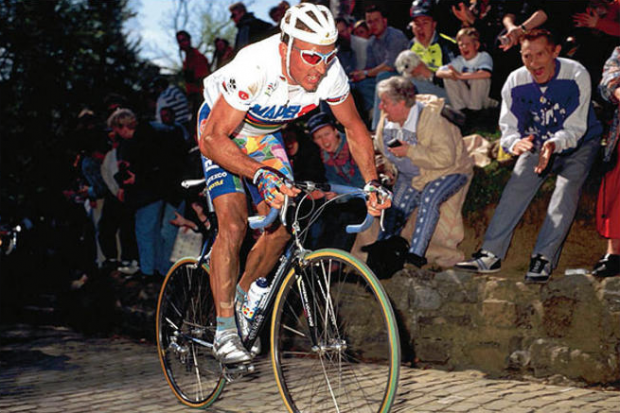 Everyone knows that the quality of one's character is measured by the size gear they can push, particularly when going uphill. It is also a well-established fact that no self-respecting Flemish Pro would ever ride a Compact, no matter what condition their knees are in or how ferocious the gradient. Which, by extension, means that Compacts are for sissies. In fact, a true Flandrian would rather lose their national race than ride a Sissy Gear.
The first time we rode with Johan Museeuw, we were shocked to find him aboard one of his carbon/flax race machines – and a compact chainset. Not wanting to offend an Apostle by suggesting he's riding his son's bike, I asked him what he thought of it. "I don't like it. The big ring isn't big enough for climbing."
The standard Flemish chainset is – and has been for as long as the Ancients have tracked these details in their sacred scrolls – either a 53T or 52T outer ring paired to a 42T inner ring. On the occasions when the parcours will see them scaling the Koppenberg or Kapelmuur, the Belgians make a concession and dust off their trusty 41T inner ring in order to shorten the gear by a whopping single tooth. In the mountains or over in Wallonia (the land of savages) where they are far from the prying eyes of their proud public, the Flemish hardman may allow his mechanic to bolt on a lowly 39T ring, so long as no one brings it up at the dinner table. (It is worth noting that in Cyclocross it is standard practice to ride a 38T inner ring.)
Museeuw has never been a grimpeur, not when he was a Pro and not now. On Keepers Tour 2013, we had the opportunity to do several more rides with him, one of which was over the roads of Liege-Bastogne-Liege. It was customary for him to suggest alternate routes that avoided the steep hills, and so it was that he tried to talk us out of riding the Stockeu. We rode up side-by-side, taking our time. As we alternated between pedaling and doing track stands, he asked if I was riding a compact. I feigned a combination of exasperation and insult at such a question and told him it was a Flemish Compact.
"Oh, a 39? Goed."
[dmalbum path="/velominati.com/content/Photo Galleries/[email protected]/Belgian Compact/"/]