We Were Young and Totally Rad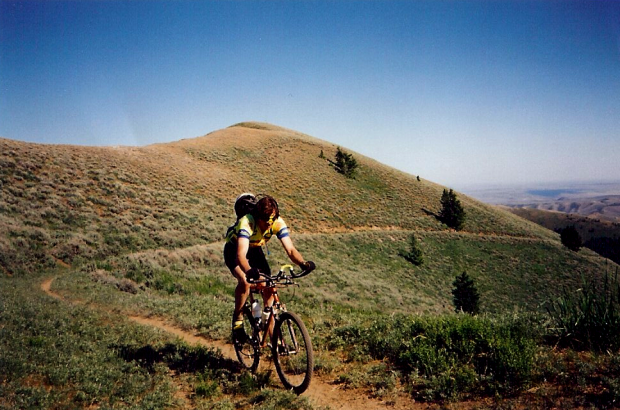 It's been an interesting week in the Velominati Archives of Awesomeness, after a freak discovery of boxes containing "photographs". After conducting some research, we've come to understand that "photographs" are like pictures, except they are stored neither on the Geekbox nor on the Interwebs, but instead reside on a special kind of shiny paper that tastes funny.
It's a rough ride down memory lane, this, where I'm forced to reconcile what I remember of the past and what is shown in these photos.  Here I am, roulin' dirty in my Briko Shots and longish hair, on my beloved Schwinn Whateverthefuck. I don't look nearly as cool as I remember.
It was a completely old-school steel frame with a long wheelbase, borne from the fires of innovation ignited in Marin County. When I first became acquainted with it, it was a bit of a clumsy thing with its long wheel base and tall head tube, but I slapped a road stem on it (which I drilled out for a cable stop) for some good, low-shoulder stability, and a first-generation Rock-Shox. I surmise the frame was made of sand-filled tubes, yet the long wheelbase meant it climbed and descended like it was on fucking rails. Together, we rode some of the most technical singletrack imaginable. And, it being the early Nineties, I naturally knocked on a set of LeMond-inspired Scott AT-4's to get nice and low for a convenient alternative to suicide.
My Merckx, I loved that thing.
When we merge our past and present, we turn up all kinds of delightful conflicts; little bits from the past always turn up which don't fit into the puzzle quite how we remember them and force us to relive those brief moments. Number One Bike Shop Buddy, Saul from SpeedyReedy, sent me a few pictures of himself racing: one of him on his old favorite, a GT Avalanche, and one pushing it LeMond-style at his local State Road Race Championships. After sending me his old Campy downtube shifter, our own Gianni sent me a shot of his young self, riding the Bella which housed that selfsame shifter – taken, I'm guessing, only a few days after Humans invented the Wheel. These are the moments of La Vie Velominatus; Cycling is a lifelong endeavor.
[dmalbum path="/velominati.com/content/Photo Galleries/[email protected]/cycling past/"/]