Velominati Super Prestige: Omloop Het Nieuwsblad 2013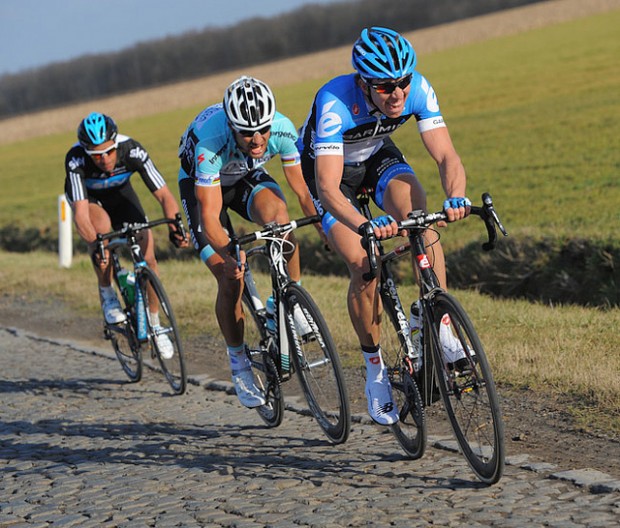 Outside my window, its pouring rain. My bike is leaning agains the wall in my office, covered in grim and grit from the ride in, which was characterized by equal parts cold, wind, and rain. The spot in the locker room where I changed before my shower was marked by sand and mud, and when I walked to the shower, I left a trail of dirty footprints.
It doesn't bother me one bit, however. My mind is already cast ahead to Vlaanderen and the Cobbled Classics which kick off this weekend with Omloop Het Neiuwsblad. I still want to call it Omloop Het Volk, and people more brazen than me would call it Gent-Gent and people even more stubborn than that would call it "Feburacing". (I made that last part up.)
Most importantly, this is when we kick off the third installment of the Velominati Super Prestige. We Keepers are all about the Spring Classics in general and the Cobbled Classics in particular – going so far as to host the second annual Keepers Tour: Cobbled Classics in April. (Sign up now, by the way, as we are looking at other projects for Keepers Tour next year and there is no guarantee we'll hold it on the cobblestones again in 2014.)
With that, we kick off the season-long 2013 Velominati Super Prestige with the first major race on the berggen and Kasseien of VVest Vlaanderen. Name your picks in the boxes below; 7 points for naming the winner correctly, 5 for second place, 4 for third, 3 for fourth, and 2 for fifth. One point for naming a rider to the top five, but getting the place wrong. Points will be amassed over the course of the season, and the winner will win a personalized Velominati Shop Apron. Full Rules and Scoring Guidelines on the VSP Main Page. Starting roster is over on CyclingNews.com. The ladies event will go up later today or first thing tomorrow.
Good luck, and Merckxspeed.
[vsp_results id="22169″/]