Velominati Super Prestige: Clasica Ciclista San Sebastian 2014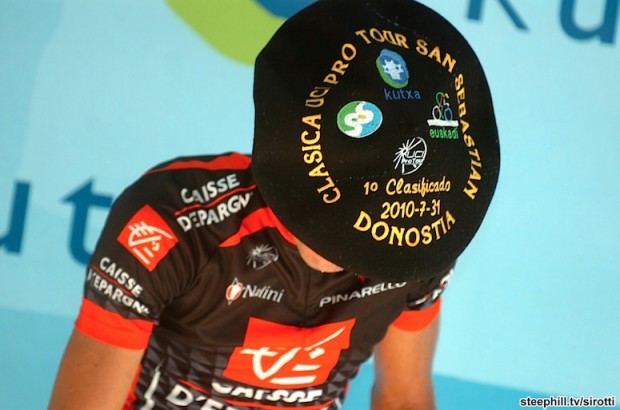 The race of the funny hat.
Every team seems to have included one or two riders fresh off the Tour. One would either feel ruined or unbeatable a week after that slug fest, more than likely, ruined. I imagine there are a few riders dodging calls from their directors this week.
Tony Gallopin beat Malmerde in last year's edition and the Spaniard will be hot to win something big after being relegated to fourth place in the Tour. Gallopin's stock has gone way up, having just worn the yellow jersey, so if the legs allow he should have some confidence. Others will be tuning up for the Vuelta but it is hard to imagine the win not coming from a recent Tour finisher with the mint legs on. No amount of training will duplicate three weeks of pain bank deposits from that Tour. That being said, I dare Frandy to win it. Why do I have such a bad attitude about him? Move on Gianni, move on.
This is also when contracts are negotiated so it would be quite timely to impress everyone with a giant one-day race win.
Here is a start list for this race and a prize list the the overall 2014 VSP. The overall VSP points earned are not high this year; a strong last third of the season could win the overall. This race is on a Saturday so be wary, make picks by Friday.
First place overall wins a Veloforma Strada iR Velominati Edition frame in addition to the customary VSP winner's VVorkshop Apron
Second place overall wins a set of hand built CR Wheelworks Arenberg wheelset in a custom Velominati paint scheme laced to orange Chris King hubs. (CR Wheelworks is Café Roubaix's new wheel goods brand.)
Third place overall wins a full Velominati V-Kit with accompanying custom orange Bont Vaypor+ road shoes. Yes, we said orange.