Velominati Super Prestige: Gent-Wevelgem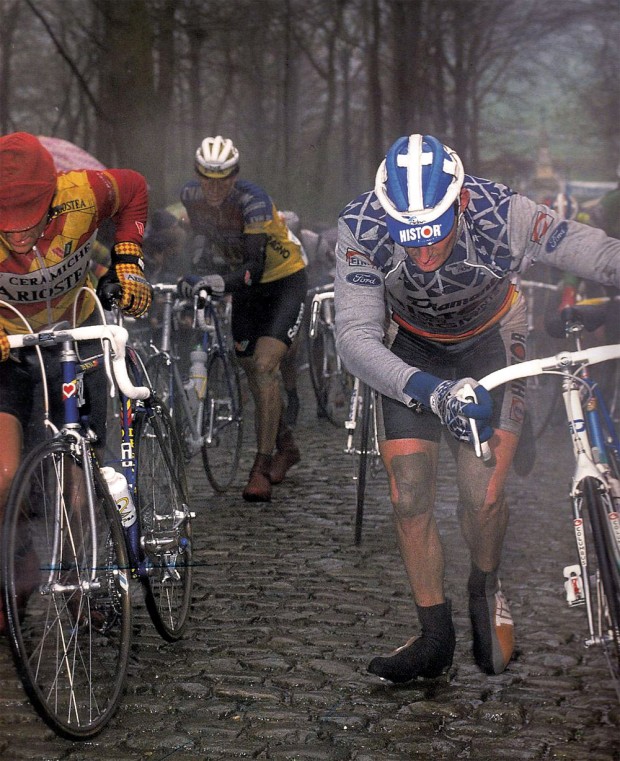 Rain. Cobbles. Bergs. Professional cyclists reduced to mortals who clammer up steep, slick cobbled grades on shoes not made for walking. Gent-Wevelgem is the teaser for the month of April, when the hardmen come to play on the stones of Belgium and Northern France. Personally, I liked it better when it was sandwiched between the two greatest one-day races of the year, De Ronde and Roubaix. On the other hand, Gent has been the Classic's bridesmaid for long enough and deserves its own weekend, even if that still makes it a warm-up race to be won by someone who's not enough weeks away from peaking.
The Flemish word for "hill" is "berg", and to ask any cyclist who doesn't live there, they'll tell you Flanders is rife with them. The truth is that most of Flanders is quite flat, save for a ridge which calls itself home to some of the most fearsome cobbled climbs in the world.  Among these is de Kemmelberg, which features as the primary obstacle for Gent Wevelgem. Steep and cobbled, on a dry day it serves as the decisive climb on the finishing circuit of three laps; on a rainy day it will reap havoc on the field.
With that, we kick off the second edition of the 2011 Velominati Super Prestige for Gent-Wevelgem. Like La Primavera, Gent is enough of a wild-card that this is a tough race to call.  It rarely ends in a bunch gallop, but it's not difficult enough to eliminate sprinters from the finale. The riders targeting Flanders or Roubaix will not quite be peaking yet, but the race isn't so difficult that a rider two weeks from peaking can't win. Our advice? Go with the gut, and try to pick people who are actually starting.
The winner of this VSP edition will earn an "Obey the Rules" bumper sticker and all reader's points qualify towards the final prize of the free personalized Velominati Shop Apron. This year we've enhanced the entry mechanism; if you are inclined to enter, simply post your predictions for the top five placings in the designated area above the posts section, bearing in mind that entry/modification of picks closes at 5am Pacific time on the day of the race. Check the Super-Prestige main page for rules and scoring information.
Good luck.