Velominati Super Prestige: La Fléche Wallonne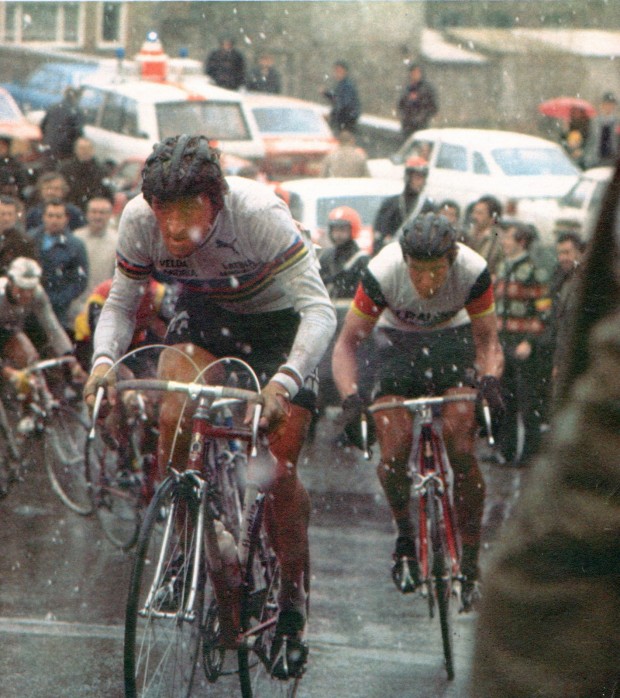 La Fléche would perhaps be my least favorite classic, were it not for Gent-Wevelgem's ill-timed bike-throw in their race for last place. It isn't anything to do with the quality of these races themselves, but more to do with the company they travel in. Gent used to be sandwiched between de Ronde and Roubaix, just as La Fléche is between Amstel and Liege; it just happens that these are some of the greatest races in the world, and the bridesmaid never looks as good as the bride.
It's a shame, too, because the Mur de Huy is an absolute brute and ranks as one of the most fearsome and recognizable climbs in the world. Almost a kilometer and a half in length with pitches of 20% and 25%, the climb is hit several times on the finishing circuit. Diabolically, the finish is placed at the top of the hill.
The finish favors a powerful climber who can time an uphill sprint to perfection.  Think Nicole Cooke or Danilo Di Luca.   Cuddles misfired on this finish several times before getting it right last year and giving the "Thumbs Up" sign. You could almost a weakening Clentador thinking as he was getting passed, "I'm not climbing well enough for my weight yet.  Need to get me some Spanish Beef." Experience always counts, but it's critical here.
So on with the 2011 Velominati Super Prestige and the La Fléche Wallonne. As usual, the winner of this VSP edition will earn an "Obey the Rules" bumper sticker and all reader's points qualify towards the final prize of the free personalized Velominati Shop Apron. If you are inclined to enter, simply post your predictions for the top five placings in the designated area above the posts section, bearing in mind that entry/modification of picks closes at 5am Pacific time on the day of the race. Check the Super-Prestige main page for rules and scoring information.
[youtube]http://www.youtube.com/watch?v=p-O2_KwWMUg[/youtube]