Velominati Super Prestige: Le Tour de France 2013, Stage 19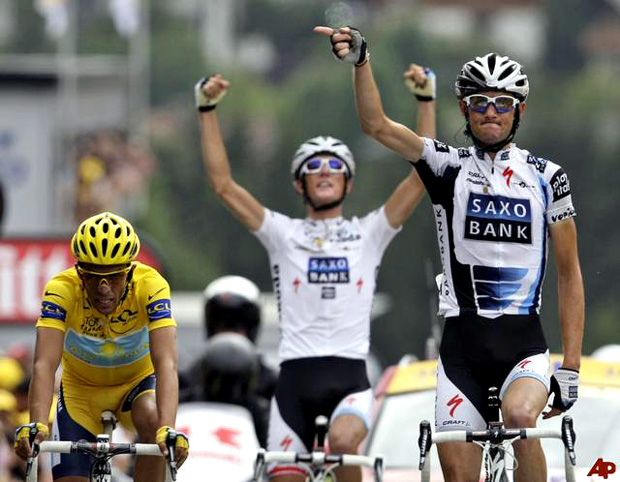 Since it appears that the descents are where the action is in this year's Tour de France, we thought we'd forgo our usual Mountain-Top Finish for the Stage VSP and instead go for what I'm guessing might be a real cracker of a stage into Le Grand Bornand. In 2009, the Schleck Tandem hadn't yet discovered their collective drag chutes and did a stage-winning riding with Bertie pointlessly attacking to drop his own teammate on the run up the final climb.
This year features a bumpy profile which includes two of what I personally have found to be the hardest climbs in the Alps: the Glandon and the Madeleine. They're going up the easier side of the Glandon (which shares the road with the Col de la Croix de Fer from this side) and then down to the steep side of the Madeleine. Then its over the camel's back to the Col de la Croix Fry before diving into the valley for the finish.
In my review of that stage in '09, I was airing my Dirty Schlecky Love on the laundry line, but there is little risk of that happening again this time around, unless Le Petite Schleck finds his patrones between now and then. And lets not forget that Contador is descending like a witch on a broomstick and putting Froome on the ropes in the process. Not to mention, Nairo's horrible lines on the way down could mean we see a major shuffle on the GC.
Be that as it may, the stage itself will surely go to a breakaway and that's what we're here for. So get your picks in by midnight Friday for a chance to win a pair of Bont shoes; the winner will be assisted in selecting the size and will also be helped through the molding process. VSP Points go towards the overall VSP, not the Le Tour VSP. Finally, as this is a Stage VSP, points only go to getting the places right, no bonus points for getting the right rider in the wrong place. Good luck.
[vsp_results id="24469″/]