Velominati Super Prestige: Liége-Bastogne-Liége 2014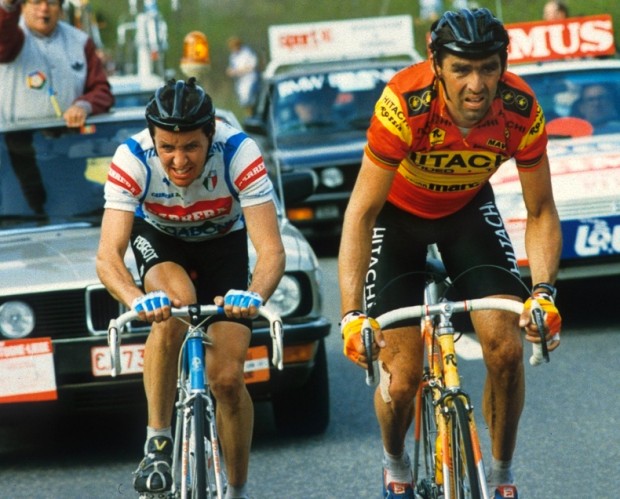 The 100th running of Liége-Bastogne-Liége takes place this Sunday. Danny-boy Martin will be marked heavily as the defending champion. Malmerde, and Phil Gil have shown they are peaking too. Froomy has thrown his hat into the ring, as he did last year but after last years 26th place, maybe it's training. 263 kms, past winners include a long list of known dopers, again, the pot belge mix paid off to keep riders cranking through those last climbs. Cancellara talked of slimming down more in to add this Monument to his palmarés but this might be the farthest from his grasp. This is a very tough race course. You need to be a fondisti, someone with staying power, a Phil Gil or a fully doped Moreno Argentin to finish this race off successfully. Last year Red Ryder went ballistic, blew up the field and opened a way for his teammate, Danny-boy. Let's hope for some equally exciting fireworks this Sunday.
Here is an imperfect startlist.
The points from the LBL VSP count towards the overall prizes. So check the start list, review the VSP Scoring Guidelines and get your picks in by the time the countdown clock goes to zero at 00:00 hours PDT on Sunday the 27th. If you think we mapped one of your picks wrong, use the dispute system and we'll review it. Also remember to be precise enough in your description so we know which rider you mean; in other words, if you enter "Martin", we will use our discretion (read: wild guess) to decide if you mean Tony or Dan – and that choice will not be negotiable once the the countdown clock goes to zero, so be sure to give yourself enough time.
Don't forget we've got three major prizes for the season-long VSP:
First place overall wins a Veloforma Strada iR Velominati Edition frame in addition to the customary VSP winner's VVorkshop Apron
Second place overall wins a set of hand built CR Wheelworks Arenberg wheelset in a custom Velominati paint scheme laced to orange Chris King hubs. (CR Wheelworks is Café Roubaix's new wheel goods brand.)
Third place is you're fired or overall wins a full Velominati V-Kit with accompanying custom orange Bont Vaypor+ road shoes.
All Hail Cosmo!
[youtube]http://www.youtube.com/watch?v=wkLa_W7g5js[/youtube]
[vsp_results id="29669″/]