Velominati Super Prestige: Ronde van Vlaanderen 2014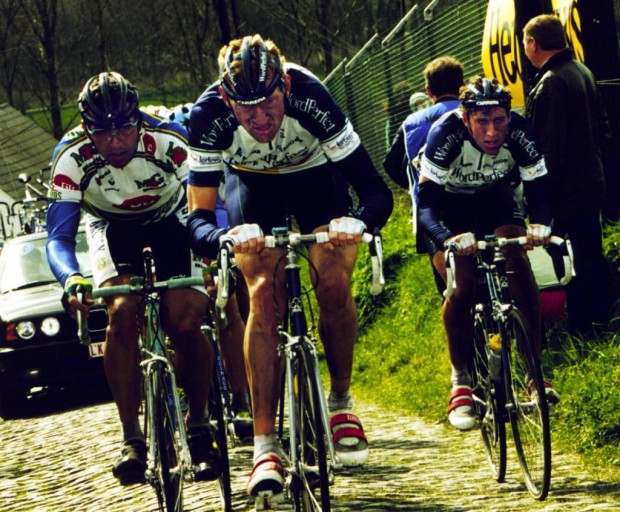 This needs no introduction. The Spring Classics are truly upon us. The course has been modified yet again, it is tougher? The riders make the race and the 2014 Ronde van Vlaanderen is loaded with racers who could win or make the Velominati VSP placings. Just to pick the winner will not be nearly as easy as it has been recently. There are small clouds hanging over Boonen and Cancellara, neither have had a dominant run up to this race, nor has Sagan. Boonen's team is extremely strong, other teams would kill to have Quick Step's plan B and plan C.
As always, the Ronde and Roubaix sort out who is the strongest. The final burn up Oude Kwaremont and the Paterburg will hopefully kill any chance for a sprint finish, but if it comes down to a sprint, it shall be awesome. As always, we shall be praying for rain on the Koppenberg and maybe a quick view of a friend drinking a Malteni on the Kwaremont. Here is a provisional start list. So do your Belgian beer shopping, make sure your counter-top frite deep fryer won't burn down your home and then and only then, contemplate your VSP picks. If you Delgado this you may be cut off for the rest of 2014, because you suck.
The points from the Men's RVV count towards the overall prizes plus the winner of this event also gets to post for the rest of the year in the  Lion of Flanders badge. So review the VSP Scoring Guidelines and get your picks in by the time the countdown clock goes to zero at midnight PDT on Sunday the 30th. If you think we mapped one of your picks wrong, use the dispute system and we'll review it. Also remember to be precise enough in your description so we know which rider you mean; in other words, if you enter "Martin", we will use our discretion (read: wild guess) to decide if you mean Tony or Dan – and that choice will not be negotiable once the the countdown clock goes to zero, so be sure to give yourself enough time.
Don't forget we've got three major prizes for the season-long VSP:
First place overall wins a Veloforma Strada iR Velominati Edition frame in addition to the customary VSP winner's VVorkshop Apron
Second place overall wins a set of hand built CR Wheelworks Arenberg wheelset in a custom Velominati paint scheme laced to orange Chris King hubs. (CR Wheelworks is Café Roubaix's new wheel goods brand.)
Third place overall wins a full Velominati V-Kit with accompanying custom orange Bont Vaypor+ road shoes.
Good luck, have fun with it, and don't lose your Rule #43 spirit.
[vsp_results id="29425″/]