Velominati Super Prestige: Strade Bianche 2012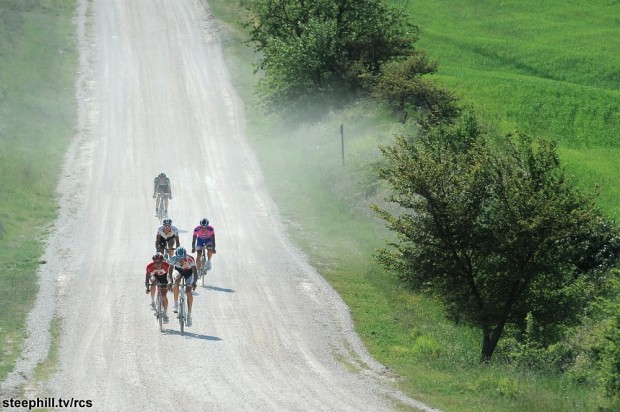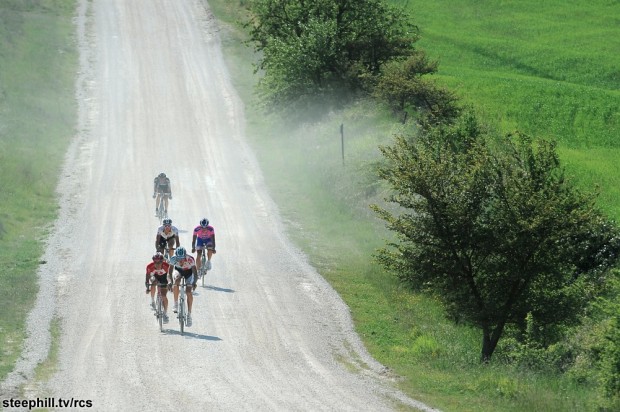 The Monte Paschi Strade Bianchi is happening this Saturday and it is such an interesting race we are putting it into the VSP.  The route is a mix of pavement and white marble sectors that roam through the hilly Tuscan country and finishes in the middle of beautiful Sienna. It seems early to me but that is because the Giro had an epic stage on the Strade Bianche in May 2010.  The word epic is overused but the wet, grimy Giro stage was compelling, awesome, everything you would want in a race. It was epic.
This race grew out of the immensely popular Eroica retro-sportive. Goggles, mustaches, heavy old bikes, I don't understand it. It must be like the Civil War enactments in the USA: people are compelled to recreate something, and participate in it to understand it. I'm never going to participate in the Eroica sportive, so I'm never going to understand it. Sweet Merckx a mighty, I'm old enough to never want to ride a bike with a five speed Regina cluster again. Give me Campa 11 with electronic shifting if you must, I'm riding into the future.
Phillipe Gilbert started his reign of terror in 2011 by winning the Strade Bianche and he never stopped. I would not want to bet against him and yet, perhaps he is saving himself for a month from now. His team is stacked with possible winners (a phrase we are going to be over-using this year). Judging from past results the Italians have not had any home road advantage but if Vinny "da shark" Nibali can ride away from everyone in Oman, surely he can do it here. This year's incomplete start list includes past winners, potential Spring Classic stars and Mark Cavendish. Did I imagine this, the World Champion on the crushed marble roads of Tuscany? Please stay tuned for a more accurate start list.
I will stop further skewing the odds at Lotto, they are all winners aren't they? Put on your aluminum foil thinking caps, consult the awesome countdown timer which will stop on Saturday morning and be thankful there is not a women's edition of this race to show the world how little you all know about women's racing (@cyclops excluded somehow).
I just can't stop myself from including a bit of wet strade from the Giro.[youtube]http://www.youtube.com/watch?v=O0jCHawi9II[/youtube]