Velominati Super Prestige: Tour de France 2012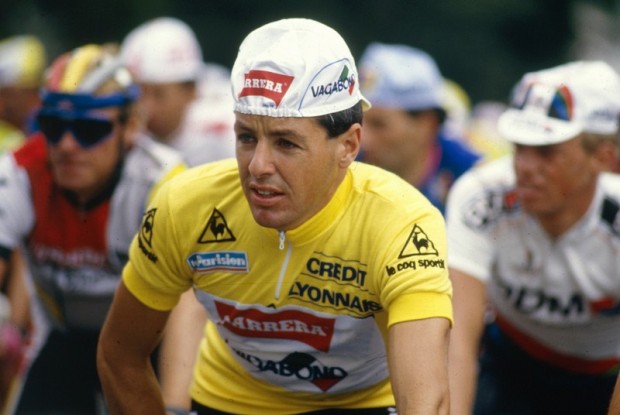 We are proud to announce a change to the Velominati Super Prestige moving forward: sponsorship. We are delighted (if a little surprised) at the interest our partners showed in this endeavor, despite the short notice we gave them. Four sponsors will be gracing the sides of our team bus for this year's race: fi'zi:k is our Super Domestique Sponsor (think Big George without the shoe covers because who'd want to cover those beauties up), while the leadout train is being rounded out by DeFeet, Pavé Cycling Classics, and Malteni Beer. As we all know, fizik gets a lot of love around here as the Contact Point Supplier, and for good reason. So we thought now is as good a time as any to announce that DeFeet has agreed to come on board as Flandrian Best Supplier, the Pavé boys, our trusted guides over the stones and bergs, and Malteni Biere which fills our bidon and keeps us making bad decisions like teaming up with the Pavé boys.
So what does Super Domestique Sponsor mean? Free shoes to the winners – that's what it means, dillwhips. Free R3's, yup the Aristocrats, to the three winners of the VSP: TdF GC Winner and the two Stage VSP's. As you watch this year's race, look for the likes of Jeremy Roy and Richie Porte riding the R3's in complete Rule Compliance. As Leadout Sponsor, Defeet is providing a full Flandrian Best Kit including a base layer, Armskins, Kneekers, and Slipstream Belgian booties for the VSP: Tdf GC second place as well plus two pairs of D-Logo socks to each runner-up of the Stage VSP's. The Pavé boys (also Leadout Sponsors) are putting up a limited Pavé Cycling Classics wool jersey awarded to third place. We can't ship Malteni (also Leadout Sponsors) legally, so you'll just have to wait until you're in Belgium to guzzle some of that lovely nectar or join the Pavé boys for their Worlds Weekend tour with Johan Museeuw where they'll get you stupid(er) on the stuff.
Gianni's Ruminations
Finally, the date has arrived. We have all done our training through the winter, contested the Spring Classics, The Ardennes Races, Romandie, Oh the Giro, The Dauphine, Tour de Swiss. Not all were in the VSP schedule but I know most of you wrote down your picks for the others and tucked them under your pillows. It's training. There has been time to taper down before Saturday's prologue start in Liége, Belgium. A young neo-pro, The Fish, is leading in points. The hardened veterans have seen these youth come and go, the season is long. A touch of wheels, a moment of youthful idealism, Vladimir Karpets is picked to podium, The Fish goes down, he panics and by the time he is back up he will never see the front again. Or he will continue to mock us all with his astute choices and lead all the way to Lombardy.
I have staked my claim on the yellow kit ownership some time ago and still see this as an epic Cadel-Wiggo battle to the death and if not death, until one of them sits up. But this year might be the time the youth start to fill up the other three places in the top five.
The Shack's team car has been crashing into every static object all spring and now Bruyneel has been yanked out of the driver's seat. The ride can only get smoother but with the reluctant leader Frank Schleck staring at over 100km of prologue and time trialing, as was said in the bunker, they are going stage hunting. I could go on for hours about the 2012 TdF but we have other Keepers who need to vent.
Please check the VSP page for the rules, keep an eye on the awesome VSP countdown timer, don't Delgado your picks. Here is the start list.
I have to give a shout out to a brave group of Velominati who are heading to the Vermont/Canadian border to draft behind a massive dump truck full of Awesome all the way to the Massachusetts state line. It's a Cogal only deranged people would attempt and as luck would have it, we supply them here. I hope they get their picks in soon as they may be in no kind of shape on Friday to think about such important things.
Brett's Misconceptions
It's all about Fränk. It's perfect. All the pressure's off. No lil bro to hold him back. Deliberately sucking all year so far, crashing and quitting, a hint of form, Bruyneel slinks off to deflect attention (and suspicion), Fränk suddenly can time trial and a couple of Pharmy style attacks later he wins in Paris by two minutes, taking the sprint on the Champs Elysees for good measure. Maybe not the last bit. Fränk will, however, finish in lil bro's favourite position. Or suddenly leave with a stomach bug.
Cadel will take this. It's perfect. All the pressure's off. No lil bro to worry about in the mountains. Deliberately almost sucking so far, but not. Hints of form, staying low, deflecting attention. Look after the time trials and command the mountains. Safe, not exciting. Or he'll step on someone else's dog, breaking his elbow and decapitating the dog.
Wiggo could take this. It's perfect. A lot of form. A lot of km's against the clock. Not too many big hills. Too tall socks. Cav left to fight alone. One bad day is waiting there though, the sort of bad day that not even winning the final TT by 2 minutes can alleviate. Or he'll crash in the first week, breaking both elbows after getting a sideburn caught in his crazy bio pace chainrings.
Sagan will win the first twelve stages, then leave with a stomach bug. Gossy will gratefully step into the vacant green in the greatest heist since Gerro won San Remo. And the Rug Salesman will be all spotty, due to getting in a long break and not sucking as much as even he expected. That'll help him to 5th and Zubeldia level evanescence.
None of this may actually come close to happening, but whatever does I hope it's an exciting race. Good luck to those battling hard for three weeks in the VSP race too, it could just turn out to be the main point of interest a couple of weeks from now.
Marko's Reckoning
The Fish loses two spots on the G.C. but manages to eek out a pair of R3s in a sub-VSP as G'phant peaks in le Grande Boucle and walks away with le Grande Bouprize. Sad thing is, G'phant is legend but nobody remembers him because he only shows for races, not group rides anymore. Fausto rides a calculated, if not boring, race to move up a spot but just misses out. Gianni gets a glimpse of the podium going into the 16th stage and the Tourmalet but drowns in a lactic acid and caffeine soaked bath in that stage's VSP. Marko Delgados virtually the entire event while he continues building his family a house in direct violation of Rule #11, which is more than we can say for Brett and Frank who were last seen going in the opposite direction with Bruyneel in a Radiotreksanshack team car dragging a muffler through Liege on its way to a USADA hearing near Austin.
In the meantime, two dudes from the Commonwealth – one with sideburns approaching muttonchops and another with an ass on his chin – duel it out in France. There will be some Italian, Spanish, and Russian dudes there too in an epic the likes of which hasn't been seen in years. Fuck Yeah people, Vive le Tour.
Frank's Delusions
It happens every single time. I get all weepy-eyed about the Giro and how it's the Velominatus' choice for a Grand Tour. Less crazy, better terrain, a comparatively weaker field usually yielding a closer race. But come the Tour, I get all starstruck as the big names line up in the best form they could muster for the season.
I also had decided to pick Twiggo for the big win, but now I'm not so sure. I love that the guy is tall and can get over a mountain, but there is one irrefutable fact that I can't get over. He looks much too much like Gianni's avatar, only not as well-kept. The sardonic look on his face along with those whispy sideburns are just too much for me to take. I'm back to rolling with my heart and my questionable sensibilities to favor Grimpelder this time round, now that he's out of the shadow of his little brother and will be able to put the swivelnecking energy into the pedals instead of looking behind him.
The good news is that the racing always winds up being awesome. And that's what its about: panache. So long as Wiggo doesn't pull an Indurain and take 6 minutes on an early TT, I'll be happy.
Epilogue
Pick carefully, don't Delgado, and think twice about those rest day swaps; they come at a heavy price and there are some nice prizes on the line which make the Velominati Shop Apron look like a Schleck's chamois during the descent of the Peyresourde.
The Fine Print: each contestant is of course encouraged to enter all VSP events, but everyone is eligible to take the prizes on only one VSP. If a contestant takes more than one VSP event (GC or Stage) the prize for that VSP will then be awarded to the player with the next highest score. In the event of a tie we'll do our best to find the fairest way to break the tie. If something doesn't make sense, please ask; we're making this up as we go along.
Get your picks in by the time the countdown clock goes to zero, and good luck. Vive le Tour.