Velominati Super Prestige: Vuelta a España 2014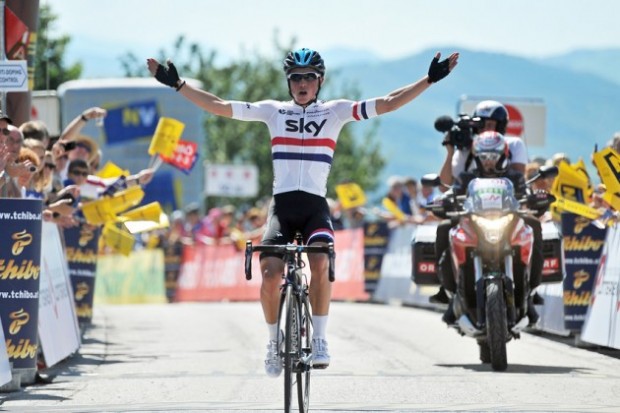 Did everyone got tired of seeing a nearly naked Marcel Kittel on the massage table for the Tour's VSP page? I know I didn't. Young Kennaugh will be sporting his British road race jersey and his proper shoe/sock pairing in this Vuelta. Get used to it. 
Ladies and gentleman we have a race. We have some Giro winners, we have some Tour de France winners and we have some Vuelta winners all lining up for the 2014 edition.
Quintana won the Giro but wants to prove he is the real deal. Is Malmerde working for him? Froome, he has been training in Sonoma, California. Talansky lives there, maybe they have both been training with egg timer. I think we can count out Horner to repeat or Bertie to do anything other than put some points in his jersey pocket. Carlos Alberto Betancur is here to lose some weight. David Millar is in to show he really deserved to ride the Tour de France. Boonen is here to train for the World Championships. Maybe everybody is here because their boss said get your skinny (or fat, in Betancur's case) ass to Spain and ride the damn Vuelta. 
No matter, the reason you, dear readers are here, is to show your total domination in the VSP. Stare at the start list until olive oil pops out of your tear ducts and stigmata appear on your palms.  Redemption, points, the Worlds, spite or orders from the boss are all equally good reasons to get riders on the start list. How many people picked Chris Horner to win last year? Just a moment, I'll query the VSP generator for archived results.
"Fuck off, I'm full"
The VSP generator is channeling Mr Creosote, that's not a good sign. The point is, if there is one, this season's VSP* is hanging in the balance on the Vuelta. Don't consult the professional odds makers, that is like doping. Who is motivated? Who has a great team? Who does not make too many kit transgressions? Who looks fantastic on the bike? These are the questions.
Who has the answers?
*Prizes are as follows:
First place overall wins a Veloforma Strada iR Velominati Edition frame in addition to the customary VSP winner's VVorkshop Apron
Second place overall wins a set of hand built CR Wheelworks Arenberg wheelset in a custom Velominati paint scheme laced to orange Chris King hubs. (CR Wheelworks is Café Roubaix's new wheel goods brand.)
Third place overall wins a full Velominati V-Kit with accompanying custom orange Bont Vaypor+ road shoes.
[vsp_results id="30805″/]