Guest Article: Interbike 2011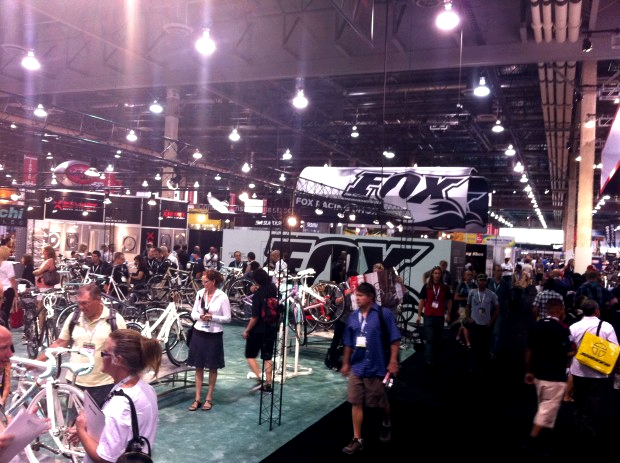 Imagine my surprise when, while enthusiastically discussing the "porn show" down in Vegas, some of my coworkers expressed concern and declared the discussion of this subject during a conference call to be "inappropriate". Apparently, there is some other kind of porn that doesn't involve bicycles that also has a show there as well. Very confusing, and, quite honestly, I'm not sure what the appeal would be if it doesn't involve chains and lube.
Our community member @sgt has managed to lie and cheat his way into the vendor-only Interbike Show in Las Vegas, which is one of the most significant bike shows in the world. He was kind enough to share his thoughts and photos, and even provided a V and Anti-V summary at the end. Cheers to that.
Yours in Cycling,
Frank
—
I had the distinct privilege to attend Interbike 2011 in Las Vegas with some clubmates.  What follows is my first hand account of what I saw, what I liked, what I didn't like, and what impressed me most and least, with special attention paid to those items of particular interest to you, my fellow Velominati.
For those of you who don't know, Interbike is the US equivalent of Eurobike, an industry-only trade show for all things related to the bicycle industry.  All the major component manufacturers attend, and most of the frame, wheel and component companies.   I was there under the nominal auspices of my local shop and club sponsor, but I had an ulterior motive: to represent the Keepers, to seek out new devices for channeling The V; to boldly go where no Velominatus had gone before.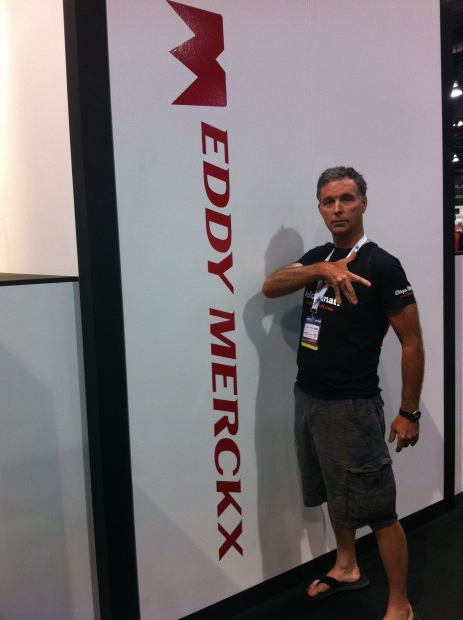 Let me start by saying that Interbike is an amazing compendium of bike-related ephemera… you can find anything related to travel using wheels and pedals, plus a bunch of stuff that seems to pertain to nothing at all.  I found it interesting that although most of the second tier bike/frame manufacturers were there, only Specialized represented the big boys: no Trek, no Cannondale, no Giant (although they did have some stuff at the outdoor demo earlier in the week, which I missed).  And no Cervelo either (sorry, Frank).
Just as well, as I am way more interested in what the mid-to-small size builders are doing.  I visited Bianchi, Wilier, Look, Time, Lapierre, Argon, etc.  But the bike-maker that most impressed me was BMC.
The Time Machine: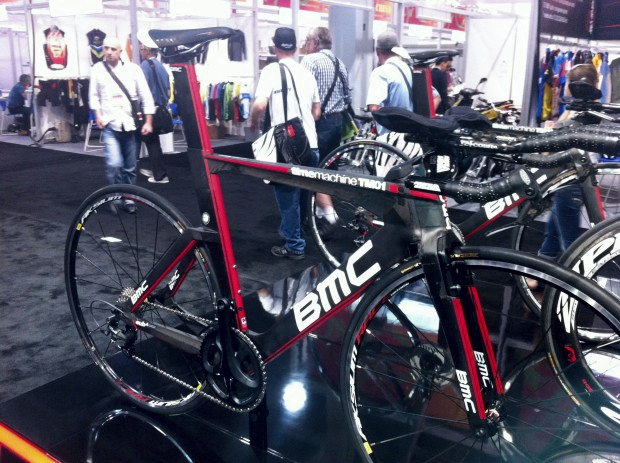 The Race Machine: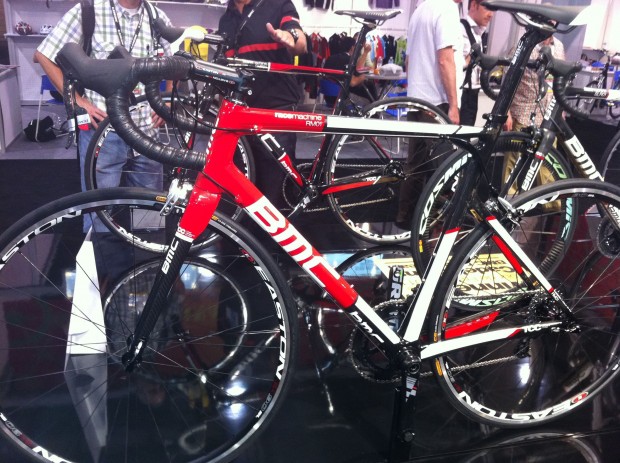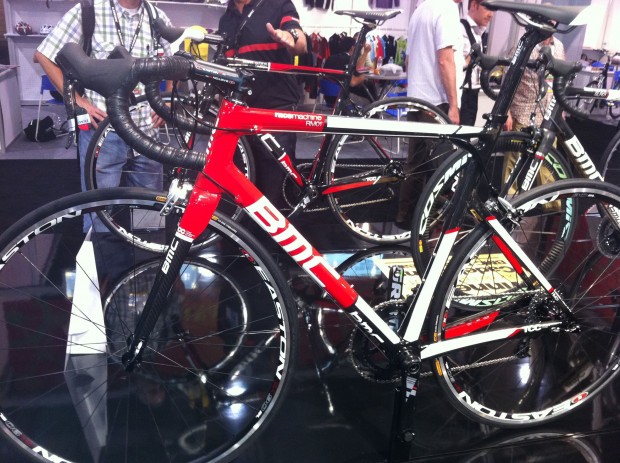 The Cuddles Machine: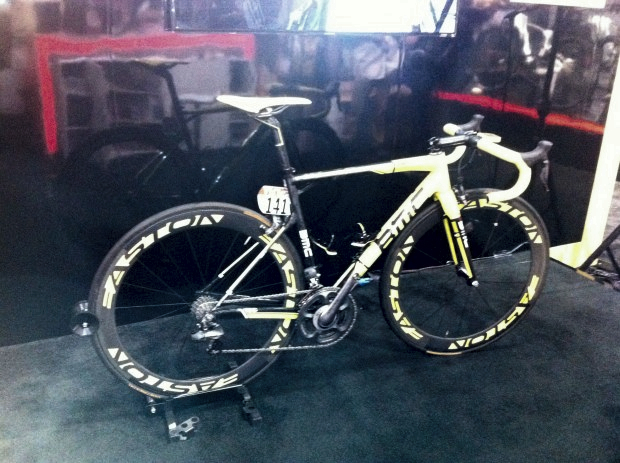 BMC really pushes the envelope with tube shapes, materials and their signature short seat stays, plus big honking bottom bracket shells. And they use really hard math: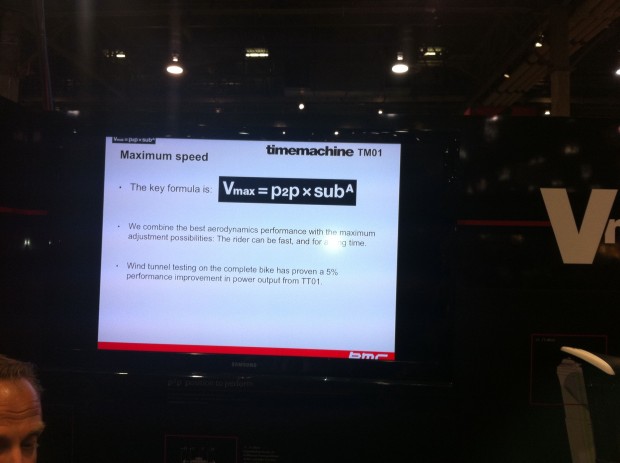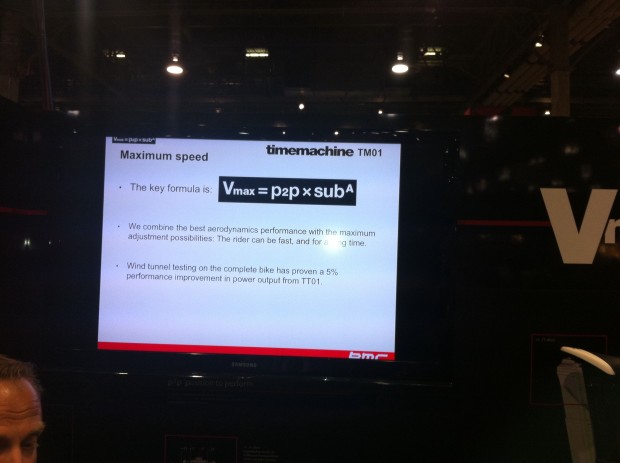 I also saw some downright silly stuff, like this aero headtube on a Look mountain bike (really?):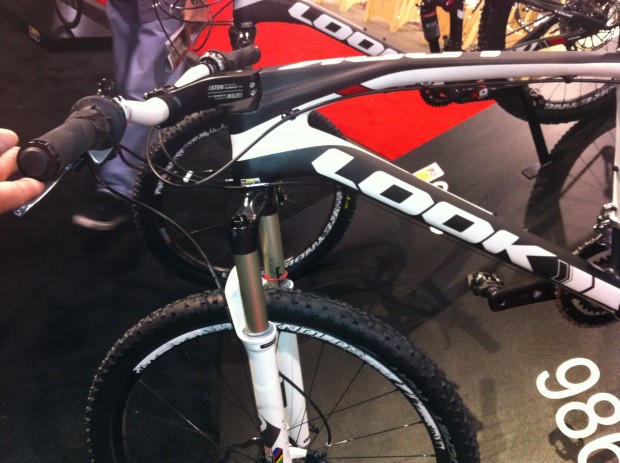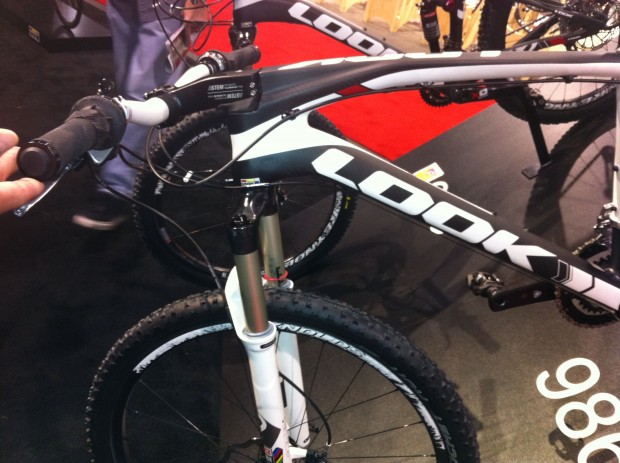 And this unique saddle from Merckx-knows-who: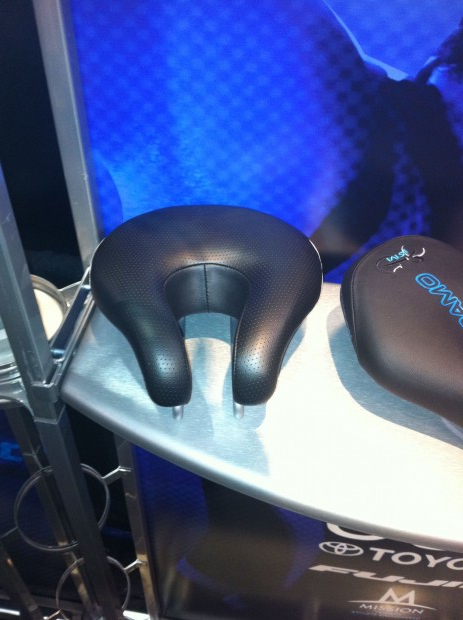 I visited the booths of many companies beloved of the Velominati.
Dumonde Tech was showcasing this: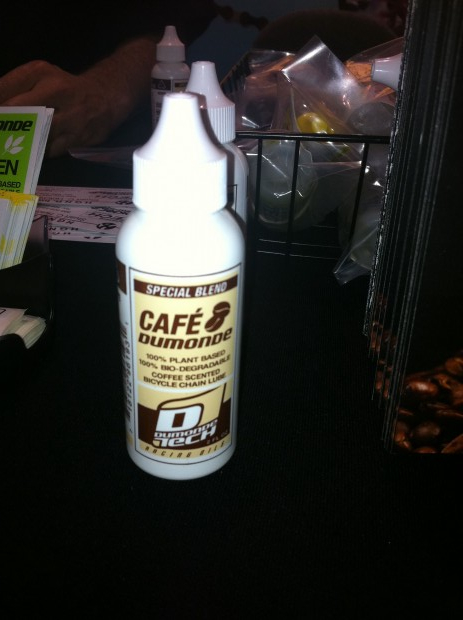 Yes, that's coffee-scented organic chain lube, folks.  Sorry Frank, I couldn't coerce a sample out of them, but I did get a little Dumonde Tech Lite for personal consumption.
Lezyne was showcasing a very sharp looking new line of tools.  When I remarked that the beer opener was a nice afterthought for the pedal wrench, the designers quickly corrected me; the pedal sockets were added to the beer opener so the boss wouldn't yell at them….My bad.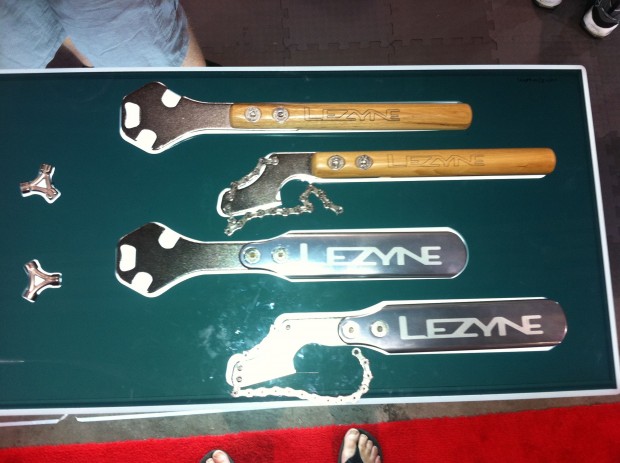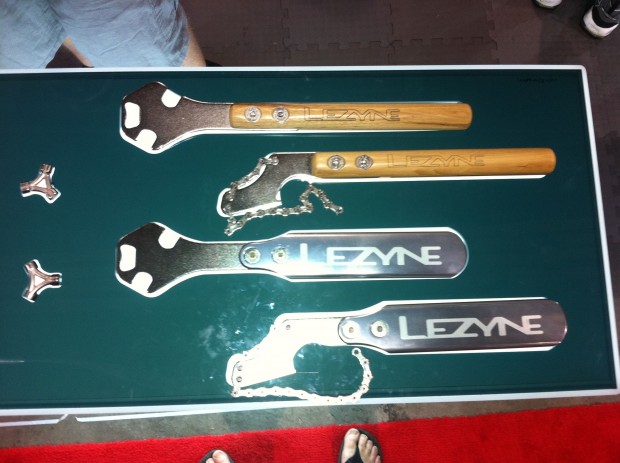 And even Columbus Tubing had a booth in the Italia pavilion, along with Wilier, Vittoria, Limar, and a bunch more: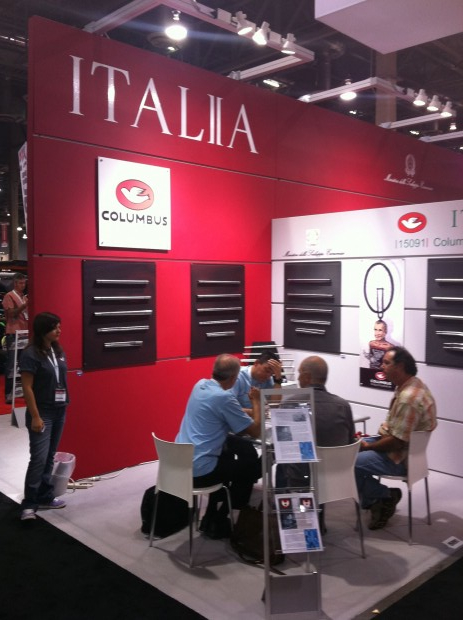 My next pair of shoes: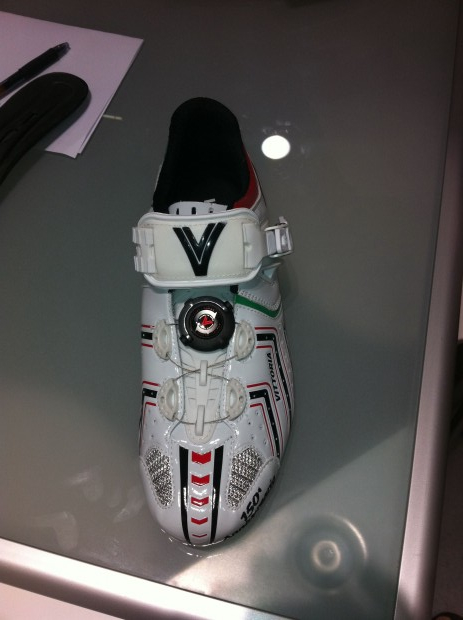 Nirvana: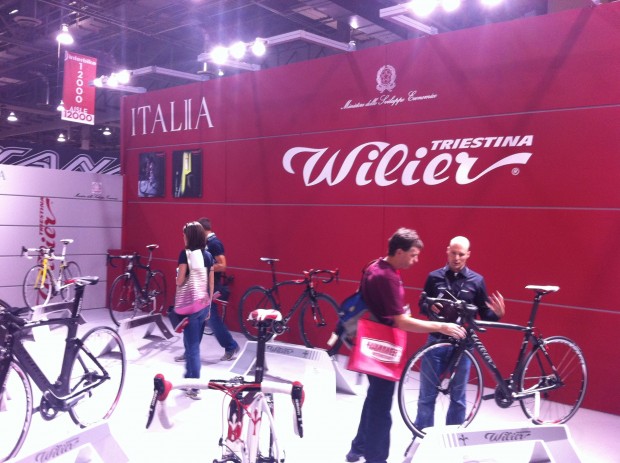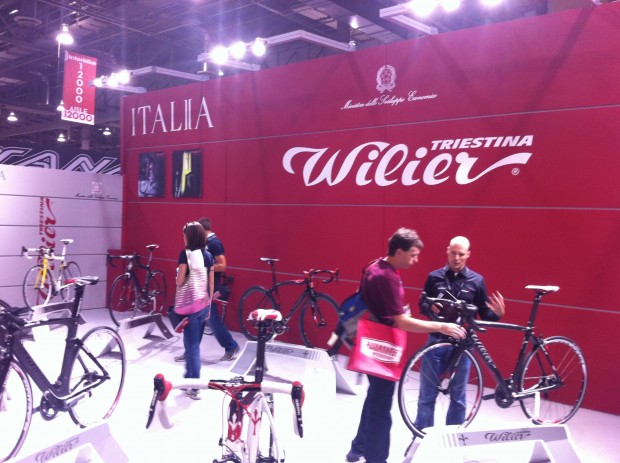 I even got some classic bend bar porn for Frank:
Oval Concepts (the only carbon classic bars I found, and my bars of choice, btw):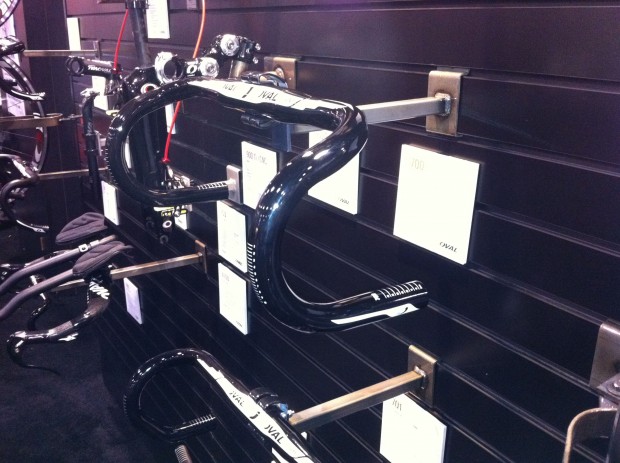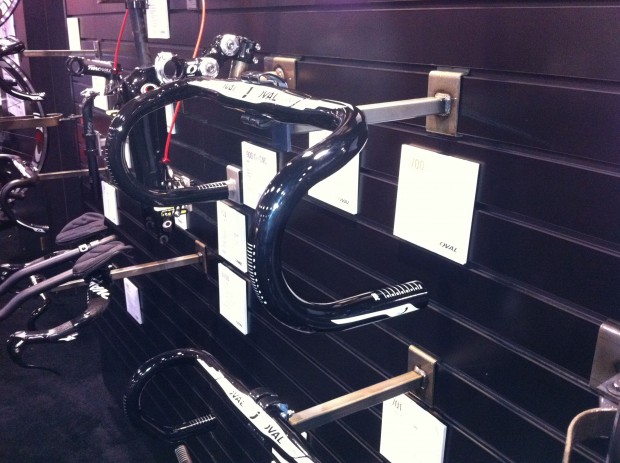 Deda: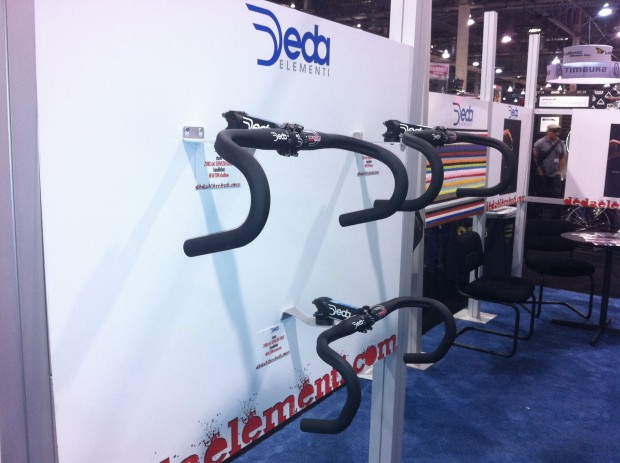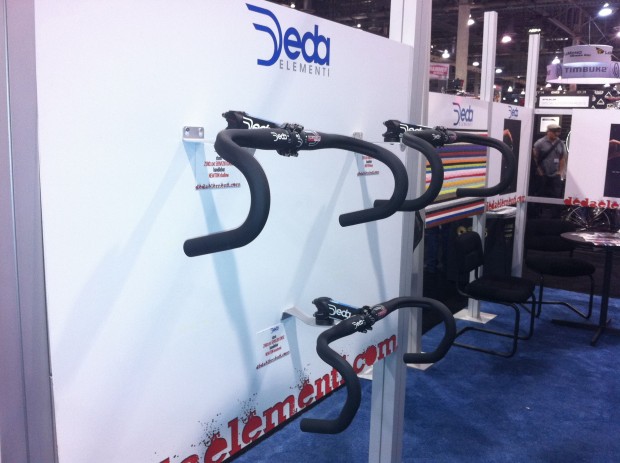 3T Rotundos: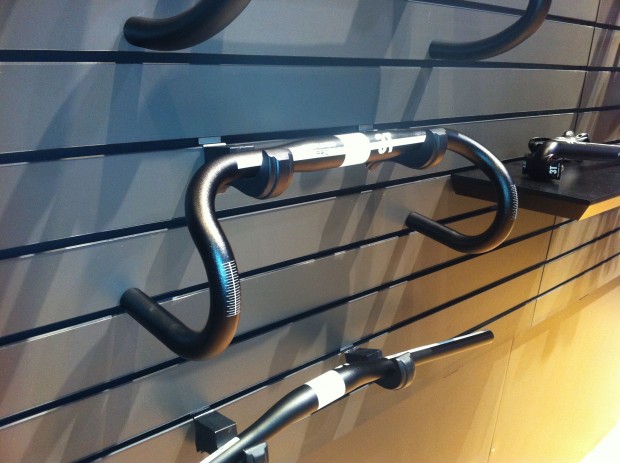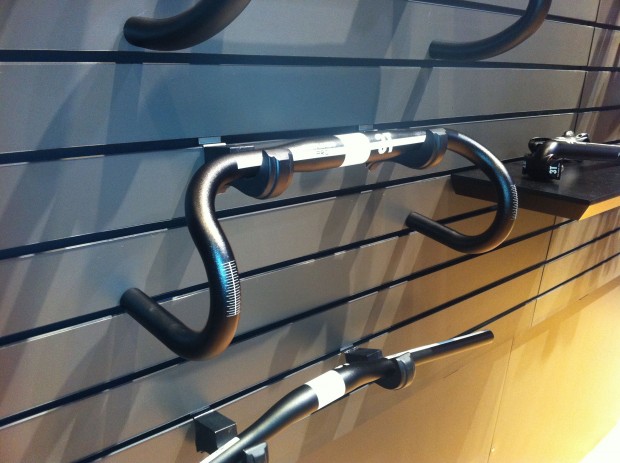 Interbike was truly an embarrassment of riches.  There were many companies paying homage to La Vie Velominatus with clothing and equipment designed in accordance with The Rules. Unfortunately there were many, many more heretics.  I could go on and on and on describing the various horrors being foisted on the cycling public, while applauding the good that was displayed cheek by jowl, sometimes in adjoining booths.  With that said, and after careful consideration, I have conferred the following honors and demerits for the best and the worst of Interbike.
Interbike V-Awards:
The companies below are representative of the highest quality, initiative and entrepreneurship I saw at Interbike.  While they were by no means the only companies displaying these traits,  they set themselves apart with innovation, guts and audacity.  Business V, as it were.
East Coast Cycle Supply (http://www.eccyclesupply.com/):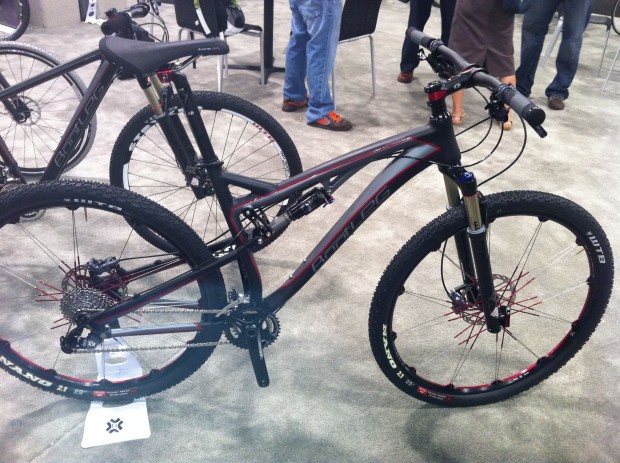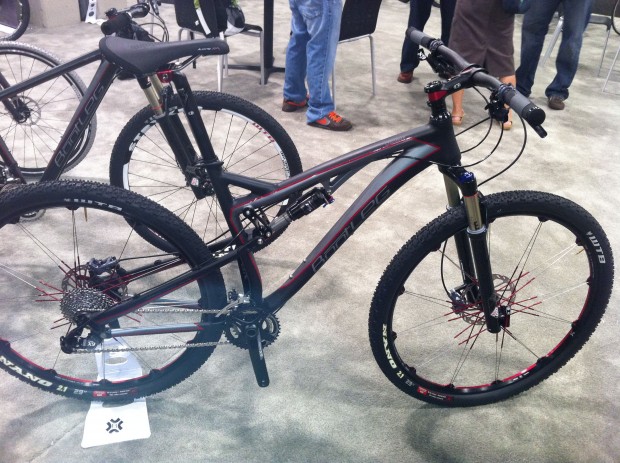 This startup is composed of a bunch of guys that got their pink slips after their old bike company failed. (I'll spare you the sordid details, especially since I really don't remember what they told me.)  But, rather than pack it up and call it a day, they rallied, started a new company and set about using their industry knowledge to source some very cool frames and start a new brand (Bootleg).  I ran across them down in the bowels of the second floor, behind some elliptical trainers.  They are good eggs, have passion for what they do, and aren't afraid to back it up with their own scratch.  Good on yer, boys!
Knog (http://www.knog.com.au/ ):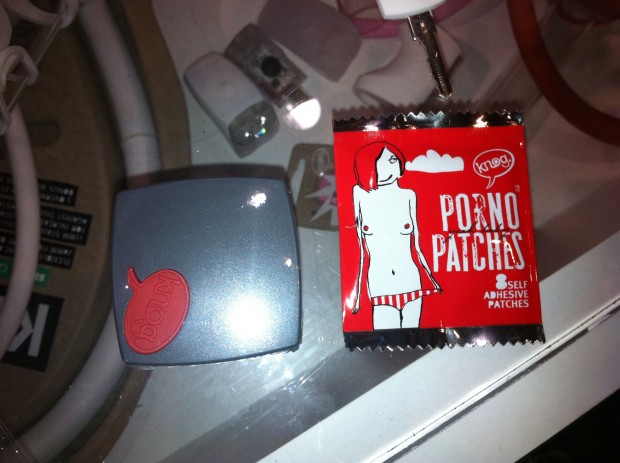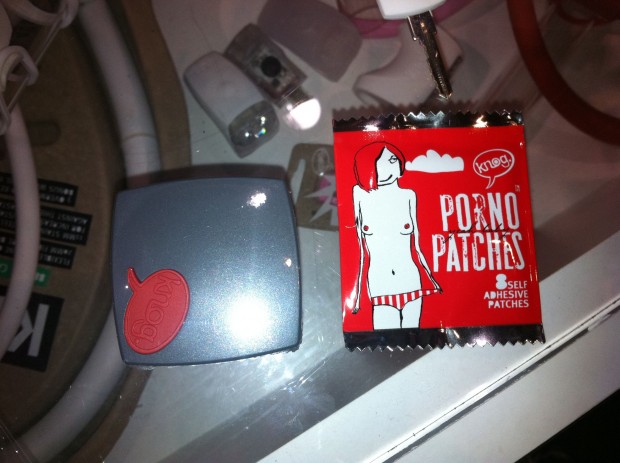 Against my better judgment, and despite being fucking poms, Knog deserves a mention. They make some very nifty shit, including little strap on LED lites in case you get caught out late, and they had a very cute young Sheila handing out what was beyond doubt the best booth schwag (that's a patch kit, ya perverts!). Bonzer!
HeadsUp Systems (http://www.headsupsystems.com/):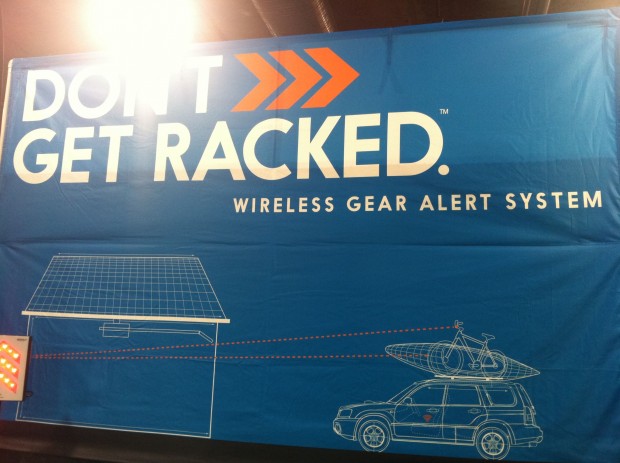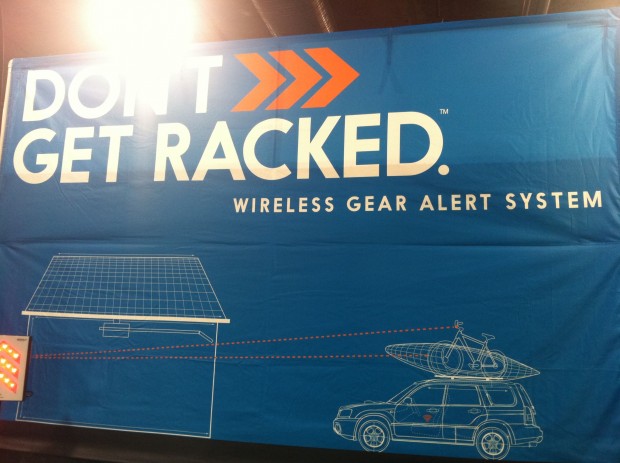 This company cleverly repurposes existing RFID technology to keep us from ruining our expensive toys while being hauled about car-top.  One sensor goes in the garage with a big bright LED warning light, another goes in the car, and individual compact units clip onto bikes, kayaks, carriers, etc.  When you put the gear on top, the in-car sensor / alerter detects them, and if your car then gets too close to the garage door, both alerters flash / beep to warn you you're about to make a costly mistake!  The units are economical, simple and use proven technology.  Very strong work!
Now that the laurels have been handed out, it's time for the brick bats…
Anti-V Awards (no further explanation needed, and no links provided):
Ellipti-go: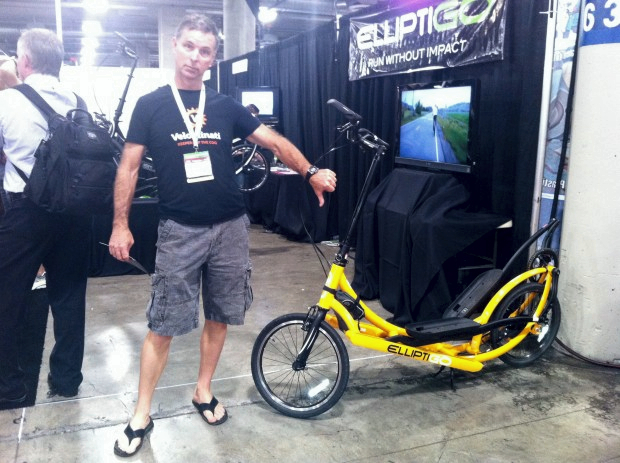 What. The. Fucking. Fuck.  Needlessly complex much?  There's a guy with one of these locally; if he ever even gets onto my wheel I'll know it's time to start playing golf again.
E-go Kits: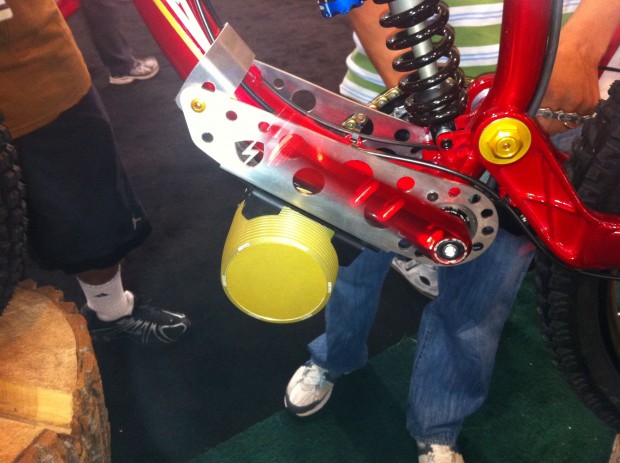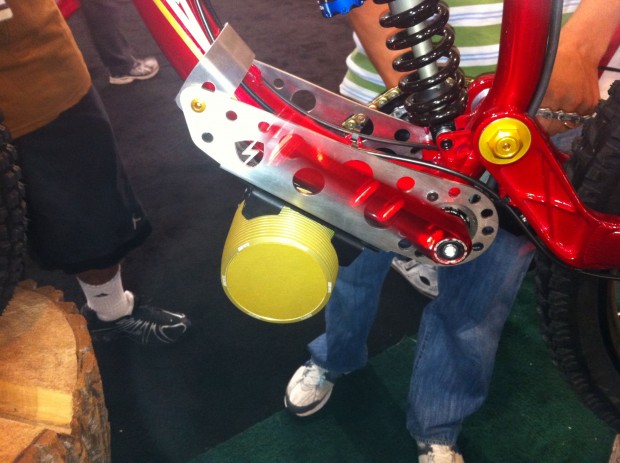 A bolt-on electric motor that attaches to your frame with a contraption right out of Brazil, attached to a twenty pound battery backpack with the electrical connection on the nose of the saddle, right where it can do the most damage.  But hey, it only costs $2,995.99 USD!  Here's some advice for the E-go boys: Go ride your bikes, without the stupid motors, and think up something better.
Specialized: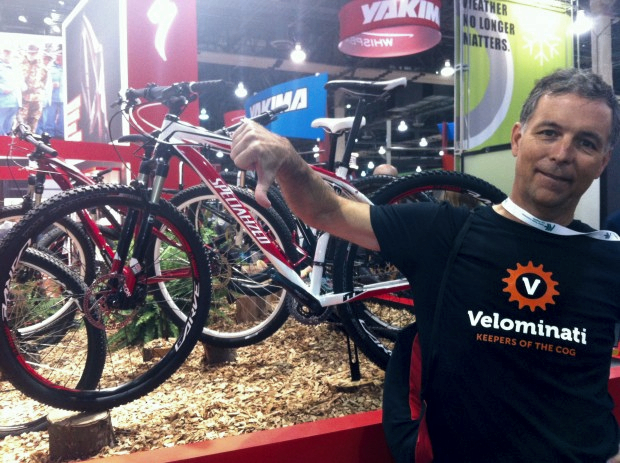 Just because… Boring!!!!!!
That brings me to the end of my story.  I  had a really fun day, saw some cool stuff and got to talk bikes with knowledgeable staff, friends and other attendees.  Well worth it, but suffice to say that a full day at Interbike left me feeling a little like this: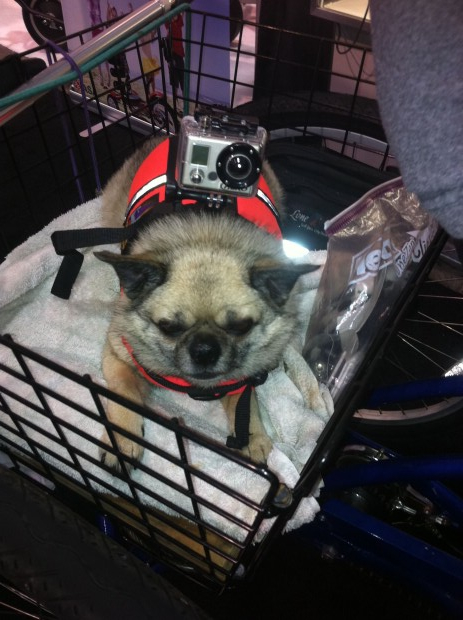 "Go ahead, get your fucking camera just a little bit closer…"