La Vie Velominatus: The Rain Bike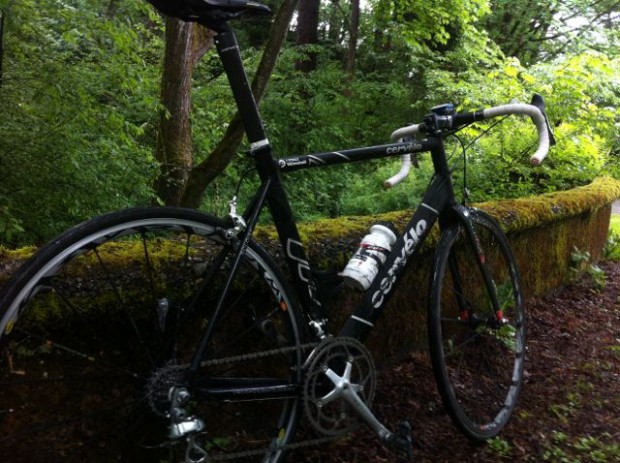 In our privileged stables of bikes, it ranks towards the bottom of the heap as Bike #2 or lower, but the Rain Bike is no slouch. This is, after all, the bike we rely on in bad weather, trusting it to carry us safely through what typically amounts to the most dangerous conditions we ride in. Provided you ride year-round, you likely ride this machine more often than your Number One – assuming you live in an environment that isn't a tropical island (I'm looking at you @gianni) or classified as a desert. It follows, then, that this is a machine to be curated with great care and several factors should be kept in mind when selecting the machine for this wet and dirty work.
The first consideration is the material. I hope I'm not spoiling anyone's fantasy by pointing out that rain isn't actually made of the sweat falling from Merckx's guns as he pedals high up on Mount Velomis; it is mostly water, mixed with some acids and other crap. Rain water can cause certain kinds of materials to become compromised in one way or another. Steel, for example, is particularly prone to this through rusting. Calfee's bamboo frames might be susceptible to becoming soggy – I'm not sure. For a bike which is to be ridden primarily in wet conditions, choose a durable, non-corrosive material like titanium, aluminum or carbon.
The second consideration is the components. Here's the other news flash about riding in the rain: the roads are less pristine than they are in the dry. Road grit gets in your drivetrain and on on your rims, acting like coarse sandpaper to accelerate wear. Since you'll be replacing some parts more often than on a bike ridden in the dry, this is a bike for which to get economical about gear selection; you aren't going to want to replace your full titanium Super-Record cassette and chain after it wears out in 1/3 the time. The shifters, brakes, crankset, and derailleurs don't have to be greatly affected provided you maintain the bike in the style of a velominatus, but the wheels, bottom bracket, derailleur pulleys, chain, cassette and freehub will certainly feel the strain. Anything that moves, has a bearing, or lets water in is a candidate for accelerated wear.
Third, this has to be a bike you're going to love riding, not some beater that gets abused and you tolerate throwing your leg over. As much as riding in Rule #9 conditions is badass and an invigorating experience, it does get a bit tiresome when you ride in the rain every day from October to March (or May, for you Pacific-Northwesterners). If your position isn't right and if the bike isn't a pleasure to ride, it's not going to make getting cold and wet any more enjoyable.
Lastly, this bike will be taking abuse, so remember that your safety is entrusted to this machine in conditions when visibility is low, stopping distances increased, and road surfaces slick. Maintain this bike more diligently than any other machine; check the brake pads and rims for dangerous wear, check the metal bits for rust and cracks, and keep a close eye on the chain and cables. Resist the temptation to spray it down with the garden hose as the pressure can lodge the grit deeper into bearings and other nooks and crannies on the bike. After each ride, clean the braking surfaces carefully, wipe the chain down (or, better yet, use a Cyclone with soapy water to get the grit out from in between the links) and always use a wax-based lubricant to keep the dirt from sticking to it more than with traditional oil-based lubes.
But most of all, remember that the best kind of ride is the one you'll be able to do again; stay safe and ride carefully. Vive la Vie Velominatus.
[dmalbum path="/velominati.com/content/Photo Galleries/[email protected]/LVV Rain Bike/"/]