Reverence: Fi'zi:k Aliante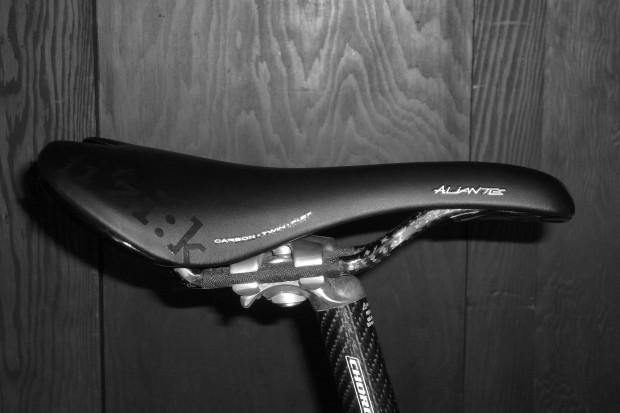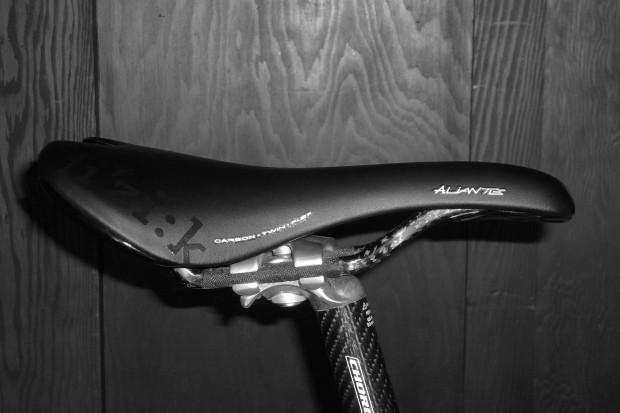 The saddle has got to be the most important piece of equipment for the cyclist when it comes to comfort and performance. If your ass is rubbing the wrong way, causing chafing and sores, or all circulation is cut off rendering you unable to locate vital organs for nature breaks, then it's fair to say you don't have the right saddle. And just as it is with significant others of the human kind, finding 'the one' is usually a trial and error process that can take years before you hit on the perfect companion for your nether regions.
Most pros will have a favourite saddle they will use throughout their career, and despite sponsorship commitments will often go to great lengths to ride the same model, perhaps disguised to try and fool the fans or appease said sponsors. Or they'll just insist that their new team gets on board with the seat supplier to keep them happy. It's that vital. Rumour has it that Mark Cavendish insisted on Sky teaming up with fizik when he joined them for the 2012 season. And having been riding on their Aliante for the last month, I can see why.
I'd had an early version of the Aliante on an old Giant TCR back in the mid 2000s, and it was a great fit for me. The curvy shape seemed to work with my riding style and/or body shape pefectly. I did a long road tour of Tasmania on it, riding 2500 kms in ten days with nary a grumble from downstairs. Then they released the Arione, longer, flatter and firmer, and I was attracted to it and switched over. While I never hated it, we just didn't seem to get on as well and I consequently moved on to many more relationships, most not very long lasting and ultimately unsatisfying.
When the Keepers Tour partnership with fizik was in its conception, I was excited about their new shoes, but a touch apprehensive about the saddles; I checked out the website and looked into their Spine Concept, where you can enter information about your body type and riding style and be recommended one of the three shapes on offer. All my characteristics pointed me back to the Aliante, as I'm apparently a 'Bull'. The shape and profile of it also was most compatible with the older school styling of my Profetta. I requested a black cover with braided carbon rails, as the weight weenie in me influenced my decision. But how would it handle the cobbles and long days ahead in Flanders and northern France?
Well, I think if I ever find the perfect woman, she'll be a lot like the Aliante. Shapely, sexy, reliable and great to sit on. Ok, maybe not the last one. This sadlle is awesome. To be able to ride for over five hours in a sitting (pardon the pun) on the roughest 'roads' in Europe and still be able to tell what's going on down there at nature breaks is all you can ask for. I didn't get a hint of a saddle sore or any chafing, even without chamois cream. The carbon rails survived the constant pounding and the cover endured some pre-tour crashes with flying colours. When my seatpost head loosened and slipped a cpuple of times on our second Roubaix ride, our mechanic Matthias was leery of cranking up the bolt onto the rails. He asked what the torque was, and not knowing I replied "as far as you can go". It was torqued so hard that when I tried to loosen the bolt to fix the seat clamp, it took an extra long allen key with a pipe on the end to budge it. That's some serious torque, but the carbon wrap didn't even have a mark. Impressive.
I think I've found my perfect match in the Aliante. At least that's what my boys are telling me, and in this case it's better to be doing the thinking down below than up top.