Saddle Up- Selle SMP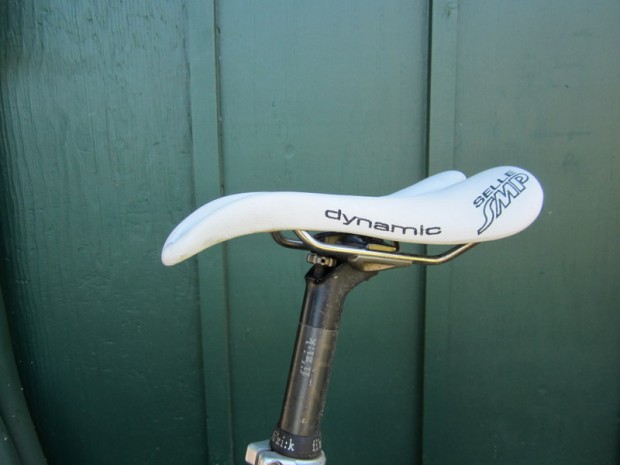 What does Selle SMP have in common with the lead up to the 2013 Tour de France? Absolutely nothing, seeing as possibly no riders are on them in the Tour. It's a long three weeks of Tour ahead, let's think about our own asses for a brief moment. As a disclaimer: this is not a Reverence article, yet, maybe after a few centuries and pavé parties it could be. I paid retail from a LBS for this and have no connection to SMP. I'm not even advocating anyone should get one, like I do advocate everyone owning Speedplay pedals. I am just shedding a little light on these unconventional and messed-up looking saddles.
Two years back I stared at one of these saddles on a bike whose owner was a big fella. The saddle was a thin slip of a thing, more space than saddle and it looked unridable. He made a lasting impression when he said it was great. Great? That looks highly uncomfortable, it was nearly devoid of padding and there just wasn't much to sit on.
We all have our own limit for what we will put on our steeds but eventually a 160 km ride will sort out if form follows function. Those shoes may be the same ones Boonen wears but if they are killing your feet at 80 km, every time, they have to go.
And speaking of Specialized, they have a gizmo for measuring sit bones so one can get a good fitting saddle. I've owned two of their saddles and like them enough. Upon restarting long rides after my haitus this winter I re-remembered how much my lower back would hurt, especially on long climbing rides. Also while on haitus, also known as: my position must be wrong, I'll never ride again, do I need insoles, how high should my saddle be, do I need wedges under my cleats…hell. I read up on Steve Hogg, fitting master, looking for salvation. Steve is an advocate of SMP saddles and makes the point we don't sit on our sit bones unless on, gasp, a recumbent or bigger gasp, a Harley. Maui's aforementioned LBS has a nice selection of test saddles, many SMPs in the mix. I went right for  the Dynamic model, for my fat ass. It took at least a week before I could even figure out where to sit on it, it's that different a design.
There are two great things about these saddles: they have a massive cut-out section in the front so nothing gets mashed and the curved profile means one is sitting on the bones forward of the sit bones. That means your hips rotate forward, your lower back can straighten and relax. Do you want to ride the phantom aero bars while staring at your reflection in store front windows, it's much easier with a relaxed, flatter back and uncrushed bits. I'm using that technical/medical English term to cover everything "down there".
In summary, if your lower back is fine and you have never experienced torchmen's taint, keep doing what you are doing. Shoes and saddles fit differently for every body. Comfort and weird looks don't come cheap. Mine cost $230 US with steel rails but it is made in Italy, so that is a wash. They do come in celeste green if one wants to ruin the look of their Bianchi. Since one is sitting differently on it, the initial set up takes longer. It's much harder to figure out the correct saddle height with this new position. I do think they have come up with a well researched design, especially for us riders who aim to be cyclists for the long haul.