Anatomy Of A Photo: Hamburger with Extra Sauce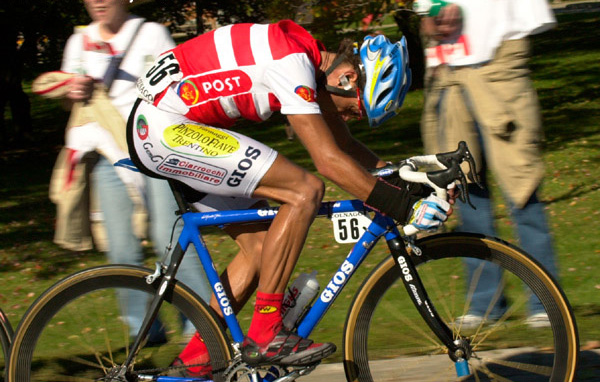 The EPO Era threw up some surprise World Champions from the early '90s to the mid '00s. Riders juiced to the gills meant that the rainbow jumper could go to anyone who not only had the form on the bike, but their program sorted and the luck on the day. You could throw a dart at the start list and wherever it stuck, you'd be a pretty good chance of picking the winner. Confessed juicer Bo Hamburger came close in 1997, finishing 2nd to perennial mullet-sporter Laurent Brochard, who along with the likes of Camenzind in '98, Vainsteins in '00, and Astarloa in '03 wouldn't have been on many of our radars if the VSP existed back then.
The Burger King was in the decisive break and finished 6th in Hamilton, Ontario in '03 and did it in style. Check him out; his Gios looks damn sharp in the traditional azzura, its alloy frame with carbon fork and seatstays the pinnacle of the day's technology. Deep dish carbon hoops and skinwall sew-ups… check. Campa. Obscure Italian Team-issue shorts and helmet with national jersey. Arm warmers neatly pushed down to the wrists. He even manages to pull off the long red socks. Tanned, shiny, sinewy legs and arms straining, head bowed and burying himself under the effort of Rule #5; Badass.