Book Review: Domestique by Charly Wegelius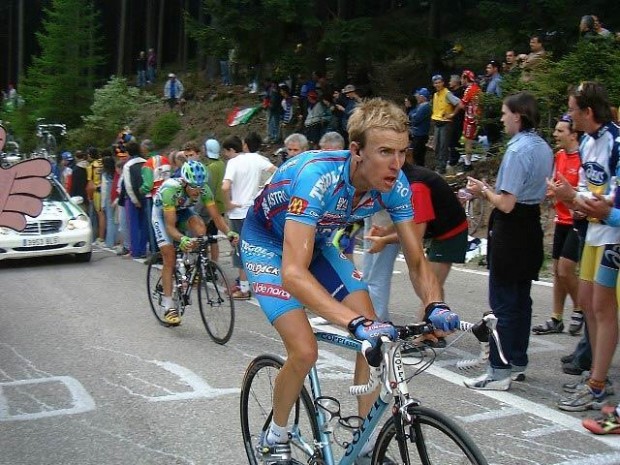 Who is Charly Wegelius? His name would float to the surface in races usually when the road went up. The Phil and Paul show never seemed to go further than, 'and there goes Charly Wegelius'. In the pre-Sky days, there were not that many English racers in the Giro yet he seemed shunned by the press. He was just there. He was English yet always seemed to ride on a Italian team. To me he was a bit of a mystery man, maybe Italian, maybe kidnapped as a youth, indoctrinated into the sweet Italian cycling world.
Before we go further here; this is a must-read cycling book. It is a pleasure to read a book about modern cycling that is not a drug exposé. Yes, drugs are discussed but barely. And yes, Mr Wegelius shared a room during a Giro with teammate Danilo "Triple Threat" Di Luca and he saw nothing of Di Luca's seemingly rampant doping. Charly was a climber on Team Liquigas but states he didn't dope and moreover had to worry about keeping his naturally high hematocrit below 50%. EPO can't help you if your hematocrit is already too high. If one needs to categorize, this might sit on the bookshelf next to Michael Barry's Le Métier but having not read that yet, I can't compare.

Wegelius grew up in England with his English mother and spent summers in Finland with his Finnish father. Like many British and Irish riders before him, he had to move to France to learn le métier properly. His huge talent landed him on the team of  Vendée U, under Jean-René Bernaudeau, then the best amateur team in France. Eventually he was signed as a professional with Mapei, the best professional team anywhere. Mapei was the ideal, the template for all cycling teams. It was a well-funded team whose owner was a cycling fanatic, staffed by forward thinking cycling fanatics, with an ethos of clean cycling through scientific improvement.
Mapei knew that the doping culture existed, but fixing it wouldn't come through drug raids at the Giro d'Italia, or throwing the rule-book at stupid individuals who got caught. They wanted to make doping an unacceptable part of their team, and they made a team that was so good that being part of that was enough for riders. We were overpaid, we were looked after better than any other cycling team on the planet, and we were reassured that as long as we toed the line we would be looked after.
At a point he realized he didn't enjoy the pressure of being the expected winner and leader of a team as much as the rider who dutifully served the team and leader. A domestique who knew the races, understood how each race unfolded, knew his job, did what was asked of him by both the directeur sportif and team leader, he would be a valuable long-term asset. The role of domestique, much more than a water carrier, is revealed nicely in this book.
But the key thing I had to learn was that a domestique has to be almost as strong as his leader, and he must also be smart and aware of what he is doing. Often it is the job of the domestique to make split-second, race defining decisions on all of these things without direction from the team leader or manager. 
The near perfect trajectory of his career took a hit after Mapei folded. Riders are at the mercy of their teams' financial health and their own recent results. Last minute call-ups and riding while badly injured are expected and unavoidable. He confirms how hard and all-consuming the life of any Pro is. The book follows the undulations of his career; it's a very well told tale, written for the diehard cycling fan. This is tailored for the Velominati readership; there is a lot of cursing and it is filled with the kind of cycling minutiae we all love.
…I was lying on my bed in the afternoon before the race. Axel had gone down the corridor for his massage and the phone rang. A man's voice asked if Axel was there, and I said 'No, he went for a massage.' The voice replied, 'Never mind, good luck for tomorrow-tell him his dad called.' I said , 'Yeah, no problem,' and put the phone down before I suddenly realized: Fuck me, that was Eddy Merckx!
It was written with the help of Tom Southam, ex-Pro turned writer and journalist, but Wegelius' earlier writing while racing shows he is a natural writer. There's no reason to think this was ghost written. Yes, for all of us without the talent and single mindedness to make a living racing bicycles, this book is a great one to conceivably make us a little relieved we couldn't.
[dmalbum path="/velominati.com/content/Photo Galleries/[email protected]/wegelius/"/]