East Bay Cogal 2014 Report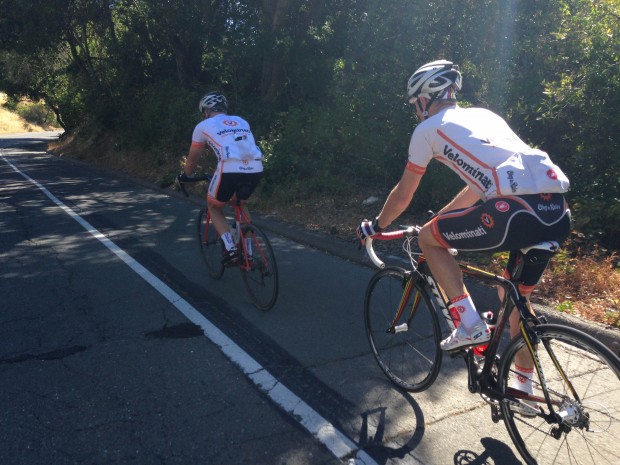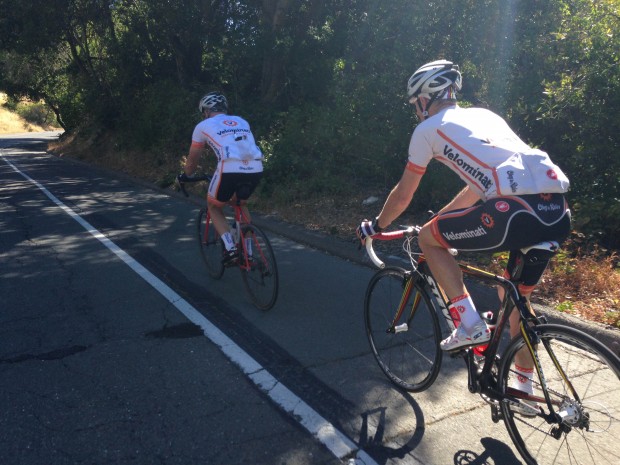 @Nate's take
This year it was time for the Bay Area Cogal to visit my home turf in the East Bay. To make it more than just a long ride on roads I have ridden many times, and instigated by @EricW, the plan was to feature several sectors of dirt fire roads. A few scouting rides later, the route was planned. We rolled out on July 5 with @DaveR, velomilurker TomB and I, all in Witte Velominati jerseys. (@EricW alas was in sick bay owing to a crash. @xyverz missed the ride, but thankfully not on account of misadventures with an RV. Next time, gents).
Soon we were on the first sector, through Wildcat Canyon in the Berkeley Hills. The road was hardpacked, dry and fast. I think I saw a few deep, narrow ruts from a recon "ride" Eric and I did in April just after a rain storm, when the road was the consistency of peanut butter and a fatbike or better yet a hovercraft would have been the steed of choice.
Next was Old San Pablo Dam, then around to the backside of Pig Farm, both good fun. By midday we found ourselves near Mount Diablo, on Shell Ridge. Mt. Diablo must be called that because it is Fucking Hotter Than Hell out there in the summer. As in Rule #9, mad dogs and Australians under the midday sun hot, and with no shade. It was easily 25 degrees hotter (Celsius) than when we started under fog in Berkeley. Of course, this is a classic feature of Bay Area summer riding: cool fog on the bay side of the hills, blasting heat on the other.
We thrashed around Shell Ridge for a while, tried and failed to blow or melt tires off rims on absurd descents, violated rule — by walking up a hill (except for DaveR) and addled our brains in the sun. Then we repaired to a tacqueria for burritos for lunch. Refueled, we began heading back toward the bay, shade and hopefully cooler temps.
It was still hot in Castro Valley so I filled my arm warmers with ice and put them down my back. Then we rode up to Lake Chabot. Working our way gingerly past holiday barbecues and suppressing the urge to steal a thirst quenching watermelon from the revelers, we found more fire roads and rode them all the way up the canyon. We even took in a little bit of single track when we had to detour around some park rangers investigating the scene of a minivan that wadded it up on a gravel road. From there it was the home stretch back to Berkeley along Skyline in Oakland, then ripping down Claremont Canyon. I was pretty well wrecked; some stupid computer reckoned the planned route was 164 Kms but it was more like 185, although it is hard to say with any precision because various gps units in attendance had trouble grappling with the awesomeness of the route, reporting distances between 175 and 190 Kms. Not that it really matters because Recovery Ales were had.
Thanks to @DaveR and @TomB for joining in and being such fine riding companions. To the rest of the Bay Area Velominati: you missed out!
@TomB's take
Well folks, we missed you at a great Bay Area Cogal on July 5, 2014. While small in number (just Nate, Dave and me) we were large in determination. Befitting his great grandfather George Mallory (famous British mountaineer – Everest) the organizer Nate had mapped out a terrific, adventurous, loop route in and around the Bay Area starting from Berkeley and including Wildcat Canyon, Briones Reservoir, Reliez Valley, Walnut Creek, Danville, Mt. Diablo, Lafayette, Canyon, Redwood, Chabot Reservoir, Skyline, Tilden Park and back to Berkeley. My Garmin showed 180K, 2,975M of climbing, 8:10 riding time, and 70.8kph top speed. It did not show the number of bottles we drank on this hot day, the number of tacos/burritos consumed at the obligatory fuel stop, or the number of malted recovery drinks we sipped at the local beer garden when we were finished.
In honor of this year's cobble stage in the Tour, Nate included about 40K of dirt roads/trails in our route, but it wasn't flat like in the Tour, – it was always up or down. (Did I mention that Nate and Dave are lean and are terrific climbers.) Thank goodness for the cross bike with lower gearing and V-brakes.
This was my first Velominati Cogal, but with the fun I had I'll definitely be back for more. Many thanks to Nate and Dave for the teamwork and support, and special thanks to Nate for his time and effort in planning and executing a great Bay Area Cogal.
@Dave_R's take
Well, what to add here? Factually, not much. Simply put, this was a fantastic day on the bike, with all the elements to satisfy the soul of the Velominatus –
A superb, mixed route creatively linking pavement and dirt to tour the East Bay hills and canyons
A challenging ride: a full day in the saddle to complete the 180 km in the heat with a few moments of doubt about staying upright on some dirt secteurs
Great riding companions with strong legs, affable dispositions and determined spirits
Ending the day physically fatigued but mentally invigorated
We rode our bikes today. It was fun. We'll do it again tomorrow.
Thanks, Nate and Tom for the ride. Thanks to the Velominati for the inspiration.
[dmalbum: path="/velominati.com/wp-content/uploads/readers/john/2014.09.07.11.46.36/1//"/]