Tubular Survival Kit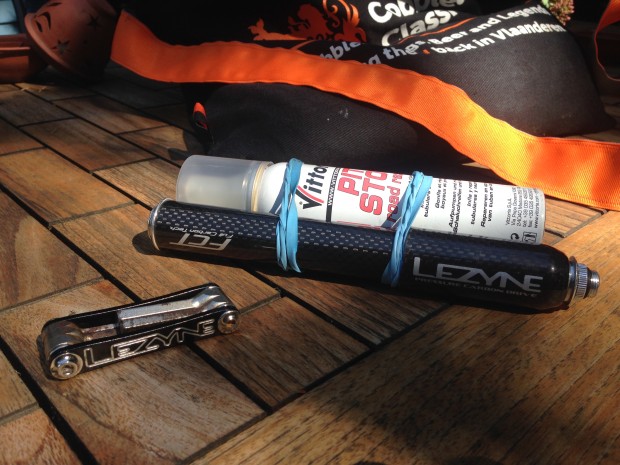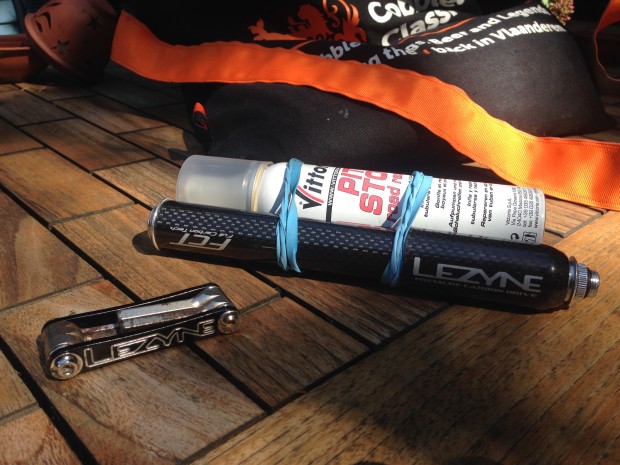 There was never any question in my mind that tubulars are more romantic than clinchers, and as a Velominatus I was always convinced that the additional time and care that goes into gluing on a set of tires would make you feel just that much more connected to your bike and the history of the sport itself. I was skeptical, however, that tubs would ride noticeably better – and even if they did – whether they would prove to be too much of a hassle to make riding them worthwhile.
Two and a half years after building my first set of tubular wheels and gluing on a set of handmade tires, I have eliminated clinchers from all my bikes. The ride is better, the gluing is a quick and easy process (once you learn a few tricks), and a tubular can be changed more quickly than a clincher. Plus the glue gives you a little buzz; what's not to like?
The switch from clinchers to tubulars did require a change to my tool kit, however. This fact wasn't immediately apparent to me and I went on several rides happily armed with tire levers and a spare inner tube. Gearing up for riding tubulars is a more subtle process than it is with clinchers, a fact which gives me no small amount of pleasure. First comes the approach to folding and carrying the spare tire, should you choose to carry one. Also, with the removal of tire levers, spare tube(s), and patch kits comes the introduction of repair sealant; in the event of a flat, the first tactic is to inject the tire with some goop and see if it seals itself, eliminating the need to replace the tire in the first place. This works splendidly in many cases, and appears to be a long-term solution as well; I have one particularly beloved tire which has been holding fast with sealant since a puncture over a year ago.
After a few iterations, my tubular-friendly survival kit has evolved into a beautifully compact system which takes up less bulk in my jersey than does the clincher version. It consists of a Lezyne Carbon Drive Lite rubber-banded to a tube of Vittoria Pit Stop and a Lezyne V5 mini tool. Nothing to it. On longer rides or rides with others, I will strap my tiny tub to my saddle as extra protection in the event the Pit Stop doesn't work.
Tubulars ride better, corner better, are easy to mount, quick to change, give you a small buzz, and require a smaller survival kit than do clinchers. You heard it here first: friends don't let friends ride clinchers.*
*Thanks to @Nate for coining this phrase.