Don't Make Me More Cross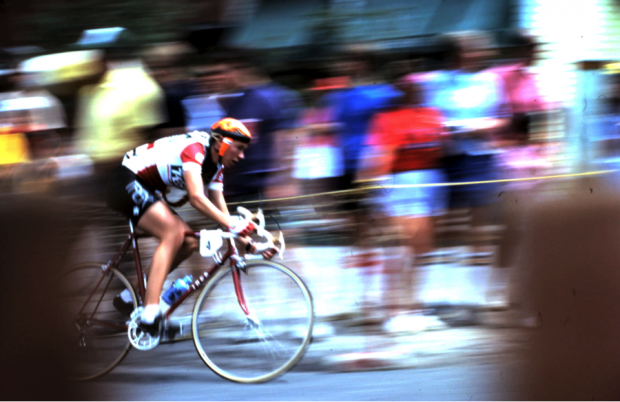 Brett's recent post about Jensie brings up the dilemma of professional cycling for me. I admire many of cycling's famous riders yet I don't admire cheaters. Luckily for me I can fervently embrace opposable ideas within my consciousness and sleep well at night. Which also means I would have been one of those cheaters. I also see the tangled, messy, complicated history of professional cycling and embrace it but not too tightly. 
Edwig Van Hooydonk and Inga Thompson were two hugely talented racers who retired in their prime rather than dope. I wish I had the moral fortitude of either of them. Inga was the best American female road cyclist in her time and until recently, an important part of her story went untold.
Warning: If you are American this is guaranteed to piss you off. The upper level of the United States Cycling Federation was as compromised and immoral as the UCI of Hein Verbruggen's day. The point of this rambling rant is to introduce people to this interview, so ignore the rest of this post, if you must and read it. 
When the experienced adults and coaches in the room are pushing youth toward doping, what chance does a young ambitious racer have? Inga rode for 7-Eleven seemingly as a one woman team. I remember watching the women's races before the 7-Eleven dominated men's races and there she was, beautiful, powerful, a long braid safely pinned to her jersey. Inga slayed all. She did have this to say about her experience with the men's squad.
"My friend [name withdrawn], who was on those 7-Eleven men's teams when I was on their women's program -he has tons of doping stories from that time. I'm still surprised that no one has written a book specifically about the doping on that team – way before the whole U.S. Postal mess."  
Yes please, I would read the hell out of that book. 
Let us not forget, every war that has ever been waged has been fought on the backs of eighteen year old young men. They will do anything. Doing up some crank to make sure your team wins that day's criterium, that is not a problem. 
I have to always remind myself, the real cycling is each of us, riding for our own reasons: joy rides, deposits at the pain bank, Cogals, Keepers Tours or the occasional amateur race. I never had to make that ethical doping decision, thankfully.
Recent musing from the V-bunker were about a little espresso as good quality legal doping. In 2014 the pros are still enjoying a little legal pot belge of crushed up pain killers and caffeine to get them to the finish. This is legal?
It is a common practice to use a mix of water, caffeine and pain killers. This can make you quite crazy, which is why I have never used it. I don't want to, and it seems quite dangerous. -Mini Phinney.
Do I want to draw a line between these two stories? There are a few actually, the obvious one is between Davis Phinney, a long standing member of the 7-Eleven cycling team and his son Taylor Phinney, now racing for BMC. I'm fans of both of them and maybe I do need drugs to sleep well. Taylor is outspoken on his ambition to make cycling a cleaner sport. The second is Jim Ochowicz, the original 7-Eleven team manager and presently manager at BMC. Who is mixing up those bidons of caffeine and pain killers, Jim? 
A forthright book about 7-Eleven's powerhouse days would shed some light on a lot of things. Bob Roll, get busy.