Awesome Belgian Guys: Edwig Van Hooydonk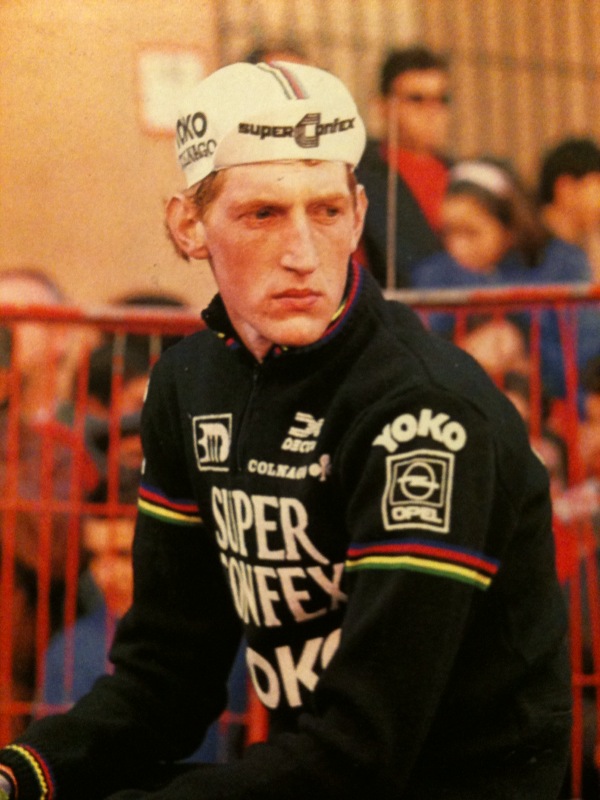 It was Frank's recent post that started all this. Mentioning Breukink always makes me think of my friend's saying, "I have a Breukink in my Van Hooydonk" as his excuse for coming up short on a long training ride. Maybe that's only funny during a long training ride. That phrase put me back onto Van Hooydonk, a rider I admired because he was so damn tall. The bike is a great equalizer: though there may be an ideal size rider, people like Van Hooydonk prove the exception, unless you are too fat to climb. Edwig rode a steel Colnago and this fact is what put a Colnago at the top of the other recent post. But Edwig's Colnago was unusual. He was tall and whippy but didn't want a tall and whippy ride so he used a smaller frame and put a giant spacer above the head tube to get his stem and handlebars up to the correct height. Now a sloping top tube might be the solution but back in days of hairnets, all frames were still the standard double diamond geometry. But his story is relevant to recent doping news so it's a good time to tie it all together.
Edwig was born near Antwerp, Belgium. The tall lanky red head won the U-23 Ronde van Vlaanderen, something monumental for a young Flemish racer. We saw this race go by in the Keepers Tour 2012 and it might as well have been the real professionals. These guys were so strong and fast. Three years later he crossed the finish line in tears as he soloed to his first of two professional Ronde victories. The pressure of being the next Eddy must be hung on every young Belgian who wins the Ronde and he was no exception. He earned the name Boss of the Bosberg after winning his second Ronde by lighting it up on the final climb of the race. He was an adept Classics rider at the heights of his powers when EPO, then legal, began changing the landscape of professional racing. Drugs and bike racing have been conjoined twins for who knows how long, but the use of EPO to raise red blood cell concentration to sometimes fatal levels in the early 1990s was a quantum change.
Another reason I admire Van Hooydonk was his decision to retire early rather than jump on the EPO train as it was leaving the station. As an American I can't produce the fitting analogy for what it must have meant for Van Hooydonk to be a top Belgian cyclists with the fame and possible financial rewards, yet he stops and gets off the bike. One either rationalizes doping to keep up; everyone is doing it. Or one says that's cheating, that's not racing, I'm not going to participate.
The spectator's attitude about doping in cycling covers the spectrum. Some think it doesn't really matter as it produces exciting, stupendous racing. Some are still convinced everyone is doping in 2012 and if everyone is doping maybe it's a level playing field. Personally, I see it in nearly black and white terms. I've always felt it's cheating and unacceptable. I believe teams like Garmin are totally clean and Ryder just proved a Grand Tour can be won without drugs. For riders, if it's cheating and you don't want to participate anymore you retire, like Vaughters and Van Hoodyonk. But these guys are one part of the doping equation we don't think about. When you retire you are off the radar screen, a has-been, you have moved on. But a few people like Vaughters and Van Hooydonk retired early, not as they ever intended, more because they were not going to race on those terms. I think these guys deserve some respect, certainly more than the riders who so easily stepped on the train. My apologies for once again bringing up the doping subject on Velominati but it's always there. It is a hard subject to avoid.
A little video of 1989 Ronde, run in good old fashion Belgian spring weather. Think Spring Classics Keepers Tour 2013, this could be you!
[youtube]http://www.youtube.com/watch?v=V-o9AdhJVug&feature=related[/youtube]
I don't know a word of Flemish but to watch his face enough. Here is a proud man who is still angry and disappointed.
[youtube]http://www.youtube.com/watch?v=y40UjVlRAWg[/youtube]