Insight on Rule #34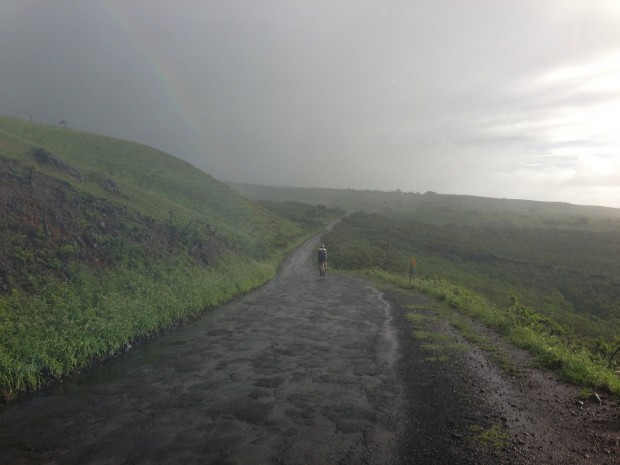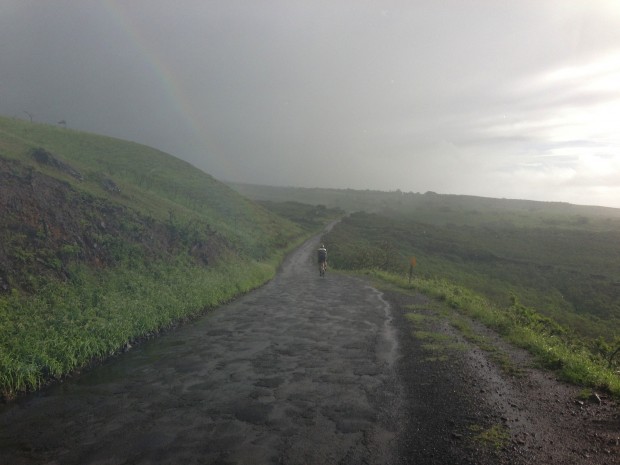 Rule #34-Mountain bike shoes have their place-on a mountain bike.
During our very recent Cogal I gained some on-the-road insight on Rule #34. We were on a part of the route I have never ridden on a bike and had no memory of. The pavement was pavé, Maui-style. Somewhere deep down below the surface of the road was primordial road, patched with only scoopfuls of asphalt over the years until the surface is completely dimpled with mango sized mounds of road. This was good and expected. The Roubaix technique of big charinring (ahemmm, errrr, 50 tooth), powering along, keeping the weight on the pedals and handlebars had us making good progress through some of Maui's most remote country. And it was raining and there was cow manure to ride over…almost Northern France.
I came around a bend and hit a steep berg. The tilted road kept curving right so it was impossible to know when it ended but it couldn't end soon enough for me. I was quickly in the worst of straits: out of gears, out of the saddle and fully gassed with no end in sight. There were still two people behind me that had to be looking to get by; they could not possibly be going slower. I was unintentionally weaving over the pavé as my complete focus was on keeping the bike up and not hitting a hole or a bump big enough to stop me dead.
Totally redlined on a climb that has no immediate end in sight, these are the worst and best times for a cyclists. If you let your back wheel slip, you stop and the foot goes down, unacceptable. If you just say basta, pull on your brakes and put down your feet, that is worse. I assume all cyclists feel this way. If you are on the Koppenberg someone better have blocked your way. No one gets off halfway up that and says, nah, I'd rather walk. If I have a heart attack trying to ride up something horrible, that might be better than the alternative.
"He wasn't the brightest, but he didn't put his foot down".
It is the best time for a cyclists simply because given all alternatives, there are none, it's Rule #5. No need to think, better not to think, just keep it going up.
If I did put my foot down on a shiny, wet, steep berg, what then? I have speedplay cleats and those aren't getting me anywhere if I'm not on a bike. No cleat covers that day so I would be laying down my sweet steed, sitting on this hill while I take my shoes off? That is not going to happen.
The only way my putting a foot down that would not end in a bad nickname for life would be if I was wearing mtb shoes. No one needs that temptation. Looking past the obvious reasons for Rule #34: the mtb shoe-cleat connection is sloppy, mtb shoes look lame on road riders and we are riders, not walkers is the cruel temptation to put a foot down and push the bike up to the top of a hill. This is something no one needs in their time of need.