Guest Article: Bikes to Rwanda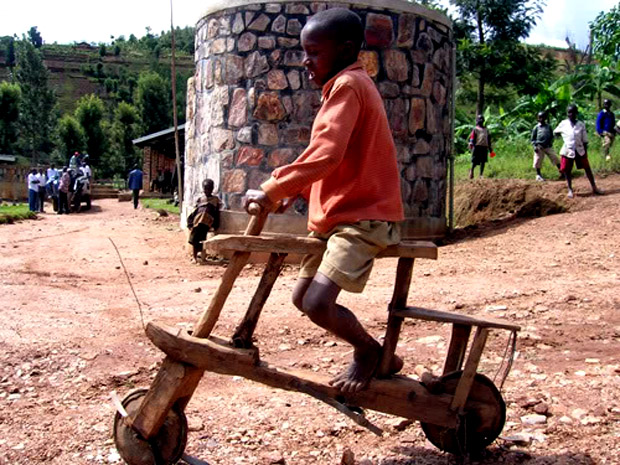 Occasionally, we find ourselves removing our proverbial tongue from cheek and getting a little bit serious. Try as we might, a good cause just can't always be avoided, and here we have Steampunk returning for his second Guest Article to discuss his latest project. Enjoy the read, and if you feel so inclined, jump over to his blog Velonista for more information.
Yours in Cycling,
Frank
—
Friends: what follows may seem out of character for me on these pages, but I like to think the more serious content below is just as much a part of my real self as the more raucous participation on this great site. When I'm not Steampunk, my name is Michael Egan. I teach history at McMaster University in Hamilton, Ontario. Over the past year, I've really enjoyed the irreverent and informative posts, comments, and rants on these pages. That I should even care whether I'm rule compliant is strong indication that Frank, Brett, Marko, and company are onto something special here. And without getting all misty-eyed about it, the friends I've made on these pages have been a big part of my cycling enjoyment over the past year. In this context, I'm loath to mess with a good thing and come asking for help with a project I have underway, but Marko seemed to think that cycling, coffee, and changing the world (his words) seemed like a pretty good combination and worth sharing with folks here. So I hope you will forgive the intrusion. Perhaps, indeed, rather than donating yourselves, I can ask you to forward this widely (or even adopt a similar kind of plan yourself). I'd be grateful for the assistance.
With the new pro cycling season swinging into gear and the first hints that winter might be exiting stage left at home, I'm looking forward to getting back on the bike. The guns are locked and loaded; the kit is shining and clean; and the bike is calling to me from the back of the garage (to where it got shunted when my brother-in-law came to visit a couple of weeks ago""why he should get priority in the guest room instead of the garage is still beyond me). On these pages, I don't have to explain the wonders of cycling and why I'm hooked. On the flat, the pedaling rhythm is fluid, smooth, automatic. Going up, heart, lungs, and legs vie for your inner mind's attention, begging you to stop. In short, cycling hurts. And I think that's the point. As an academic, who lives a pretty comfortable life, I've decided that the lure of cycling stems from some primitive need to suffer. So in rain, sleet, snow, wind, and throbbing heat, I click my cleats into my pedals and ride. The bike is a tool. And it's on the bike that I set myself challenges. How far, how hard, how long can I ride? Today, this week, month, or year? I don't know if it necessarily makes me a better person, but I'm more relaxed if I have been riding more and I like the physical and mental challenge.
But the bicycle's utility extends well beyond the bike boutiques and "cycling is the new golf" mentality that has permeated much the developed world. The bike is a tool and an important mode of transportation for millions of people the world over. While I ride for pleasure, it's important to keep in mind that I have the privilege to ride a quality racing bike on paved and""let's be frank (though not, I pray, Fränk)""safe roads: with traffic controls, lights and crossings, and free of land mines. The worst I have to worry about on the road is the odd pothole or dog. Luxury.
Conscious of this privilege and thinking about cycling goals for 2011, I want to try to put the two together. So, naturally, I started a blog. Recently, I came across Bikes to Rwanda, which builds practical, cargo bikes for cooperative coffee farmers in Rwanda. From their site: "The goal is to improve quality of life in these communities through a bike distribution, workshop construction and maintenance training program that provides transportation resources for basic needs and enhances production of quality coffee." For an overview of the larger project, see here. I like coffee, too, and am a pretty frequent visitor to Domestique Café Cyclo Sportif. Bikes and coffee: I'll write more on this, but this is a great fit for me.
So here's the premise for my blog and fundraising: I'm looking for sponsors who will commit to donating a penny for every kilometer I ride on my road bike in 2011 (races, training, etc.""but not commuting or riding with the kids). Feel free to sponsor more, but I'll even take half-pennies. Sponsors can contact me at [email protected] with their full name, e-mail address, and sponsored amount. How far will I likely ride? In 2010, amid injuries and travel, I rode somewhere between 3000 and 4000 kilometers; my goal for 2011 is 5000 kilometers (under the Ontario snow, I've only managed 100km so far in 2011), and I hope to roust up 100 sponsors. At a penny a kilometer, that would mean $5000. On January 1, 2012, I will post the final tally and come collecting (I hope to have a PayPal account up and running by then). The proceeds will be sent to the Bikes to Rwanda program.