Il Progetto e Finito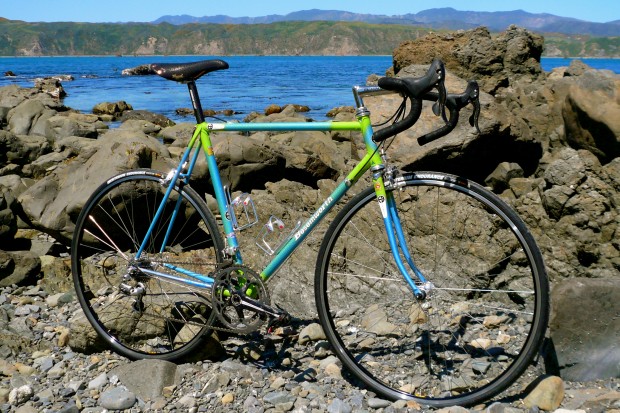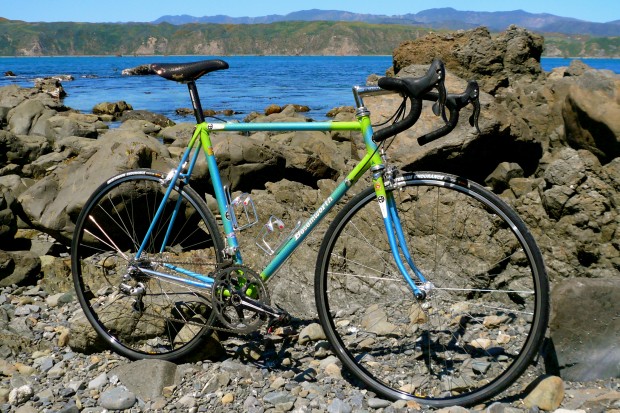 While I've been riding Il Progetto Originale for a month or so now, the finishing touches were still being waited on, either being sought out from bargains online, or finding just the right new old stock to give the old girl just the right blend of old and new.
After a long couple of weeks, the Bozzie is 99.9% completo.
The search for a seatpost and some shorter throw bars were the big stumbling blocks.  Do you know how hard it is to find a handlebar in a 25.8 clamp diameter these days?  Well, it's pretty damn hard.  Just about give up finding a new one from any manufacturer, and NOS or second hand ones are almost as rare.  I came across an ITM Millenium Carbon model on TradeMe (the online old bike not-so-superstore) and won the auction unchallenged.  Seems old scratched up carbon bars in an outdated size standard are surprisingly not being actively pursued in these parts.  But, as is the risk with buying stuff online, the stated 42cm width turned out to be only 40.  Bummed, but not entirely distraught, I kept up the search.  A set of Ritchey WCS Classic bend alloys, in a true 42 were snapped up, once again unchallenged.  Happy this time, I paired them with a NOS ITM Eclypse in 130mm, to offset the shorter throw of the bars.  Fizik tape finished it off and matched perfectly with the texture of the saddle which was to come later.
The seatpost was proving a bugbear too, and despite the best intentions of mates Kah and Stu, I was still without a shiny, good-looking post.  There was a new Chorus carbon sitting at the local distributor's warehouse, and although I wanted alloy, I decided the carbon would be in keeping with the 11 speed composite bits danging off the rest of the bike.  Now, the saddle looked a bit too sleek, and Ric urged me to try a San Marco Regal, just the right mix of classic and sleek.  And it's a great saddle, the comfort level is an unexpected bonus, plus how can anyone not dig the copper coloured rails and six rivets?  A true classic.
Oli got my wheels sorted after a little hiccup with the front spokes, and they roll super smooth and look oh-so-Roubaix with the Ambrosios spinning 3 cross 'round the  Chorus hubs.  Cheers mate, glad you could be a part of the V-build.  Our Velomihottie from the Aussie Chapter, Belinda, did a sterling job of hassling every customer and cohort at her shop for any Campy posts or skewers, and a nice rear QR turned up in my mailbox with only a note stating "you owe me a coffee" as collateral.  What a true VMH.  Which only leaves the missing .1%; a matching front skewer.  Donations accepted gratefully, coffee gladly proffered.
Well, I'm pretty happy with the bike.  Na, I'm stoked.  So it's 2kg heavier than the Roubaix, but it's way better to look at, it's not a dime-a-dozen, and it rides real nice.  I'm glad to be back on a standard crankset, the classic bend bars feel just right, and I don't know how I've lived without Campy for so long.  Steel is real, 3 cross is the boss, the Italians are stallions and the Bozzie is the duck's guts for this Aussie.
[dmalbum path="/velominati.com/content/Photo Galleries/[email protected]/bozzie/"/]