Let Me Have It, I Enjoyed a Trail Ride.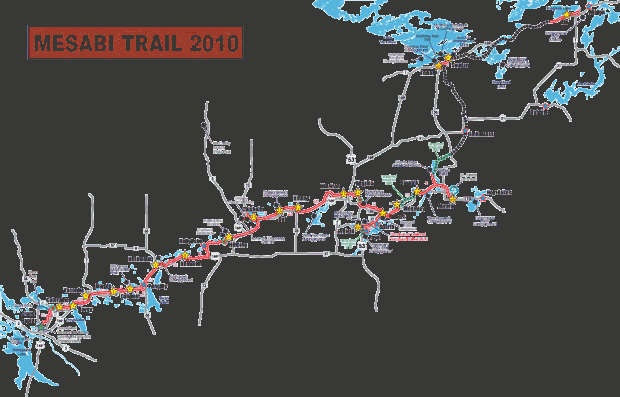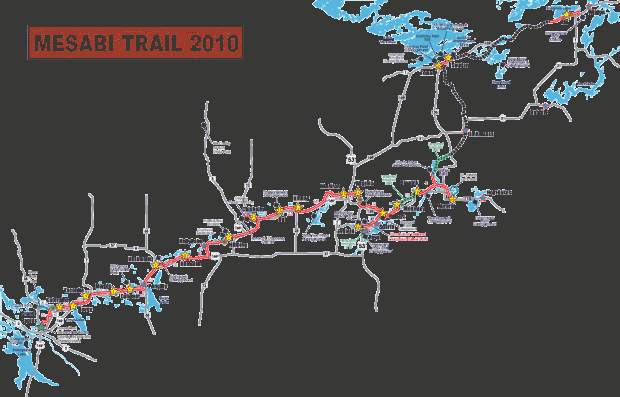 The Velominatus' domain is the road. The road is where we practice and hone our craft, work through the agony, and search for the ecstacy of riding. Paved trails are the domain of the family, casual rider, greenway commuter, and rollerblader. The only trails I've ever really ridden were those linking my old neighborhood to the campus where I attended grad school or the trails we used to take disabled clients on rides when I worked as a Therapeutic Recreation professional. That is until last Tuesday.
Tuesday morning found my Velomihottie and I in Grand Rapids (bottom left on the above map) for an appointment. She needed to drive back to get to work but I had all day so I threw my bike in the back of the car to ride home to Babbitt (upper right on the map). Originally, I had planned on riding the roads home. But upon further consideration, I thought I'd hop on the Mesabi Trail and give her a go.
It was more than just a fleeting interest in riding the trail that spurred me to check it out. Politics and my profession played a role as well. On the political side, I felt the urge to support the efforts of Jim Oberstar, a lifetime local and Chair of the U.S. House of Representatives Transportation Committee. Uncle Jim, as I call him, is an avid cyclist and was key in securing some of the funding for the trail. He's been a strong advocate for the Rails to Trails movement in the states and has been vocal about more people cycling not only for fitness but also for daily transportation. On the professional side I felt a duty to be a consumer of one of the recreational resources I ask students to study in a course I teach.
So after my Velomihottie sped for work I donned my Velominati Kit and set out for the LBS in Grand Rapids to purchase my trail pass. One can purchase an annual trail pass for $15 or a two-day pass for $5. Lack of funding for trail enforcement means that my $5 was really just a penance of support, as one could ride this trail everyday and not get checked for a pass. But again, I felt morally obligated to chip in and as it turns out it was $5 well spent.
The Mesabi Trail winds through Boreal Forest and over and around tailings piles from historic and current iron ore mining operations. Many of these old open-pit mines fill with crystaline blue spring water and are hundreds of feet deep. These are some of the same places high school friends and I would charge around on our motocross bikes, cliff jump into the water, and drink beer carefree under-age twenty some years ago.

The trail is not completed yet. At the 150k point, near Aurora, I jumped back onto the road for the remaining 50k to my place. The differences between the road and trail were stark. I missed the remote feeling, silence, traffic-free, and more technical curving aspects of the trail. But immediately upon hitting the road my cadence meter shot up about 15 rpm and my average speed increased by 5kph.
At the end of the day I felt like a had the best ride of the season thus far. I'm not convinced I'll spend a lot more time on the trail but it certainly was a nice respite from the road, provided an interesting way to see familiar places from an alternative perspective and re-acquainted me with some old stomping grounds.