Nature Valley Grand Prix, Rule 5-Style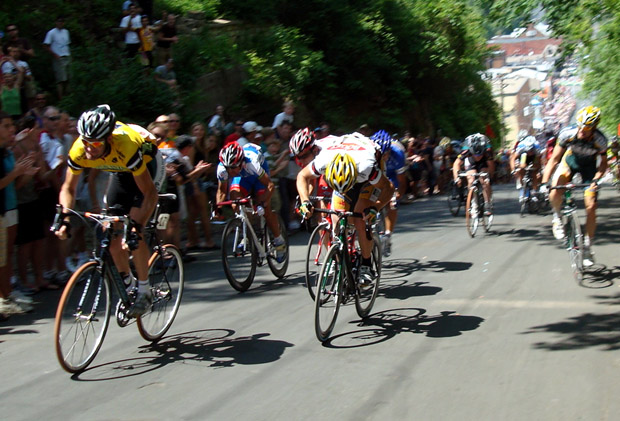 I was raised in St. Paul, Minnesota at a time when the only cycling fame the area could lay claim to was that Greg LeMan lived in the area during the winters (I crossed paths with him many times skiing on the Birkebeiner trail, which was always pretty cool).  As far as professional bike racing went, there were very few top-level races, with most of the big spectacles being in the Pro-Am category.
That all changed when the Nature Valley Grand Prix was introduced several years ago.  The star attraction of the race was the Stillwater Criterium, which features a study in  Rule #10 up Chilkoot Hill, a 20% monster that is so steep it sees more action from kids sledding on it in Winter than it does from car traffic in Summer.  The first year it was held, Michelle and I staked out a prime location on the hill and watched none other than Chris Horner take the honors after effectively doing hill repeats on that beast for 45 minutes.   For a day, it was our own little slice of pro racing with European-style crowds.  The race claims to be the hardest crit in the US and despite not having seen every crit in the US, I can confidently say there's a non-zero chance that they are right.
Having moved away from the area in 2004 we haven't seen the race in ages, but we always follow it with great interest.  It was with delight that we noticed that Velonews recently posted a preview wherein it claimed that the this year's edition would be particularly selective, with some climbing added by introducing a stage in my favorite old Ardenne-like training region near Menomonie, Wisconsin.
I did, however, notice a glaring error in the VeloNews report:
…a rule banning aero gear in Wednesday's six-mile time trial should make the race tigher. Race organizers have gone "Eddy Merckx-style" for this year's race in hopes of leveling the playing field for lower budget squads.
Surely this is a typographical error and what they intended to say was, "Rule 5-Style".  But, given how easily Merckx and Rule #5 might be interchanged, I can understand the mistake.  I just don't want to see them make a habit of such things.