On Location: Performance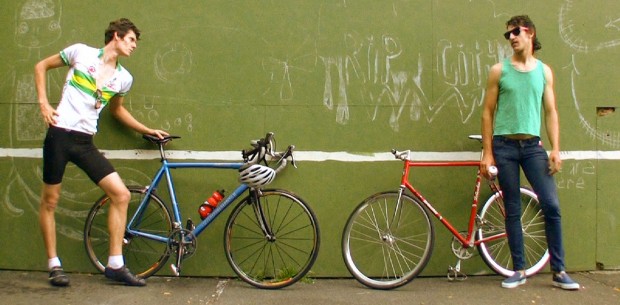 I posted SpandX's excellent and funny cycling-centric music video for "Performance" here the other day.  Watching it again recently, I noticed the that the character riding the fixie, whose name I assume is Fred, is doing a trackstand in front of popular Portland coffee roaster, Stumptown, as you can see in the shot below: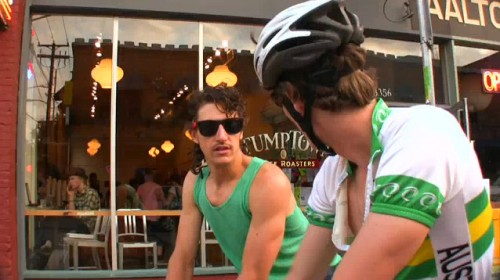 That got me wondering, can I pinpoint the exact location?  Harnessing the power of the Internets and Google's Street View, I started with a search for Stumptown locations here in Seattle, figuring that since there are fewer locations it would be easier to eliminate candidates.  A search revealed no locations at an intersection, and since the scene clearly shows Fred at an intersection, all Seattle locations were out.
I moved the search to Portland.  I scanned the map for locations at intersections, and started with the Bellemont location.
Intersection, check.
The next most obvious thing to look for is the red brick building with the large windows bearing the Stumptown logo.  A Street View scan quickly revealed that to be the case.
Stumptown logo and red bricks, check.
The scene also shows the letters AALT followed by either a C or O in the upper right hand corner of the shot, so we'll need to see that in the Street View: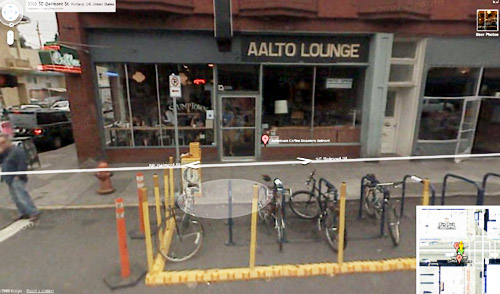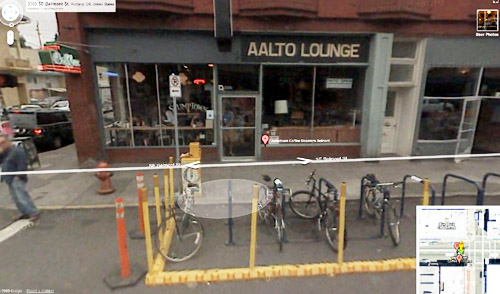 Street View clearly shows the name, "AALTO LOUNGE" next door.
Letters AALT followed by either a C or O, check.
We're looking pretty good, but Street View also shows several yellow posts in front of the shop, so we'll have to move onto another angle to verify that there are indeed in the right place.  Lets have a look: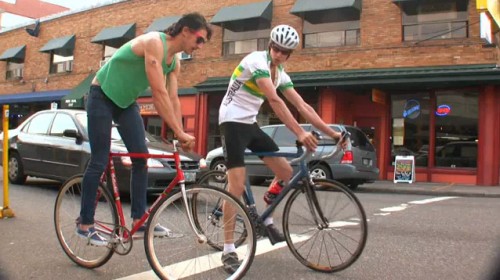 Yellow posts, check.
There is also a yellow sign – again in the upper right of this scene, along with a red and orange building across the street.  What does Street View hold for us in this area?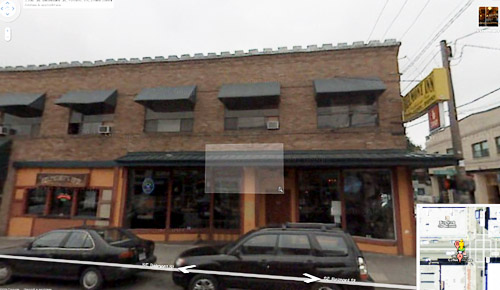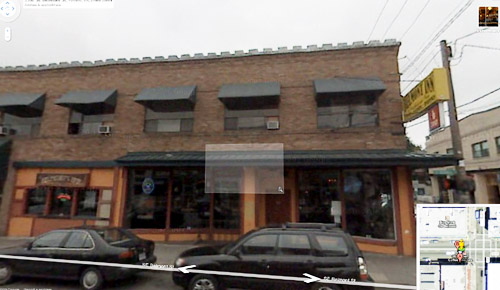 Yellow sign is clearly shown here, along with the red and orange building, check.
So, Performance was shot in Portland, Oregon, the most cycling-friendly city in the United States.
Street View below: