Timing is Everything: Ole Ritter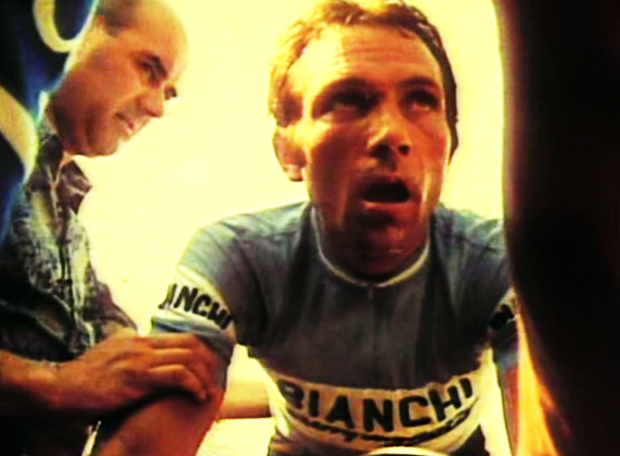 For Danish cycling, before Bjarne Riis, there was Rolf Sørensen*.  Before Rolf Sørensen, there was Ole Ritter. Ritter was a badass, a champion, rode Bianchis for Bianchi.  He had himself built the lightest bike available at the time, by a company that specialised in making the most badass handlebar tape in the history of this Great Sport. Good one, Ole.
He also raced at the same time as Eddy Merckx, Felice Gimondi, Francesco Moser.  Bad one, Ole.
There are a handful of riders who made their names not for the champions they were, but for the champions they raced against. These tragic heroes of our sport live through the ages and endure in our collective memories not for their victories, but for their valiant losses – their refusal to relent to the punishment handed down by the dominant champions of their day. Jan Ullrich was such a hero, in recent memory.  I am certain that Andy Schleck is not such a hero, but that remains to be seen. Raymond Poulidor at the legs first of Anquetil, then of Merckx. Joop Zoetemelk, first at the legs of Merckx, then of Hinault.  Graeme Obree at the legs of Boardman, then Indurain, (then Rominger and then Boardman again).
These are great riders who, had it not been for the misfortune of racing against the Great Legends of our sport, would have stood out as the heroes of their time. Instead, we learn of their records mostly through studying those of the champions, and at some point we take note of the names most often seen placing behind the winners.  Ole Ritter was such a racer. A master in the contre la montre, he had a magnificent stroke and beautiful position upon the bike; a perfect picture of grace and harmony while enduring relentless suffering at the hands of the superior riders of his time.
His greatest achievement is setting the Hour Record in 1968, a record which stood for 4 years before being handily beaten by his arch rival, Eddy Merckx.  Most riders confess after their attempts on this record that it is the most torturous hour they have ever experienced.  The first pedal stroke is the only one executed with full force. Every subsequent stroke breaks down the muscle fibers and results in reduced strength.  The rider remains seated on the machine, circling round and round the velodrome and, as the hour drags on, they are faced with the awful truth that they need to increase their speed (or at least maintain it) while every revolution of the track saps more speed from their legs.
While all but the most masochistic riders make one attempt at the record and vow never to subject themselves to it again, Ritter returned to the track to attempt to break Merckx's mark in 1974, as documented by the fantastic film, The Impossible Hour.  He failed, of course, and was unable to regain the record.  Had he lived in another time, perhaps his record would have stood as the time to beat when Boardman set the new Athlete's Hour in 2000.
Timing is everything, I'm afraid.
[youtube]http://www.youtube.com/watch?v=eiKACH4v9LU[/youtube]
And, one of my favorite clips, showing the routine prior to a TT of the 1973 Giro d'Italia, and then Ole's sublime position on the bike and his Magnificent Stroke.
[youtube]http://www.youtube.com/watch?v=fJllJcLU6b0[/youtube]
*Rolf is actually younger than Bjarne, but his stardom in the peloton came before Bjarne's, therefore my statement that "before Bjarne, there was Rolf."  Sorenson has slipped into relative anonymity since his retirement, while Bjarne continues to play a major role in cycling, piloting the best team at losing.