TT Toledo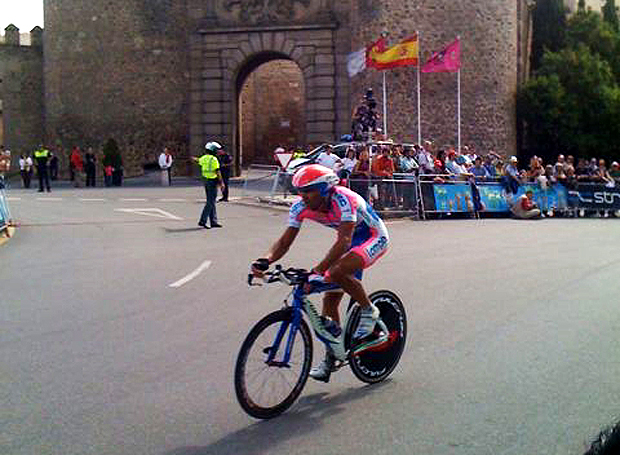 Coming to you live from stage 20 of the Vuelta, and reporting whilst still marginally sober. Racers are coming in fast on the 30+ min time trial, with several overlapping at the finish. We're parked at a beer garden along the last little stretch, having run the last 10 km of the course earlier this morning (no rental bikes to be found, so we went primitive).
Several observations from my first time live at a grand tour. First, this is awesome. Second, cycling is hard (related observation from my mother-in-law: "these guys are really suffering"). Third, cycling looks cooler with castles in the background (sorry USA). Finally, if my 5 month old son, currently sleeping despite the crowd, were to ride professionally, it would be at least 2029 before he was back at the Vuelta.
Picture is an unknown rider coming up the last incline and rounding the corner to the finish. Not a bad shot with an iPhone.
Oh, and happy birthday to the editor-in-chief: Frank, the fixie-curious flatlander.
Wait, new update; we just met David Millar, today's winner, out on the town. He was happy to see some fans, but had no team gear left to distribute…. So he gave my wife the Garmin socks he raced in, right off his feet. They're in the sink at the hostal right now….