Irreverence: Shift Indicators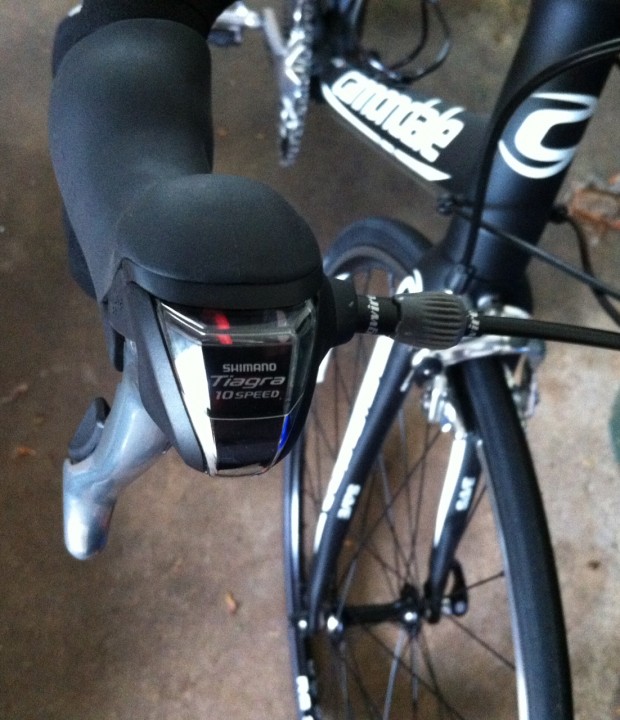 This is possibly the most offensive piece of gear I have encountered on a bike. Do you really need a little orange wand to tell you what gear you're in? There is only one gear to be in: the hardest one at which you can still make the pedals go around in something resembling a circle.
These goofy little things were found on the bike I rented last weekend for a benefit ride on the east coast in honor of my late Aunt. It was a wonderful ride and great family time… but really, shift indicators? Further proof that all has been in decline since the advent of indexed derailleurs. What added insult to injury in this case was the quality (or lack there of) in the shifting itself. Tiagra is a far cry from my beloved Dura Ace. I would try to shift and the little orange wand would wobble uselessly back and forth — like a Seattle driver trying to merge on the highway — until, finally, an enormous noise would ripple up the bike and a new gear *might* be achieved. I began to brace myself for the effort…. and…. SHHHHHIIIIIFFFFFFTTTTT. Like passing a gallbladder stone. (Or so I imagine.)
In the end, this Cannondale Synapse was just fine. It even had a sharp paint job. Almost sharp enough to make up for the kiddie shifters.