The Swanny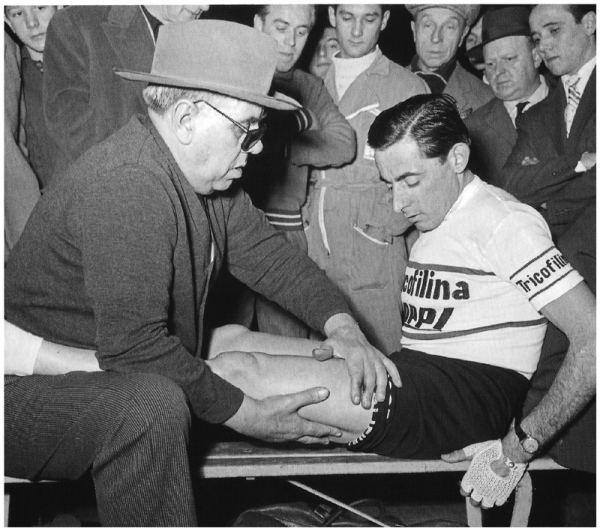 Behind every great rider, there's a great soigneur. The right hand man, the go-to guy, who tends every whim of his rider, feeding, watering, mending and massaging. Behind the humble Velominatus Regularus, however, there's a string of injuries, tight muscles, bad posture and aching guns. We are our own soigneurs, and if you're like me, that's not a great thing.
Heading towards a half century on the earth and most of that on two wheels, you'd think an old dog would pick up plenty of tricks along the way. Basics like stretching and self-massage, drinking plenty of water, and not as much beer are learned early, but virtually ignored totally. I never stretch; no matter how many times I've been advised to, I just seem to lack whatever disciplinary gene that encourages me to put aside half an hour after a ride or whenever I feel tight (ie always) to roll around on the floor and pull a few limbs into strange positions. After particularly long or hard rides, I might give the hammys a cursory tweak in the shower or rub the legs a bit once out. I have one of those trigger-point rollers, but it hardly sees out from under the bed. It feels good and no doubt helps, but it's just way too easy to flop on the couch with a beer and zone out on the idiot box.
As I increasingly find it harder to get out of bed, or walk up the stairs (there's about a hundred to my house) it seems the only time I'm comfortable is when I'm on the bike. As soon as I dismount, I'm like a foal with a hunchback trying to take its first steps. But it's about time to get real and help prolong an injury-free riding life. I see guys my age or even younger nursing injuries and think maybe I'm just lucky, and surely my time will come if I continue my lax routine. The same care that goes into my bikes needs to go into myself. Stretching every day, maybe some core exercises, self massage after rides, might even try some yoga.
And my own swanny.
My friend Josh, a recently graduated massage therapist, has offered to try and 'sort me out' with a round of treatments over the next month or so. When he asked what area needed work, I replied 'everywhere'. As he's been gently reminding me for years that I need to stretch, he knows what sort of state I'm in and what I put myself through on the bike. It'll be interesting to see what regular massage can do for a regular Cyclist, even if it's once a week rather than the everyday luxury of the Pro. And if nothing else, I hear there are some pretty good looking women at the yoga place…
I'll keep you posted over the next few weeks as to my progress. What sort of self-soigneur techniques do you all employ, if any?