Maiden Voyage: Grand Ridge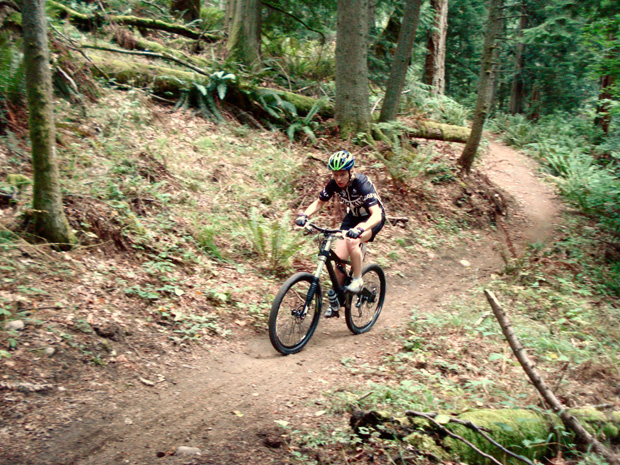 Michelle and I hit the trail on Saturday to take our newly acquired mountain bikes for their maiden voyage on the Grand Ridge trail near Issaquah, Washington. We were pleasantly surprised with the quality of the trail, and elated with our bikes.  The only trouble we got into was with me going a bit too fast on some of the descents and learning the hard way that brake pads tend to harden considerably in 18 years and that hard brake pads aren't very effective if your goal is to reduce your speed.
The Zip was exactly what I remembered it being: quick, responsive, and fun; I felt immediately at home on it. So much so that I was probably a bit too cavalier about descending and overestimated my skill. Anytime you're descending and you think to yourself, "I'm going a bit fast but it will be OK as long as nothing unexpected happens" you know you're on shaky ground.  I realize that's not a very clever way of riding, especially given the luxury of 20-20 hindsight and the fact that now I know two unexpected things were about to happen.
First, there was a huge root just up the trail. Second, pulling on the brakes did almost nothing to slow my bike down. Had I been my old self on a mountain bike, I would have committed to the root and jumped it, but instead I hesitated and tried to stop, piling into the root with enough force to crack my headset. I Superman-ed off the bike and, although I was mostly unhurt, I rattled every part of my body, down to my teeth and toenails. That said, I'm reasonably certain I did not let out any unmanly wails or squeals that echoed through the mountainside.
Michelle spent the first part of the ride getting used to her Prophet. Before long, she was climbing better and faster than me, blowing by me on the long climb out of the valley on the way back. It is really amazing how good she is, especially given this is her third time on a mountain bike. She flew over technical sections and floated up the climbs before descending like the downhill ski racer she is. About halfway through, we stopped for a snack and she was just giddy. Eyes wide, she said, "You just don't have to worry! This thing just carves down the mountains and floats over rocks and roots like they aren't there!" Having just excavated the land around the root that broke my bike, I can assure you: those rocks and roots were indeed there.
[dmalbum path="/frank.dutchmonkey.com/personal/Pictures/Grand%20Ridge%20-%20Maiden%20Voyage/"/]