La Volupte: I Was Flying Today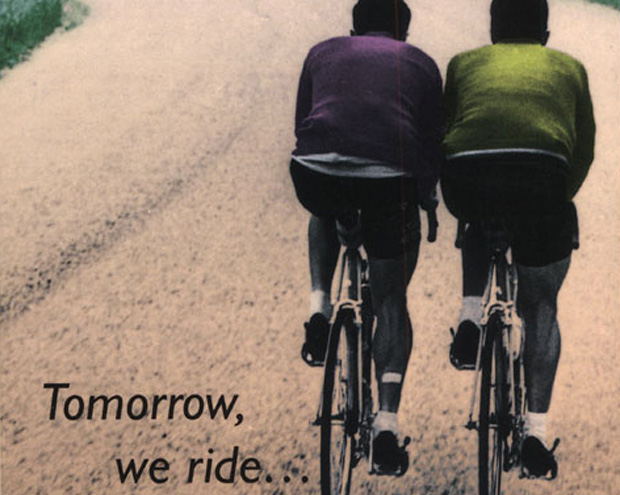 About a year and a half ago, as I was just starting to get really serious about cycling again after dabbling for about a decade, Michelle bought me every past issue of Rouleur and got me a two-year subscription.  This is not a bike magazine.  This is a quarterly publication for cyclists.  It is printed on thick, heavy paper, and each issue is rife with pieces written by pros talking about a particular race, or mechanics putting in a 10 or 15 page piece on why they love tubs, how they select them or age them for a race, and how to glue one onto a rim properly.  This isn't fluffy stuff about Astana's soap opera politics or What's Hot and What's Not; these are pieces you read over and over again: a long account by Robert Millar about the stage to L'Alpe d'Huez when he took the Polkadot Jersey in the 1984 Tour.  Chris Boardman's discussion on his Athlete's Hour Record attempt, focusing on his collaboration with Royce and the effort that went into building the wheels for his ride.
Each issue starts with a two-page spread of an epic scene from road racing folklore on the left page, and on the right a well-chosen quote referring to the scene.  The first issue I opened had a photo Eddy Merckx, complete with grimace on his face, accompanied by the quote, "On some days I would sit on my bike, weeping from the pain."  The next was of Bernard Hinault, growling at an empty road, paired with, "As long as I breathe, I attack."  Seattle is filled with short, steep climbs similar to the Ardenne with gradients of up to 25% and up to 4km in length; one of the hardest things for me as I clawed my way back into cycling form was the pain of hauling my fat ass over our route and its 1.5km vertical.  These spreads reminded me to shut up and ride.  In cycling, suffering is glory.
If the life of a cyclist is about suffering, why do we do it?  Well, the fact is that on rare occasion, you don't suffer.  I'm not talking about those days when you top up on amphetamines or EPO; I'm talking about those days when you find the rhythm and when you find that place in your head where pain doesn't tread.  Many have sensed it, some have claimed to have felt it but haven't, and fewer still have actually found it.  The French call this La Volupte.
I recently read Jean Bobet's book, Tomorrow, We Ride.  This isn't a biography of his older brother, Louison, but instead is a book about his life as a cyclist.  Obviously, that life is deeply intertwined with Louison's career, but none-the-less, this book is about a passion for cycling that goes beyond careers and racing results.  In some places it is historical, in others touching, and yet in others is downright funny.  But mostly, it's about a love for a cycling life. Jean recounts two cases where he found La Volupte.  The first was a training ride with Louison around Lake Como before the Giro di Lombardia.  You can almost smell the thick, misty air by the lake as he describes their ride and the perfection of that moment on the bike.  The second was on a lone training ride on the Cote d'Azur where he floated up one of the climbs on his route in perfect harmony with his machine and the gradient.  La Volupte is fleeting, and the spell is usually broken by some external interference, as was the case for both of Jean's accounts.  On Lake Como, it was broken by the horn of a passing vehicle – on the Azur, by taking a sip of water from his bidon at the top of the climb.  In an instant, La Volupte is gone and what remains with us is an unquenchable thirst to find it again.
La Volupte translates roughly to "voluptuousness", and while the first thing the mind goes to is a sexual definition, my favorite is, "the property of being lush and abundant and a pleasure to the senses".   In a sport where pain is worn like a badge of honor, those times when cycling is lush and abundant and a pleasure to the senses are what makes us want to climb onto our bikes again tomorrow.  When Bobet returned home from his ride on the Azur, his brother asked him how it went.  His answer was simply, "I was flying today."