Awesome Dutch Guys: Erik Breukink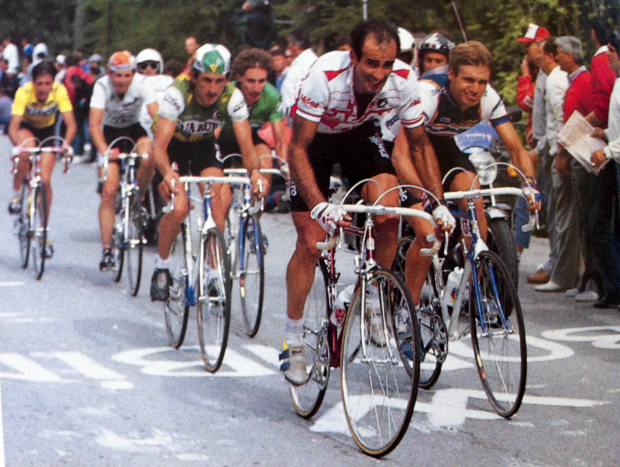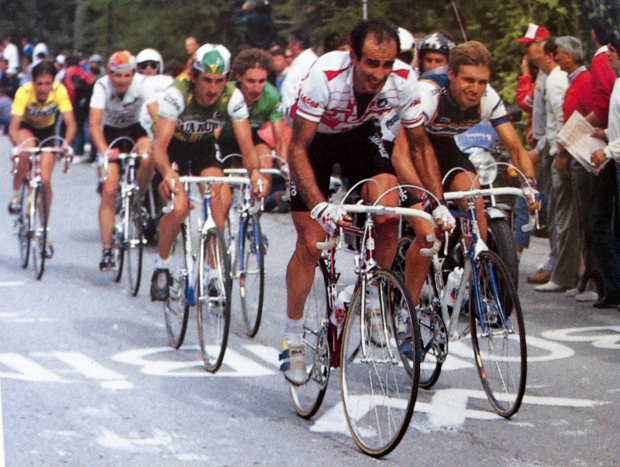 Erik Breukink, pictured here on the far right in the 1987 Giro, was on the upswing of what seemed to be very bright future. From a young age, he appeared to be a natural Grand Tour rider, so the Dutch teams he perpetually rode for did what Dutch teams do best, which is heap loads of pressure on an ill-prepared mind, micro-manage the snot out of him, and use a horse blanket to snuf out any remaining embers of potential. To be fair, though, this model is not solely the domain of the Dutch; the Italians, French, and Belgians are all quite adept at this particular talent development technique.
Erik faired better than most Dutch prodigies have since the 80's; he managed to podium in two Grand Tours – 2nd to Hampsten in the '88 Giro and 3rd to LeMond in the '90 Tour – in addition to winning a handful of stages along the way. But more than anything, what distinguishes Breukink from a promising modern rider like Gesink was his ability to keep from falling off and breaking things at critical times.
Erik hit his peak around 1990 when, were it not for a bad day on the slopes of Luz Ardiden, he might have been fighting for the Tour de France win instead of flustering about to get hold of the podium.
Admittedly, this sounds like a suspect track record to qualify as an Awesome Dutch Guy. For the most part, we Dutch hold ourselves to a higher standard of Awesome than getting a few podium spots. Well, sometimes Awesome is more than just your results. Awesome comes without ribbons, it comes without tags, it comes without packages, boxes, or bags. Awesome, it seems, is a little bit more, like wearing a shit-eatin' grin that can be spotted from the Moon while everyone else in the bunch is being squeegeed through the vents of the hurt locker at the legs of the balding Pedro Muños who is doing a fantastic job demonstrating the Two-Eyed V-Squint.
That, my fellow Velominati, is what Awesome is all about. Case closed.