Anatomy of a Photo: Milan-San Remo 1983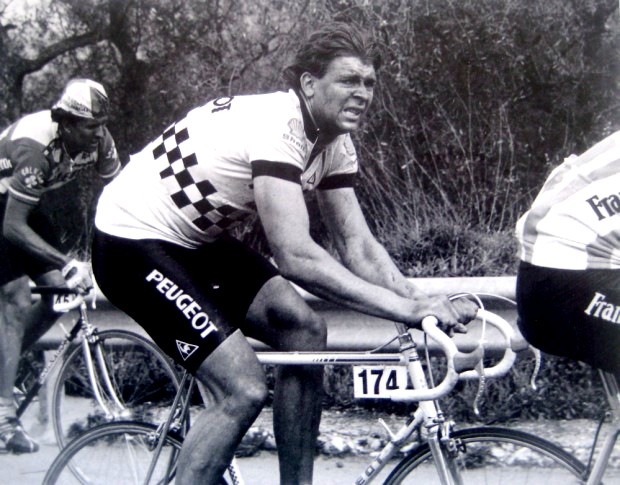 It is said that this race is one of the easiest to finish but hardest to win. Really, it is the easiest to finish? I've driven from San Remo to Milan and it takes hours and hours, even at Italian highway speeds.  I'm amazed this race usually ends up in a field sprint, somehow big sprinters survive the capos at the end of this long course. These are not major climbs but they are ridden incredibly fast, faster than any of us could ascend, even if we didn't do the warm up from Milan.
What a shot of suffering on the bike this is. The twenty-two year old, second year pro with Peugeot, hanging on up the Capo Berta. I'd look as miserable as him if I was racing on a steel Peugeot too. Sean's grimy expression is unapologetic suffering. He might have told Graham Watson to sod off if he wasn't dying so. No gloves for his 300km race and the brake hoods are nothing to hang on to unless climbing out of the saddle which Yates could be doing here if his legs could handle it.
The best part of this photo is how big he is. He may be climbing well for his weight but he must have dropped one whole Andy-Schleck-unit by the time he was racing for Motorola. And yet, here he is, paying his dues as a young pro, looking like the British pursuit champion he was… no Capo Bertas on the track.
The Velominati hold Sean Yates in the highest regard. He is a classic hardman, no messing about, he would ride you into the ground and enjoy doing it. He is in an elite group of riders that includes Jens Voigt and Stuart O'Grady; to call them domestiques would greatly understate their careers. They are more team captains (the French must have a good word for this), they have all been in the yellow jersey of the Tour, and all have outstanding palmares. Probably better to just call them hardmen.
Post script:
"When you're in your first professional season and riding in your first real classic, a relatively miniscule hill like the Capo Berta in Milan-San Remo can have the nastiest effect on your diminishing reserves of stamina. That's how Sean Yates came to remember his baptism into big-time racing, having neglected the opportunity to collect a food-bag at the final feeding station, twenty kilometers before.
I was inching my way past the heaving peloton on the Capo Berta when I caught sight of a bulky figure  wearing a Peugeot jersey-unmistakably Yates. As I passed our eyes met: mine squinting through an 85mm lens, his out of a face screwed up in agony and exhaustion. It was a short exchange- I couldn't bear to look at him in such a state…"
-Graham Watson, Visions of Cycling. p 58.