Full Circle: The 'Evolution' of Mountain Biking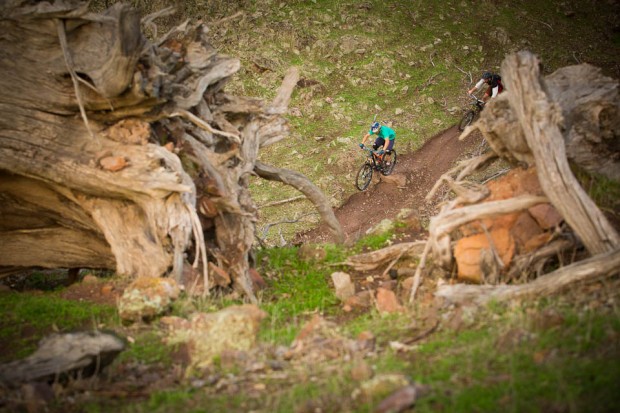 Think back to the early days of mountain biking. A bunch of friends, getting to the top of the hill any way they could, not needing to ride up at any great pace, saving themselves for the real buzz, the ride back down. It didn't matter who got tot the top first, as long as everyone made it and then could share a chat, maybe a beer and a toke, before they pointed their rigs back downhill. The hair was as flowing as the conversation, and that was just the guys.
The weight of their bikes wasn't a factor, just making it to the bottom with functioning brakes and their jeans not tangled in the chain was the most important thing. Most of the bikes and parts were derived from road-going machines, and most of the early wheels were either cut down and re-welded road hoops, or beach cruiser wheels which came in some strange diameter. Innovation and invention was strong from the start, with a bunch of them making their own frames and cobbling together parts. They shaped the development of this new sport, which in turn helped revive and push road bike technology too.
While racing down the hill was the way it all started, soon the predominant racing genre would become riding around in circles, up long climbs and then back down again. Even though the climbing was the major element, the races were dubbed cross country. Downhill was usually raced on the same day, on the same bike, on the same part of the XC course. Gradually downhill technology advanced with suspension at both ends getting longer, while the XC bikes (and riders) looked to go on diets that would make Jenny Craig envious. Somewhere in between, regular mountain bikers just rode their bikes on the trails, up and down, without a label of their own to identify with.
Sometime in the last few years, the bikes that most people ride on most trails most of the time took on an identity of their own. The marketers, in a moment of brilliant clarity, called them trail bikes. But what were these trail riders going to do if they wanted to compete every now and then? The bikes didn't fit into the XC category (too heavy, too much travel), they were too under-gunned for proper downhill racing, and most of the riders just wanted to have a bit of fun more than set any PBs or have to wear lycra and shave their legs to be considered worthy of the 'racer' tag. What they needed (even if only the marketers knew it) was a new type of racing, where the fun bits, the singletrack and the descents, mattered more than the boring hard bits, the climbs. Enter enduro.
Just about every company at Interbike recently released something that had the word enduro attached to it. Bikes, components, shoes, helmets, clothing, there's something for everyone to just go and ride with, just like we used to, but now only better. Enduro has maybe not saved mountain biking, but has given it a whole new lease of life by bringing back the core elements of why we ride a bike on trails. Whether that needed a tag or not, well that's debatable, but I know that the bikes we ride now are some of the most dialled and most versatile that I've ridden in my 23 years of mountain biking. They have certainly brought the fun back to my riding, by allowing me to ride faster, with more control and more confidence.
Those hippies back in the 70s and 80s were way ahead of their time in many ways. That the preferred wheel size back then was 650b could have changed the way bikes developed a lot sooner, and the way we've arrived at this 'new' wheel size via a smaller and then a bigger one is maybe a blessing in disguise. Maybe we wouldn't have three sizes (soon to be two) to choose from, and all bikes would have at least one component that was a true 'standard'. The way things are heading though, most trail riders in the next three or four years will be on the medium hoops whether they like it or not; the 26″ wheel holdouts will have nothing left to complain about except the fact they can't get any tyres any more, and that they secretly wished they'd switched to medium wheeled bikes sooner, because, shhh, don't tell anyone, they're actually better.
I get to ride a few bikes in my job, on a lot of varied trails all around the place, and it's hard to find many bad bikes these days. Whether it's down to frame design, angles, suspension technology or wheel size, I don't know. Probably all of those, combined with other factors like wider bars/shorter stems, the banishment of the front derailleur, big fat tubeless tyres, and the best invention in mountain biking in the last ten years, the dropper seatpost. All these things are staples of the modern trail bike, and whether or not they have the word enduro attached to them doesn't really matter. But I know this; mountain biking is looking healthier than it has since the halcyon days of the early nineties, and racing is becoming popular again because the fun is being put back into it. Heck, I'm even having a crack at one of these new races next weekend too, and I'm actually looking forward to it.
Thanks, enduro.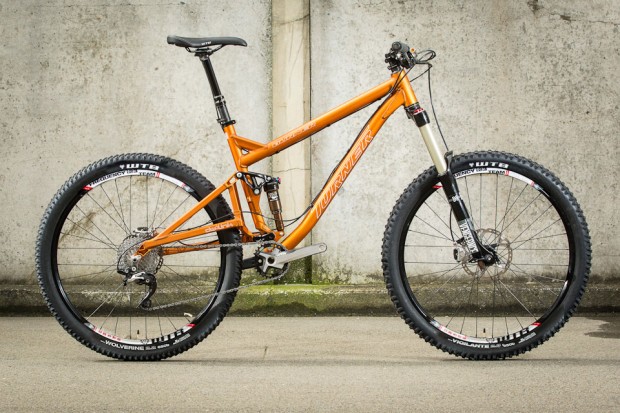 This is what a modern mountain bike looks like… my new Turner Burner.
The Rise of Enduro – Teaser from Tom Teller on Vimeo.