Peter Van Petegem: A Lesson in Rule #9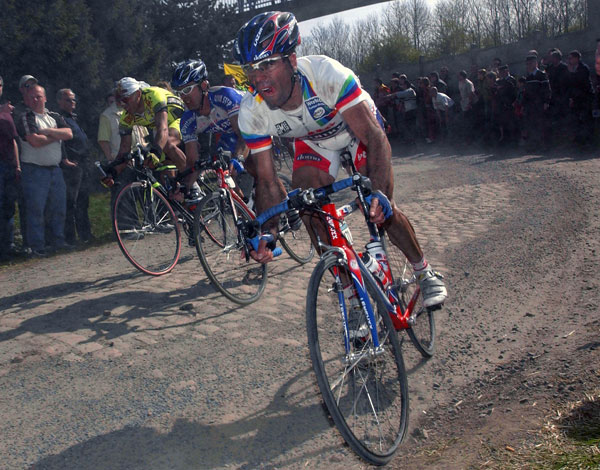 Rule #9–Fair-weather riding is a luxury reserved for Sunday afternoons and wide boulevards. Those who ride in foul weather – be it cold, wet, or inordinately hot – are members of a special club of riders who, on the morning of a big ride, pull back the curtain to check the weather and, upon seeing rain falling from the skies, allow a wry smile to spread across their face. This is a rider who loves the work.
This is about a rider who loves the work. @roadslave related this story to us when we first arrived in Belgium for the 2012 Keepers Tour. Peter Van Petegem always has that five o'clock shadow of a man who has to shave multiple times a day, so high is his god given Belgian testosterone level. As a racer he would ride in the far back of the peloton where everyone is told not to ride. Peter could read a race and he would only move up for crunch time- when it was time to win the sprint or join a break. And win he did, he was two-time winner of Ronde van Vlaanderen and winner of Paris-Roubaix in 2003, completing the Ronde-Roubaix double. Him being Belgian, I doubt he gets to pay for many Abbey Ales.
The doomed Mercury Viatel Cycling Team was a US team with European aspirations. Some of the best North American riders were hired to help complete a team that could compete with the big boys in Europe. And nothing helps like actually having one of the big boys on the team, so Peter Van Petegem was hired on to captain them through the Spring Classics in 2001.
There must be hundreds of amazing stories that transpire on team buses and team cars, privy only to the riders, mechanics and managers within earshot. What follows is one that made it out (as related from @roadslave's introduction below).
One of the guys I ride with – we call him the Stig, because he's our tame racing cyclist (ripped off from the TV show Top Gear) – used to be a fairly hardcore pro cyclist: at one time was the US National Criterium Champion, rode the four man 4km pursuit for the US at the Olympics, did a pretty good kilo, and so on. He was part of the Mercury Project in 2000 to 2002 and did some racing in Europe- including Paris-Roubaix 2001. You may remember that race: the weather was atrocious. In the Stig's words:
So, before the race, we were huddled up in the Team Camper Van. I'd like to say Team Bus, but it really wasn't. The weather was so bad the bus was rocking from side to side from the wind, and we could hardly hear each other speak because the rain drumming on the roof was so loud. Greg Lemond came in to see us, as we were riding his bikes that year. He'd just given an interview with some TV guys, and was soaked through: he looked like someone had turned a fire hose on him. He could hardly look us in the eye as he wished us good luck for the race.  Then in came Peter Van Petegem, our team leader for our classics campaign that year. He was beaming this huge smile as he looked around the van, his eyes sparkling and his whole being literally glowing. "I like this weather!"  he proclaimed.  "It is good for us. Many of the weaker riders have already been defeated". Suddenly the prospect of going out there and racing didn't seem so bad.

Sadly, 2001 was not to be our year: PvP got caught behind one too many crashes, and missed the decisive break – line honors that year went to Servais Knaven, and PvP ony managed 24th. It was not until 2003 that he won Paris-Roubaix, but his words that day confirmed to me that he was a true legend of our sport.
Damn, I love the hell out of this story. This warms my heart. It completely confirmed my preconceived understanding of Van Petegem. I barely survived riding the business end of P-R, I can't imagine riding it on a soaking wet, windy day, much less racing it, much less being psyched up for it! For all those hackneyed Hollywood locker room speeches I loath and American sports I don't care a whit about, this story transcends all that nonsense and says much about Peter Van Petegem and our sport. Thanks to @roadslave and "The Stig" for bringing this to light.
[dmalbum path="/velominati.com/content/Photo Galleries/[email protected]/van petegem/"/]