Reverence: Vittoria Open Pavé CG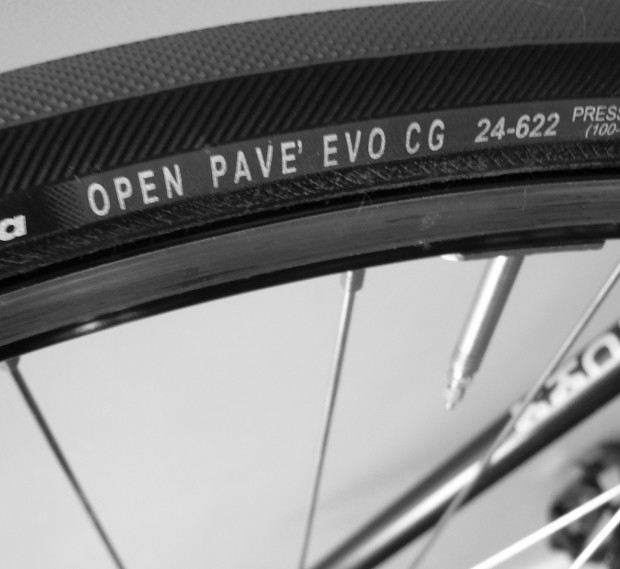 Normally The Keepers reserve our Reverence articles for products we've used for years, or with new stuff that has had at least six months of duty. Riding the cobbles of Belgium and Northern France can put most gear (and bodies) through six months of abuse in just a few weeks, so in this case the work these tyres have been put through there and in the months since qualifies them for a deserved earlier dose of Reverence.
Selecting what gear to run for the Cobbled Classics Keepers Tour wasn't too hard a task; there are some things which just go with cobbles bikes like double wrapped bartape, alloy steerer fork and of course box section rims laced 3 cross. Tubular or clincher was about the only tough decision I had to make. I managed to find a cheap pair of Ambrosio tub rims, but as they were 36 hole it proved impossible to find a cassette hub in time for the tour. How bad could clinchers be? After all, Freddy Guesdon won Roubaix on clinchers in 97, and the Pavé boys would have spare wheels if something went terribly awry. It wasn't the cobbles that would claim my clinchers, but the ham-fisted rock apes generously referred to by airlines as baggage handlers.
Choosing a tyre to run was probably the easiest task. It had to be Vittoria's Open Pavé CG's, based on what I'd seen gracing Pro's bikes in just about every edition of the Spring Classics I'd witnessed. The distinctive green herringbone tread stripe is as synonymous with these races as are crazed fans, beer and frites en mayo. Unfortunately the 'Open Tubular' doesn't come in the 28mm width of it's tubular brethren, but a 24mm version only. That extra mm wasn't a lot but it was something. The real benefit of the tyres though is the 320TPI casing, yeilding a super smooth ride on any surface. Coupled with Vittoria's Latex inner tubes, the feel of cushioning under the bike is definitely noticeable. Over all of the 21 secteurs we rode on the way to Roubaix, then another 15 of the worst a few days later, topped with a full complement of Flandrian roads, I only once feared I might hear the dreaded hiss from my tyres. Nailing an edge of a nasty cobble hard enough to feel the rock hitting the rim, the tyre bounced off and the slippery latex tube stayed intact. On return to NZ, I inspected the tyres for damage and was surprised and delighted to find nary a nick or any signs of wear.
I've been riding the Pavés ever since the Tour, and don't want to swap them out at least until the Kiwi winter is over. The ride continues to impress with their sheer suppleness (dare I say souplesse?) over rough surfaces. They aren't the lightest or fastest rolling, but neither am I. For summer I think I'll try the lighter Corsa Evo SC's, which look just as cool with their tan sidewalls and are another Pro favourite. And if you're worried about a green stripe clashing with your bike's paint job, I think there should be a Rule #8 ammendment that the only coloured tyre allowed on any bike, due to it's unrivalled heritage, is the venerable and now ReVered Open Pavé CG.
Thanks to Graeme at Cycle Sport NZ for his generosity in supplying the tyres and tubes.
[dmalbum path="/velominati.com/content/Photo Galleries/[email protected]/Open Pav/"/]