Guest Article: Anatomy of a Photo – The Perfect Personification of Rule #5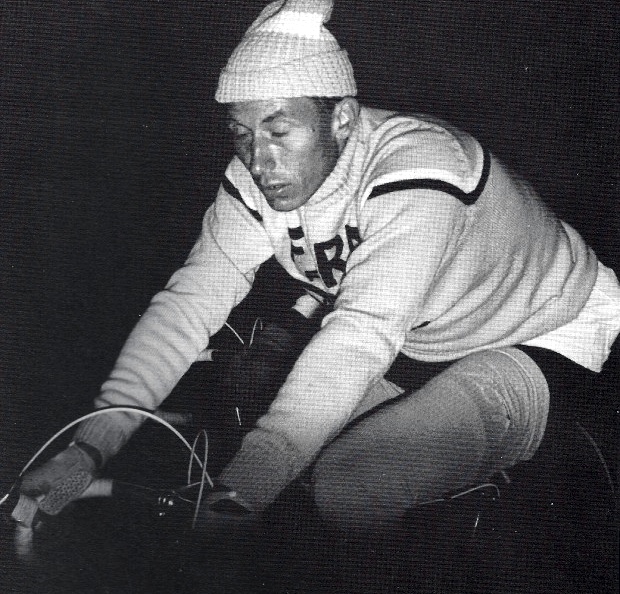 We are lucky to have @wiscot as a contributor of guest articles. He eschews the carbon ball for real research and his love of cycling history is heartfelt. As the Dauphine winds down @wiscot spins a story of real toughness on the bike.
VLVV, Gianni
It may have been late May in the south of France, but the chill of the pre-dawn morning was all too real as the riders rolled out for the first of 567 kilometers (372 miles) from Bordeaux to Paris. For Jacques Anquetil, his exhausted appearance was justified: he'd just completed the first half of one of the most audacious sporting endeavors in history. In the late afternoon of the previous day (May 29, 1965) he had finished a tough, wet, eight-stage Dauphine Libere, winning the race overall. The plan, hatched by his manager Raphael Geminiani, was for him to start""and win""the longest classic on cycling's calendar, Bordeaux-Paris, which began the next day. No-one had ever contemplated such a double, let alone with the intention""or capability""of winning both.
Anquetil finished with the Dauphine's podium ceremonies at 5pm, showered, and ate a quick meal of steak tartare and two beers. (His gastronomic habits were highly unorthodox even in the 60s). He was then driven to the airport where, with the aid of a plane rumored to have been provided by French President Charles de Gaulle, he flew to Bordeaux to begin Bordeaux-Paris against such stellar opposition as Tom Simpson and Jean Stablinski, (Simpson had won Bordeaux-Paris in 1963 and Stablinski had been world champion in 1962). The race began at 2am.
From the beginning of his career, Anquetil had always been deceptive. As a boyish and slender 19 year-old he stunned the cycling world by winning the 140 kms Grand Prix des Nations time trail held in the Chevreuse Valley. At the first attempt he beat such riders as Coppi. As his career progressed, he would win eight more Nations, establishing himself as virtually unassailable against the clock. However, even in the days of the Nations and Tour de France time trials being regularly over 100 kms, Bordeaux-Paris was a freak: 567 kms with the first half being mano-a-mano, with the riders teaming up with dernys at the halfway point to be paced to the Parc des Princes velodrome. Although it would survive until 1988, even by 1965 races such as Bordeaux-Paris were an anachronism, a throwback to the early days of the Tour de France when stages regularly topped 400 kilometers.
By 1965 Anquetil was cycling's dominant rider. He had won five Tours de France, two Giros (including the Tour-Giro double in 1964) and one Vuelta, eclipsing Coppi's record of seven grand tour victories. Nevertheless, the diminutive Norman was not as popular as his more solidly-built arch-rival Raymond Poulidor. Perceived as aloof and calculating in carefully rationing effort to maximum advantage, he was regularly jeered and booed upon winning whereas Poulidor, "the eternal second", was greeted with warmth and adulation. The Dauphine Libere/Bordeaux-Paris double was a calculated move by Geminiani to assert Anquetil in the eyes of the public as the greatest French rider.
Anquetil had been initially reluctant for the attempt, easily recognizing the sheer physical-and psychological-difficulty of the task. His wife Janine thought it a mad concept, but the wily Geminiani wasn't averse to using a bit of reverse psychology, implying that the double was beyond Anquetil's ability. Subsequently, cajoled by his manager, he had signed up, but after four cold, wet hours of riding wrapped up in thick jerseys, leg warmers and hats, his conviction wavered and he climbed off around 7am. Geminiani, hoping for a historic and unlikely-to-be-matched feat (and wanting to maintain his credibility by having a successful outcome to his crazy idea), vociferously urged his rider on in a manner that questioned Anquetil's character and sexuality. "Quitter" was one word used after Anquetil had sought the warmth of the team car. Slurs on his masculinity were also expressed. Stung by such criticism, Anquetil climbed back on his bike redoubled his efforts. (For the record, Anquetil's colorful "love-life" left no doubt as to his heterosexuality).
By the time the riders were paired with their dernys and the race entered the familiar roads of the Chevreuse Valley, it was a race between Anquetil, Stablinski and Simpson. Sensing the win, Anquetil attacked. Geminiani recalls the poor derny's engine making strange noises as it was pushed to its limits by its human equivalent. Neither the derny nor the rider faltered, and upon arriving in the velodrome with almost a minute's lead, Anquetil tearfully received the rapturous welcome Geminiani had hoped for. The double had been accomplished. Never before, and never again, would a rider attempt such an audacious feat.
Whether Anquetil ever truly won over the French public's affection vis-Ã -vis Poulidor is debatable. Many would argue not. Certainly, Geminiani thought not: "I can still hear the way he was whistled when he rode. More than once, I saw him crying in his hotel room after suffering the spitting and insults of spectators." What is undisputable is that the greatest""and craziest"" feat in cycling history belongs to a slight, blond Norman who did whatever it took to win. With all due respect to the Prophet, when Rule #5 is invoked or cited, it should really be termed the Anquetil Rule.