KT 2012 Gear Review: fi'zi:k Shoes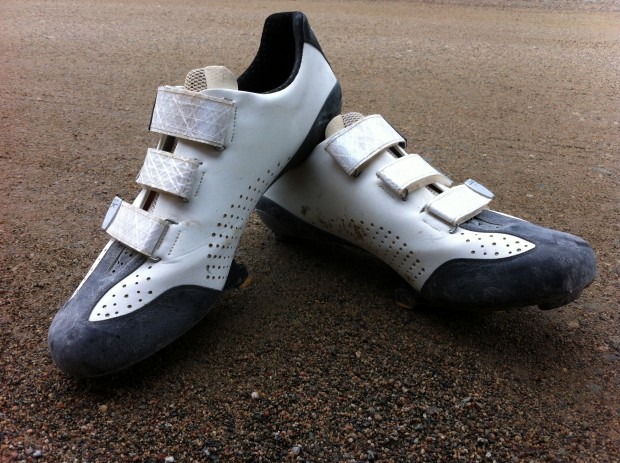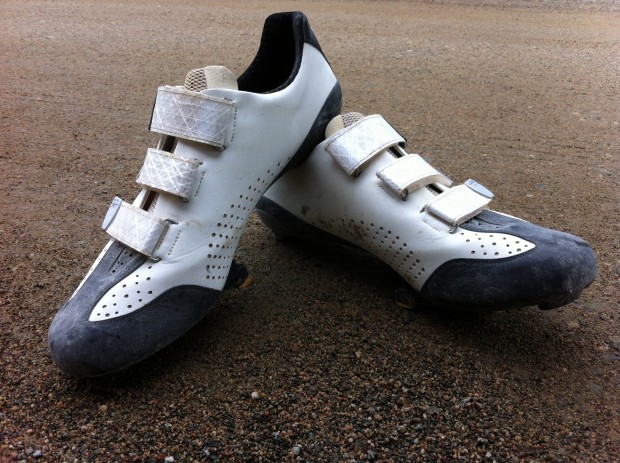 It was Marko's love letter about fi'zi:k's points-of-contact that started this off. It led to a conversation that resulted in us heading off to Belgium with some fi'zi:k point-of-contact items to test. Most stimulating was the notion of testing Italian cycling shoes. Both Marko and Gianni have publicly admitted their cycling shoe issues. Marko has shoes for each bike, that is a shoe issue.  Gianni is just a picky, picky bastard: they have to fit very well, feet can't ever slide around, and they have to look decent. Frank lucked into a pair of R1 shoes, the best Fizik makes, but Merckx punished him with narrow flippery feet, too narrow for the Fizik last. This made @Rigid one lucky S-O-B. And Brett, he has issues, enough to get him deported back to Oz but shoes seem to be low on the list.
VLVV -The Keepers
Gianni's take:
When fi'zi:k jumped into the cycling shoe market a few years back I was surprised and a little skeptical. Shoes are not easy and cycling shoes are definitely not easy, they have nothing in common with saddles except being a contact point on a bike. And how can one not be a stickler about cycling shoes, I sure am. I'm a real pain in my own ass when it comes to finding great shoes. I've waxed rhapsodic about my old Maressi lace up shoes, I loved my Carnacs, I sold my White Ladies to Frank because they didn't fit my foot correctly. How do you make a cycling specific bit of apparel where form has to follow function and somehow accommodate as many different shaped feet as possible?
Let me digress to the subject of form. My white R3s are so good looking I easily overlook some of their foibles simply because as I ride, I look down and see these killer white shoes and much is forgiven. A cycling friend has the red R3s and watching him ride away from me is now easier. Having fondled the white R1s, I believe they are the sweetest looking shoes out there, pure unadulterated white goodness. I take every chance to show anyone that will look the underside of the shoe's tongue, it's the Italian red, green and white, a beautiful touch. These shoes are made in Italy and I hope to be riding them five years from now which is more than I can say for my Chinese made Specialized S-Works shoes. Those weren't going to last five years but now, as they are resting on a shelf as I road test the fi'zi:ks, they might.
Pros
Great heel cup.
Fit medium to wide feet.
Nice arch support.
The carbon sole is not too stiff, not too soft, just right.
They look fantastic.
Very well made in Italy.
Cons
Straps not as good as boa lace system for perfect fit.
Website needs more size information.
My remark about straps is a generic one. I like the way the boa wire evens up the tension making for a more secure fit. If fi'zi:k ever goes to that for the lower two straps then they will really have a perfect shoe. The ball of my right foot moved around even with all straps tight and for me, that was  a problem. Like Brett, I slipped in an old pair of Specialized footbeds and the extra thickness fixed the problem. Never be afraid to fool around with different insoles. Regarding sizing, I believe they might run a half size large compared to Specialized and Carnac. It would be helpful for the website to have as much sizing information as possible as many US customers are going to have to buy these online.
Brett's take:
I love these shoes. From the moment I saw the box, with its fold out twin compartments and story of the road printed on it, I knew this was going to be more than just a new pair of kicks; it was an experience, wrapped up in leather and embossed on my soul as well as my feet. And when I slipped them on, all my notions of Italian grandeur were confirmed.
I've owned a few different brands of cycling shoes over the years, and most have been fairly satisfactory in doing the job they were designed to do; wrap your feet and transfer the forces from the guns to the pedal. Some were a bit underwhelmed in the stiffness of the sole, some did better in that area but lacked in the comfort stakes, and some did both well but not amazingly. My Sidis were probably the best of the bunch, but the gaudy Italophile colour scheme became dated long before the leather showed signs of wear. The carbon soles of my Specializeds were admirably stiff, but the heel box never quite felt supple, and became annoying on rides over a couple of hours. They looked pretty good in the white though, but as I cleared out my S-branded gear they had to move on, more for the discomfort factor though. A pair of black Loius Garneau HRS Carbons were next, and despite the ability to heat-mold the uppers in the kitchen oven, still had a bit of a plasticky feel to them (not doubt due to the amount of shiny, plasticky material used).
Then the R3s arrived, and it was love at first sight, and pure sex when I slipped inside them. I fitted them with my much-loved Specialized footbeds, which had made all my previous shoes just that bit more comfortable and functional, but the fi'zi:k footbeds proved to be even more comfy and efficient. The carbon sole was a step up in stiffness too, and my pre-Keepers Tour rides revealed that I'd have no fit or comfort issues for the cobbles. I went in confident, and came out even more so.
Getting the size right was an exercise in research, and ultimately a lot of guesswork. As Gianni stated, there needs to be more guidance on this from the fi'zi:k website. Gianni found a shop site with a pretty good guide, which turned out to be quite accurate in getting the sizing right. I have always been a 44 in Sidi, with a bit of room in the toe box to facilitate the narrower profile. Specialized required a 43 for a good fit, whereas the LGs were 44 and a pair of Pearl Izumis saw me go to a 45! I did all the calculations and tentatively opted for a 43.5 in the fi'zi:ks. Turned out I got it spot on, and the slipper-like fit confirmed my choice.
The little details of the R3s all add up to a killer shoe, the titanium strap rings, alloy ratchet levers, carbon top strap and sail-cloth lower straps are all functional and super styley. I prefer the look of the black accents on the toe box and heel cup of the R3s to the all-white R1s, and they are actually lighter than the R1s too. And if they're good enough for Millar, they're good enough for me.
Frank's take:
It was like love at first site, between me and the fi'zi:k R1's that came my way. All white? Full carbon sole? Made from dead baby kangaroos? Yes, please. I don't know why leather from a dead Kangaroo might be better than from a dead cow, but leave it up the Italians to do the leg work on that one and come up with the answer. I anticipated them like crazy, and Marko, who had received the shipment and sent them out to the Keepers, wasn't helping as he kept sending me photos of the shoes to keep me nice and hungry. A shoe on a dashboard here, a shoe on a desk there. It was torture.
When they arrived, I experienced the shoes just like @brett described; the double box was a pleasure to open and read. The shoes are hands down the sexiest cycling shoes I've ever laid hands on; the seams all beautifully finished and the uppers bonded immaculately to the carbon sole. To slip your feet into them begs the question as to whether they are actually even cycling shoes and not just slippers with drill holes; the dead kangaroo question sorted, those hoppy little bastids are supple as hell. Must be all the bouncing around they do.
I slept with them at the bedside for a few days while I awaited dry enough weather to merit giving them their first ride. Sadly, my doubts about their volume proved correct as my freakish low-volume feet wouldn't marry up to the roomy fit of the shoe. My feet aren't particularly narrow, but they are very thin and as such I had to synch the shoes down as far as they would go and even then, I found my feet slipping around. A few emails back and forth with fi'zi:k who confirmed my fears: fi'zi:k's design tends not to work for people with low-volume feet. Proving that my love for aesthetics does ultimately take a back seat to function, I was forced to return to my usual shoes.
Such beautiful shoes needed a good home, and I ultimately decided to donate them to Rigid during Keepers Tour as it was clear he needed a fresh set of kicks. He loved them to bits and they certainly didn't seem to slow him down any.
Marko's take:
Here we are, four grown men claiming to be hard, riding the most hard core of roads one can on a bike and we're talking about how lovely our several-hundred-dollar a pair Italian shoes are. I'm reminded of that TV show that took place in New York City. You remember, the one with the four hottie fashionistas who drank a lot of cosmopolitans and made us all envious of how much time they spent in bed. If the Keepers are those chicks, I'm clearly the one with the shoe fetish and the fi'zi:k R1's are my Manolo Blahniks.
Admittedly, I actually own a pair of R1's and R3's. Hello, my name is Marko and I'm a shoe whore. The R1's were provided to me by the good folks at fi'zi:k. I snatched the R3's off the clearance rack at Barney's for a steal of a deal. Since Gianni and Brett already did the R3's justice, I'll just add that mine have become my dedicated gravel shoes. One might think that a CX or MTB shoe might be better for gravelling and that's what I rode for years. However, my embarrassment of shoe riches forced me to move the R3's over to the gravel rig. After all, gravelling is essentially road riding and road pedals work much better. The R3's perform great in that application for all the reasons already mentioned plus they clean up superbly. I am to understand that the uppers are essentially constructed from the same material as the microtex bar tape. We all know how durable and easy to clean that stuff is. After 100 miles of grimy, sweaty gravel on the Almanzo the R3's cleaned right up and were ready for the next cocktail party.
The R1's are everything the R3's are but go up to 11. Yes, that's one higher. Rather than using microtex, the uppers are fully made from baby Kangaroo leather. The sensuousness of this leather is sublime. It is tough, supple, cleanable, and very pretty. Baby Kangaroo leather might just be Australia's best export. And while the carbone sole is the same as the R3's, the R1's come with a heat moldable insole. As Gianni said, don't be afraid to try various insoles for that Cinderella fit (I ride a Specialized insole in the R3's). The heat moldable insole of the R1's gave me a Cinderella fit right out of the box. I haven't baked them for two reasons. The first, is that they fit well straight-away. The second is that there is no information on the fizik website about how to mold them even if I needed to. As a former ski-boot fitter I know a lot of people do this in the shop and that fizik has good shop support for their products. But it would behoove them to paste an insole molding tutrorial on their site for the do-it-yourselfer.
We received our support from fizik very shortly before the Keepers Tour and I didn't have the opportunity to ride my R1's before leaving. Based on the fit of the R3's and comfort out of the sweet box that Bretto mentioned, I was confident the R1's would serve me well on the KT. As you may imagine though, there was a certain level of trepidation that the untested shoes wouldn't be quite right over the cobbles on a trip of a lifetime. Those concerns were quickly allayed on the first ride of the KT, a 120K sufferfest over the pave of Roubaix straight into the velodrome. The Onyx Blahniks (yes, added to the Lexi) were not thought about until the end of the ride as any good performing, comfortable shoe should be forgotten about on rides. Having zero issues with the contact point to my pedals meant that I could focus all my attention on the pain in my hands and the fact that I had to ride a child's bike when my shitty FSA seatpost snapped on the Orchies sector.
I've gone back to riding the Yellow Princesses on my rain bike after riding fizik shoes on numbers 1 and 2. And although surely not applicable to all shoes, the biggest fit difference for me between the YP's and the Onyx Blahniks (as well as the Aristocrats) is the sole. The fizik soles, not only the insole but the carbon soles themselves, feel much more contoured to the foot whereas the YP's feel noticeably flat. Now I'm no cobbler, but doesn't it seem logical that your feet would be more comfortable and perform better on a surface that matches their shape? Riding the YP's is a pleasant experience but the tingly feeling on the bottom of the foot creeps in on long rides. This simply is not the case with the fizik shoes. I have yet to have any pain or discomfort in these shoes whether it be on pave, tarmac, or gravel or on rides from 20 to 170k.
[dmalbum path="/velominati.com/content/Photo Galleries/[email protected]/fizik shoe review/"/]