Ride Like a Girl: Meg Fisher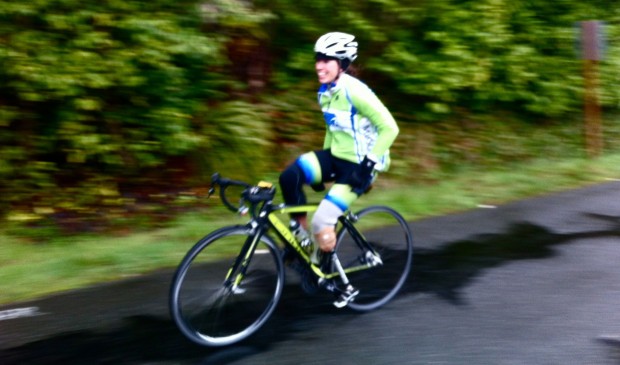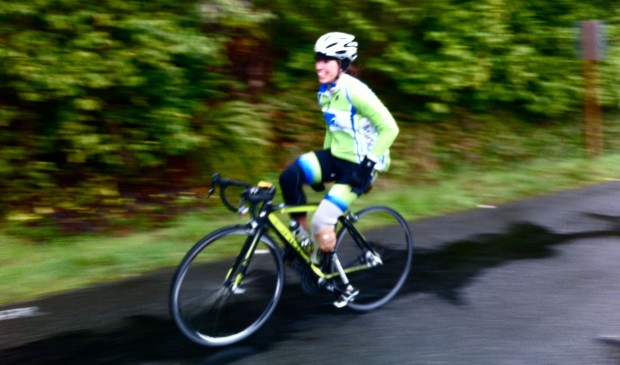 This is Meg. Keeper Jim and I found Meg spinning loops around Mercer Island, big-ringing the rollers in the pouring rain. Meg likes sunsets, puppies, and had a gerbil named Fränk. Meg doesn't need bad weather to be considered a badass; Meg rides her bike with one leg, so riding in the rain is hardly a blip on the Badass Radar.
Meg Fisher is on the US Paralympic Team, training for the qualifiers at US Nationals in June to make the squad headed for London. At the time we chatted about it, it didn't occur to me to ask about any other events besides road cycling she's involved with, but the ten minutes of Google Research I did for this article revealed that she's a world-class road cyclist, time-trialist, track racer, mountain biker, and triathlete – and has the world and national championship titles to prove it. She also refers to herself as "Peg Leg Meg".
Meg's prosthetic leg appears to work amazingly well (if her going to the front and drilling it every time she felt Jim and I were going too slow is any indication), but my ignorance on such matters is nearly comprehensive. It should come as no surprise, I suppose, that as much or more research goes into making athletic prosthetic development as anything else. Cycling-specific race prosthetics are made of carbon fiber and designed to be airfoils. I assume the airfoil design is 50% for function and 50% for extra damage points when employing a front-flip drop-kick. Meg needs one of these for the Paralympics (not for cage fighting). At the time of writing, Velominati is checking with Meg to see if she's got a donation or sponsorship fund set up for this, and if so, we'll advise the Community as such. If not, we'll see what we can do to help arrange for one.
Once she gets her upgrade, I just hope Pat McQuaid doesn't come staggering by with his tape measure. On the other hand, I'd like to see him try and catch her.